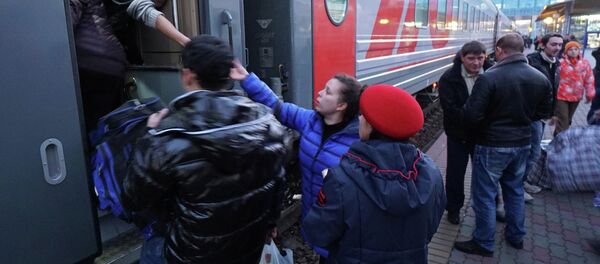 The UNHCR's Global Trends Report 2014 explained that the "outbreak of conflict in eastern Ukraine had a major impact on [Russia's] 2014 figures," with "271,200, or close to 99 percent of claims in the Russian Federation lodged by Ukrainians." The report noted that "in previous years, the combined figure had never exceeded the 5,000 mark," reaching only around 3,400 in 2013.
According to the report, "the last time a country had registered a comparable figure was in 2009, when South Africa reported that 222,300 persons had lodged individual asylum requests, many of them from Zimbabwe."
The report found that nearly 94 percent of Ukraine's 288,600 applications for refugee status were addressed to Russia. 
It also emphasized that the "total recognition rates for Ukrainian asylum-seekers show a highly divergent approach, ranging from above 90 percent in the Russian Federation and Belarus to around or below 10 percent in Belgium, Finland, France, Poland, and the United Kingdom. In Canada, the Czech Republic, Germany, Italy, and the United States of America, total recognition rates were between 35 and 65 percent." 
Part of a Worrying Global Trend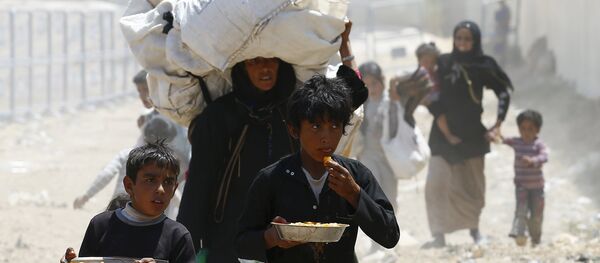 The UNHCR's new report found that nearly 1.7 million individuals made requests for asylum in 2014, with a total of 13.9 people newly displaced due to conflict or persecution, 11 million of them inside the borders of their own country. Millions more remain displaced from ongoing conflicts from previous years, bringing the Refugee Agency's estimate of people displaced worldwide to an all-time record of 59.5 million people.
Subtitled 'World at War', the UNHCR's report noted that over the past five years, 16 major conflicts have begun, been renewed or were exacerbated, including eight in Africa, three in the Middle East, three in Asia, one in Latin America and one in Europe. Together, the conflicts have prompted the flight of an average of 42,500 people a day in 2014. 
The ongoing Syrian conflict is responsible for the highest number of refugees, with over 11 million people displaced since the beginning of the civil war in 2011.
Along with Russia, Germany, the United States, Turkey, Sweden and South Africa also made the list of top recipients of new applications for refugee status.