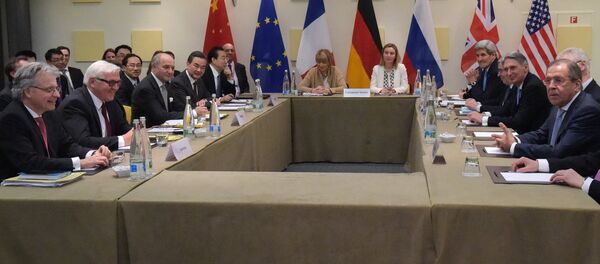 "On Friday the journalists covering the talks expected an announcement about the successful resolution of the parley to come on Monday,"Behrooz Shojaee told Sputnik Persian.
"Monday came, but nothing happened. Today, at the negotiations' press center at Vienna's Coburg Palace hotel the reporters were asked to guess if an agreement would be signed on Tuesday, Wednesday or Thursday. And with good reason too, because yesterday one of my colleagues managed to put the question to [Iranian Foreign Minister Mohammad Javad] Zarif and he mentioned exactly these three days."
"Wednesday is the most likely day for a deal," he said.
"Right now the initiative is on the side of the international mediators with the Iranian negotiators having to continuously coordinate their position with Tehran where IAEA head Yukiya Amano is now visiting… The negotiations are being held in a friendly atmosphere, but each side is sticking to their guns not willing to give in… What the West should keep in mind though is that even if the talks fall through Iran will hardly make any further concessions. Which means that reaching an agreement will be harder than it is now," Behrooz Shojaee added.
Representatives from Iran and the P5+1 international mediators — the US, Russia, China, Britain, France, and Germany — are engaged in intense negotiations in Vienna to clinch a long overdue agreement with Tehran over its nuclear program, Iran's Press TV reported on Monday.
The two sides extended their self-imposed end-of-June deadline for a comprehensive deal to July 7.
On Sunday, US Secretary of State John Kerry said "genuine progress" had been achieved during negotiations in Vienna.
"Over the past few days we have in fact made genuine progress, but I want to be absolutely clear with everybody we are not yet where we need to be on several of the most difficult issues," Kerry told reporters in the Austrian capital.
"At this point negotiations could go either way," he said. "If hard choices get made in the next couple of days and made quickly we could get an agreement this week. But if they are not made, we will not," Press TV quoted him as saying.