WASHINTON (Sputnik) — Russia was justified by the evidence in its decision to veto a UN Security Council Resolution on Wednesday that sought to condemn Serbia for genocide over the Srebrenica massacre 20 years ago, US experts told Sputnik.
"After the bruising and pointless campaign to shame Turkey over an Armenian genocide this past year, here we are again in the political game of outrage and finger pointing," historian and political analyst Dr. Gilbert Doctorow, a board member of the Committee on East-West Accord, told Sputnik on Wednesday.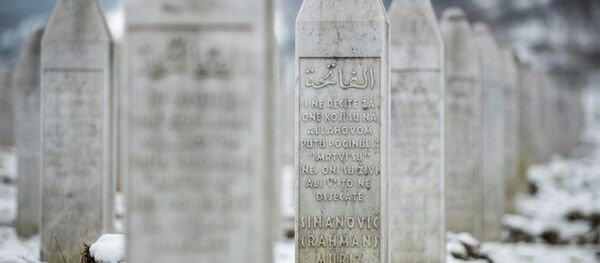 Up to 8,000 Bosniak Muslims, mainly men and boys, in and around the town of Srebrenica were killed by units of the Army of Republika Srpska under the command of general Ratko Mladic.
Doctorow acknowledged that Srebrenica was an atrocity carried out during a time of war. But he pointed out that it was not an act of genocide nor was it a part of any planned and orchestrated campaign of total extermination.
"Yes, Srebrenica was a war crime, and let things stand there," the Columbia professor said.
However, Doctorow added, "Calling it genocide cheapens the term by two orders of magnitude and serves only to raise tensions in the UN by those who want to discredit it to justify unilateralism."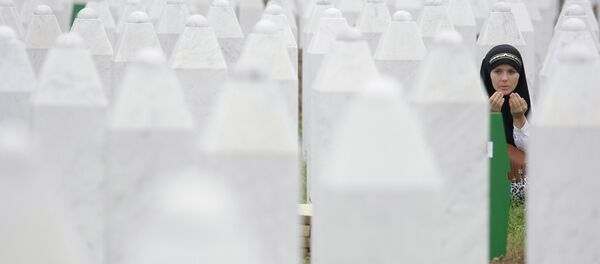 Michael Averko, a New York-based foreign policy analyst and regular contributor to Eurasia Review told Sputnik that Allied bombing campaigns against Germany and Japan killed vastly more civilians, including women and children, than the number of male prisoners killed at Srebrenica.
However, the US and British strategic bombing campaigns are never described as attempted genocides, he said.
"In these World War II examples, men, women and children were killed," the analyst wrote. "The Srebrenica massacre in question involved Muslim males, with the Muslim nationalist [Alija] Izetbegovic regime recognizing ages 16-64 as worthy for armed service."
Averko also pointed out that critics who focus on condemning the Serbs for Srebrenica are silent about the documented earlier killings of Serbs by Bosnian Muslims and Croats in the 1992-95 war.
"There was an earlier massacre of Serbs in the Srebrenica area, carried out by forces under the command of Nasir Oric," he wrote.
Averko also accused the administration of President Barack Obama of double standards in its continued refusal to condemn Turkey for the World War I massacre of 1.5 million Christian Armenians as genocide.
"It is absurd for the US UN Ambassador Samantha Power to bash Russia for not recognizing Srebrenica as genocide," he said. "The Armenian genocide more aptly fits the definition of genocide than Srebrenica. [Yet] the US government doesn't formally recognize what happened to the Armenians as genocide."
According to US military historian R.J. Rummel in his September 2003 online article "Was World War II American Urban Bombing Democide?" US and British bombing campaigns killed 410,000 Germans and 337,000 Japanese, including the 165,000 who died in the atomic bombing of Hiroshima and Nagasaki.