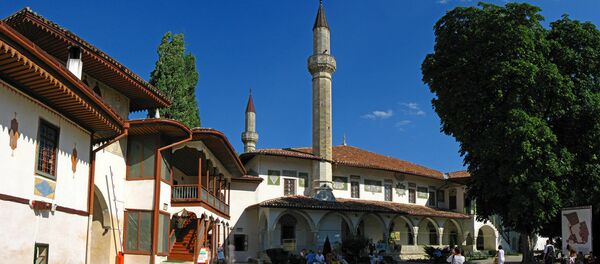 SIMFEROPOL  (Sputnik) — Majority of Crimean Tatars who left the Black Sea republic in the wake of a March 2014 vote to leave Ukraine for Russia have returned to their homes and now seek Russian citizenship, the deputy prime minister of Crimea said Tuesday.
"Over a half of Crimean Tatars who were driven out of Crimea by anti-Russian propaganda are back in their homeland. There are around 450 of them, and they are actively seeking help from the Council of Ministers to get Russian citizenship and find jobs," Ruslan Balbek told RIA Novosti.
Between 600 and 800 Tatars left Crimea for mainland Ukraine following the referendum, in which the ethnic-Russian majority voted to reintegrate into Russia after 61 years under Ukrainian rule.
Balbek said many of them had been lured away by Ukrainian propaganda only to find themselves in a country with a struggling economy, political volatility and military mobilization fighting against militias in turbulent southeastern regions.
Following the reunification with Crimea, Russia came under barrage of accusations from EU countries over rights violations of the Crimean Tatar people. In April 2014, Russian President Vladimir Putin signed a decree rehabilitating those ethnic minorities that suffered repression during the Stalin era, including Crimean Tatars, Armenians, Greeks and Germans.