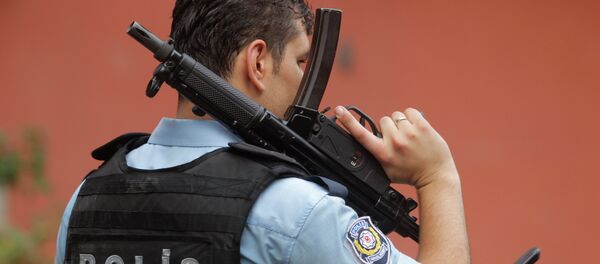 3 September 2015, 14:06 GMT
MOSCOW (Sputnik) — A Dutch journalist, who was reporting about outlawed Turkey's Kurdistan Workers' Party (PKK), said on Sunday she was detained by police in the south-east of the country.
Earlier in the day, two Turkish police officers were killed and three others wounded in a grenade attack by gunmen from the PKK in the country's southeastern Diyarbakir province.
Frederike Geerdink said on Twitter that she was detained in Yuksekova, a Kurdish populated city of Hakkari Province in Turkey and would be interrogated by the prosecutor later in the day or on Monday.
"im in custody in yüksekova," Geerdink tweeted. "i was with canli kalkan grubu (human shield group). they are all in custody now."
i was with canli kalkan grubu (human shield group). they are all in custody now.

— Frederike Geerdink (@fgeerdink) September 6, 2015
This is not the first time the Dutch reporter is being arrested by Turkish police. In January, Geerdink was detained on suspicion of promoting the ideas of Kurdish separatists.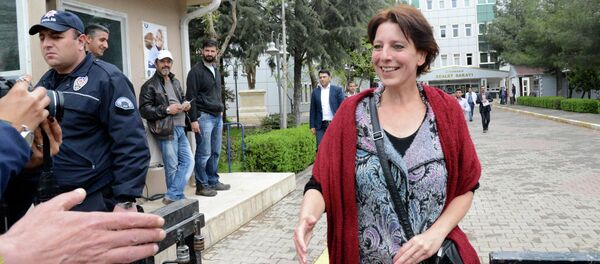 Earlier in September, the Turkish authorities deported two British correspondents on similar charges.
The security situation in Turkey deteriorated in July, following a suicide bombing in the Turkish border city of Suruc and a spate of police killings in southeastern Turkey, for which the PKK claimed responsibility.
The PKK, based in Turkey and Iraqi Kurdistan, was founded in the late 1970s with the aim of obtaining self-determination for the Kurdish community. The group is considered to be a terrorist organization by Turkey, the European Union and NATO.