MOSCOW (Sputnik), Svetlana Alexandrova – The forum will take place in the northern Italian city of Verona on October 22-23. It will bring together EU and Italian officials, and top business executives from the EEU, a union of states in northern Eurasia.
"The top ministers of the Italian government, representatives of the European Commission and heads of principal corporations from Russia, China, Kazakhstan, Belarus, India and South Korea will discuss innovations and international integration, focusing on developing business relations that are most important point during this difficult period," Antonio Fallico said.
Fallico presides over the Conoscere Eurasia Association, an Italian nonprofit that promotes economic and cultural relations between Italy and Russia. It is organizing the Verona event in conjunction with the organizers of the St. Petersburg International Economic Forum.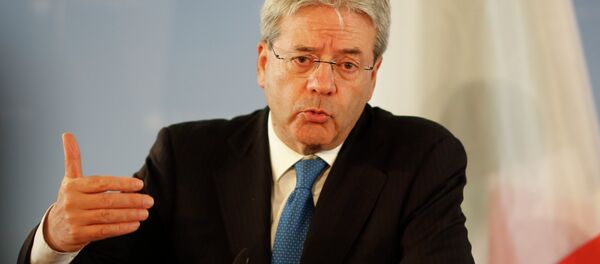 9 October 2015, 09:20 GMT
The IV Eurasian Forum has been conceived as a platform to enable political and business elites and heads of major enterprises and financial institutions in Italy and Eurasia to discuss cooperation on alternative sources of energy, agriculture, investment, venture capital, innovations, logistics, telecommunications, and infrastructure development.
Italy is among the EU member countries that has suffered most from EU economic sanctions on Russia and Moscow's reciprocal ban on European food imports.
Intesa Sanpaolo Group is one of the top banking groups in the Eurozone.