A massive offensive by ISIL militants to break through defense lines of the Syrian Army near the Deir ez-Zor base was stopped, a source told FARS News.
The militants stepped back, having left behind many dead or wounded. After the Syrian forces launched a counterattack the terrorists fled the battlefield.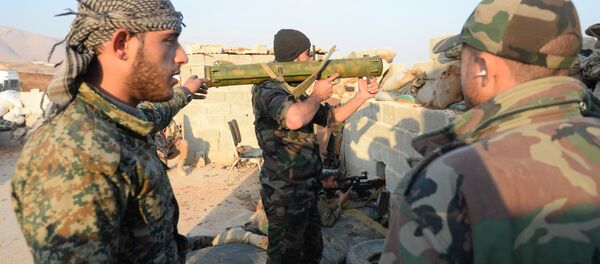 28 November 2015, 08:21 GMT
On Saturday, Syrian troops were engaged in fierce clashes with ISIL fighters in the province of Deir ez-Zor.
A large group of ISIL terrorists were killed and wounded in clashes with the Syrian Army in al-Huweika and Jebila neighborhoods of Deir ez-Zor, according to informed sources.
Other sources told FARS News that the Syrian forces clashed with ISIL Takfiri militants who were trying to attack residential neighborhoods in Deir ez-Zor city and its military airport. A number of the attackers were destroyed, while many escaped the battlefield.