The number of refugees seeking asylum in Germany is expected to reach one million in the coming months.
"Working from Monday to Friday — that's not good enough in these times anymore," Malu Dreyer, state premier of Rhineland-Palatinate, told Sunday's Bild am Sonntag newspaper. "In the districts and the states employees are working shifts, at weekends, and doing overtime — the BAMF has to do that too.
Long waits at #passau initial processing centre as authorities distribute refugees elsewhere in Germany. Family I talked to now there 20 hrs

— Joanna Slater (@jslaternyc) September 22, 2015​
"You can certainly work on Saturdays and Sundays too," said Roger Lewentz, Dreyer's interior minister, while his counterpart in North Rhine-Westphalia Ralf Jäger told the Bild newspaper: "Refugees can't just stick to office hours of 8 am to 4 pm." 
German Chancellor Angela Merkel is facing severe criticism over her handling of the refugee crisis, which has split her coalition and tested her relationship with co-party leader and Bavarian Minister-President Horst Seehofer.
He has expressed anger over Merkel's refugee policy after his state became overwhelmed with the numbers arriving from Austria. He called for a cap on the total number and for border controls.
"The federal office says the length of time is all good, but that only works because they're counting from when the application is submitted. But that isn't happening right after arrival — that is happening months later. This means the people are sitting here for half a year before they're even registered by the [Federal Office for Migration and Refugees] BAMF," Stephan Dünnwald of the Bavarian Refugees Council told Deutsche Welle.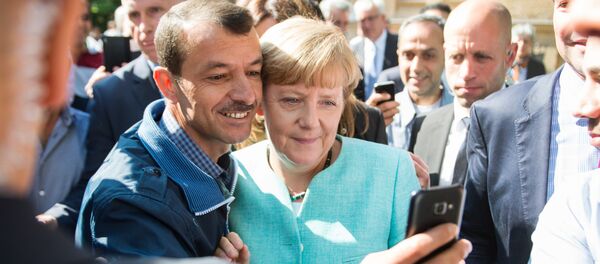 7 December 2015, 11:00 GMT
Huge Backlog Growing Daily
According to BAMF chief Frank-Jürgen Weise, his officials are making around 1,700 decisions a day (up from 1,000), but critics say a backlog of more than a thousand asylum applications is also mounting on a daily basis.
The new Federal Interior Ministry report, quoted in the Passauer Neue Presse, says that at the end of November 2015 there were still 355,914 unprocessed asylum applications out of a total of 425,035 submitted this year.
European Parliament President Martin Schultz weighed in on the debate, saying:
"Despite years of complaints from the states and the districts, Federal Interior Minister Thomas de Maiziere has not managed to implement the administrative rules and get the asylum applications processed quickly."
Dünnwald says the states themselves could speed up the process by assessing whether the refugees are Syrian, before passing the cases on to BAMF. "People are already being registered three or four times before they even get registered by the BAMF. They could do that check at the state reception centers with a translator. Instead, the BAMF now has to do it — that's another 120,000 or 150,000 new procedures.
"The BAMF is currently the eye of the needle," Dünnwald told DW.
"Because things aren't moving there, the whole process is slowing down — the new arrivals can't work, can't do German lessons, or whatever."