Together with other Western media, ORF journalists were given the opportunity to visit the Russian air base at Hmeymim, in Latakia province, the Russian destroyer Vice Admiral Kulakov, operating off the Syrian coast, and Salma, a city in Latakia province recently liberated from al-Nusra militants.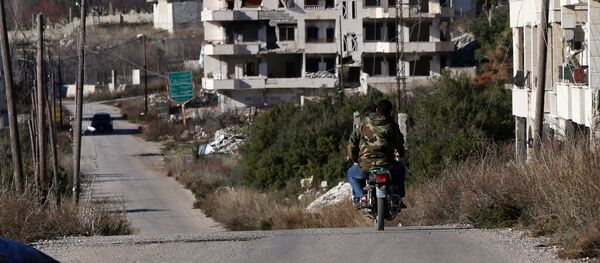 23 January 2016, 13:25 GMT
Setting the tone for the report, which was aired Monday by the Austrian broadcasting giant, the presenter recalled that Syria is not only the country at the heart of Friday's Geneva peace talks, but also "the country from which a significant number of refugees arrive in Europe."
Moving on, the presenter explained that in recent months, following the Russian intervention, the Syrian government has enjoyed a string of victories. "Russia air units are based at their own air base in the coastal province of Latakia. Now, some Western journalists were allowed to visit the Russian base, including our own Christian Lininger."
"This," the presenter added, "was no ordinary excursion…We were allowed to see up close how the Russian military operation in Syria works. The first stop was the Russian air base. Allowing foreigners here is a completely new information policy by the Russian Defense Ministry, and one which no doubt, had been consciously chosen."
"Russia has returned as a military power on the international stage – this is the message that journalists are meant to take away from here," Christian Lininger said, speaking from the Hmeymim airbase.
"We have been told that in the four months since the beginning of the campaign in Syria, Russian military aircraft have conducted nearly 6,000 sorties, hitting over 10,000 targets. The fact that many of the shells were not destined to strike Daesh, but groups that the West has defined as 'moderate', is not something that the official representatives of the Defense Ministry denied. For them, nearly all opponents of Assad are terrorists."
"Finally, the West has been turned on to common sense, and has begun to realize that the Syrian army must liberate their own country. As for us, we will simply help them to do so," Defense Ministry spokesman Igor Konashenkov told ORF.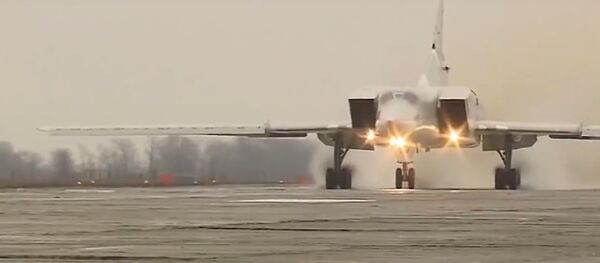 25 January 2016, 16:29 GMT
"A very bold statement about the hypothetical Western views," Lininger noted, "but here people are convinced in their cause and, what is more, they want to show that they are fighting for a just cause: huge crates of humanitarian aid intended for the city of Deir ez-Zor, surrounded by Daesh militants, will be dropped there by parachute."
"Day two of the excursion: we are shown a Russian warship, which specializes in combat against enemy submarines. However, here in Syria, Russia is not threatened by submarines. Therefore, one gets the sense that the main goal for Russia is to demonstrate its presence far from its home waters, and thus once again emphasize its desire to be perceived as a global power."
"Day three: Salma. A small city which Assad's forces took back from their enemies only a week ago, with the active support of Russian aviation. The fighters loyal to Assad are grateful to Russia and stay confident."
Asking a Syrian Army soldier in Salma if he believed that Syria will eventually win this war," Lininger got his answer: a confident "Yes."
"They believe in victory. For now, such victory still seems far away, but Russian airstrikes have strengthened the positions of the Syrian president. Now, his forces win back new territory almost daily. And Russian generals are satisfied too."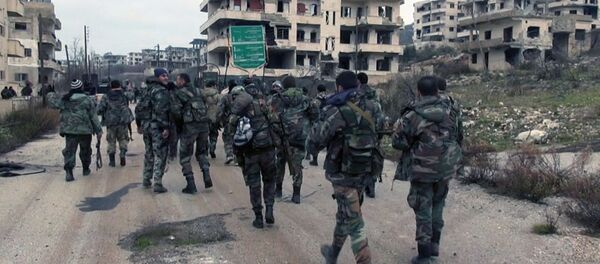 19 January 2016, 20:04 GMT
"We are showing you the results of our work here," Konashenkov noted. 
"The Russian campaign is yielding results, the commander wants to say, in contrast to the campaign by the Western coalition, which conducts its campaign almost exclusively against Daesh militants," Lininger adds.
"Show us what that coalition – that so-called coalition, has done. They say that they have conducted more airstrikes than we have. But what results do they have to show for it?" Konashenkov added.
"And once again, the planes are loaded with ammunition. No one here speaks any longer about a speedy end to the Russian campaign… Whether the engineers, guards and pilots are truly inspired by this campaign, far from their homeland, is anyone's guess. Talking to them is forbidden. It turns out that the new openness of the Russian military to reporters has its limits," Lininger concludes.
A copy of the original broadcast can be found here (in German).