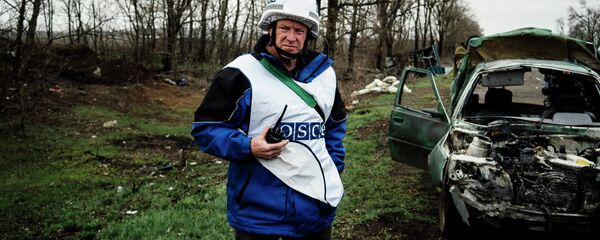 VIENNA (Sputnik) – Ukrainian authorities have yet to present the Organization for Security and Co-operation in Europe with concrete proposals for the deployment of an armed mission to the country's eastern regions, OSCE Secretary General Lamberto Zannier said Friday.
This is still not discussed in the Hofburg, it is discussed let's say in the corridors. It seems to me it's getting complicated. I've seen statements, rather skeptical, by [Russian Foreign Minister Sergei] Lavrov, some of the separatist also say they are not welcoming any armed component, so this is obviously a complicated issue. There are ideas, there are no formal proposals on the table of the Hofburg. President Poroshenko is talking about it, but he still hasn't presented proposals on the table," Zannier said.
He said that Ukrainian President Petro Poroshenko has also not presented any proposals to the OSCE.