The US and its NATO allies still refuse to cooperate with Russia in Syria, while Islamists are gaining ground in the region step-by-step.
The Russian Defense Ministry reported Sunday that Ahrar ash-Sham along with the al-Qaeda affiliate al-Nusra Front, designated by the US and Russia as a terrorist organization, "conducted a mortar attack against the positions of [Syrian] government forces in the district of Ansar in Aleppo's southwest."
A day earlier, on June 4, "Jaysh al-Islam formations, which had claimed to belong to the opposition, performed two shellings with mortars and multiple rocket launch systems against al-Asad, Meidan, Halidiya, and Old Aleppo sectors of Aleppo city," the Russian Center for Syrian Reconciliation at the Hmeymim airbase reported.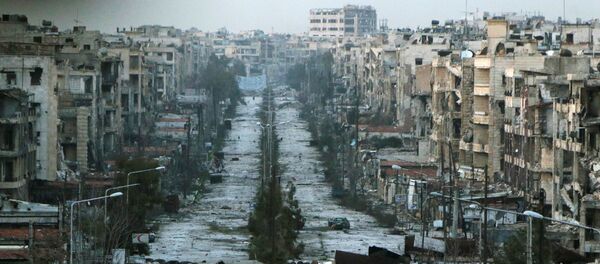 ​The June 4 report stressed that after intensive artillery shelling, al-Nusra Front terrorists and armed formations of Ahrar al-Sham attacked the positions of Kurdish militia and volunteers in Sheikh Maqsood (northern Aleppo).
It is worth mentioning that Ahrar al-Sham and Jaish al-Islam belong to the Saudi-backed High Negotiation Committee, which unilaterally withdrew from the Geneva negotiations back in April, throwing a monkey wrench in the peace process.
The Russian Center for Syrian Reconciliation has called attention to the fact that "Jabhat al-Nusra [Front] has regrouped its forces, replenished armament and ammunitions storages, and launched active warfare having exploited opportunities of the ceasefire regime and locations of 'moderate opposition' formations, which had been located in the same regions."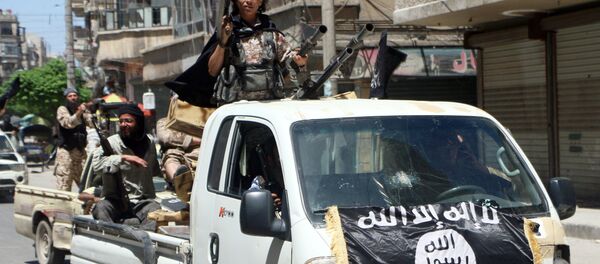 However the question still remains as to why the Pentagon and the CIA
have failed to separate "moderate" Syrian rebels
from al-Qaeda's affiliate al-Nusra Front.
"Americans have not implemented their February 2016 promise to divide the patriotic opposition from Jabhat al-Nusra on the ground," Russian Foreign Minister Sergei Lavrov said May 26 in an official statement.
#Lavrov: Americans have not implemented their February 2016 promise to divide the patriotic opposition from Jabhat al-Nusra on the ground

— MFA Russia (@mfa_russia) 26 мая 2016 г.
It seems especially sinister in light of the fact that three years ago Ahrar ash-Sham along with Daesh (then known as Islamic State of Iraq and Sham), al-Nusra Front, Jaish al-Muhajireen wal-Ansar and Suquor al-Izz took part in all-out punitive operations aimed against Syrian civilians back in 2013.
"The investigation found that at least 20 distinct armed opposition groups participated in the operation they termed the 'Campaign of the Descendants of Aisha the Mother of Believers,' the 'Barouda Offensive,' or the 'Operation to Liberate the Coast,' which lasted from August 4-18," Human Rights Watch (HWR) reported on October 10, 2013.
According to HWR, the aforementioned five factions were "the key fundraisers, organizers, planners, and executors of the attacks."
It is well-documented that Ahrar ash-Sham, Jaish al-Islam, al-Nusra Front, Daesh and their numerous followers on the ground are birds of a feather. 
Meanwhile, the so-called "moderates" continue to make every effort to break the ceasefire agreement and drag the country into yet another round of bloodshed.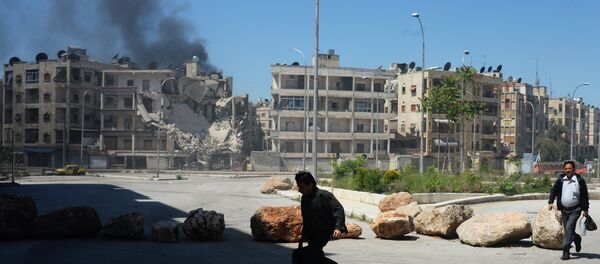 It is time for Russia to bolster its military operation against terrorists in Syria, US political analyst Stephen Lendman writes in his
article
for Global Research, calling Moscow's strategic aerial campaign, launched last September in Syria, "a bold, vital step."
"Moscow's genuine diplomatic efforts can't succeed because it has no peace partner in Washington — under Obama or whoever succeeds him," Lendman emphasizes.
"Endless fighting rages. Washington wants war, not peace, regime change called political transition. Geneva I, II and III failed. Nothing suggests better prospects ahead," the US journalist writes.
Lendman believes that it is time for Russia to "come back" to Syria by "resuming large-scale aerial strikes like earlier, intensifying them, regaining the offensive decisively, not letting up, smashing all terrorist elements failing to observe the ceasefire."