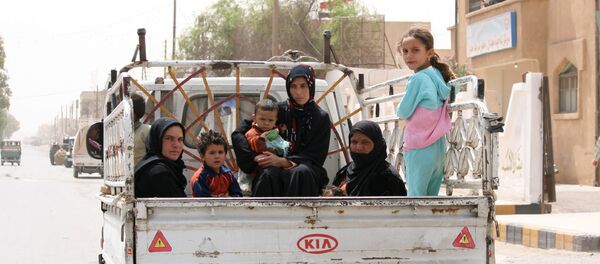 In many areas controlled by terrorists, women have been repeatedly subjected to slavery, sexual violence and bullying.
But what about those women who have not been directly touched by the war? For the answer to this question Sputnik went to some of these women.
74,000 Women Left Widowed
According to the Syrian Center for Documentation more than 74,000 women have lost their husbands. Among these women, 50,000 are mothers and others are childless, hence they have no hope to provide for their families in the future.
However, this is only based on the official data of the victims. According to the unofficial data, the numbers are much higher.are also official figures, and those are much higher.
In Syrian society, just like in many eastern cultures, women can rarely build a successful career and earn a living, with the exception of a few individual cases. It is the responsibility of the man to work and provide an income for the family.
This factor plays an important role in the life of Syrian women as they initially are not able to live independently to provide for themselves and their children.
Working to Save Her Daughter
Aliya, who is studying in her second year at the university, told Sputnik that she had to leave her home in Damascus province to earn money for her daughter's leukemia treatment.
"My husband was an officer in the Syrian Army. He was killed in Homs province. So I had to leave home and go to work in the field of education so that I can treat my child. In addition to this, I'm in my second year," Alia said.
She Cooks But Not in Her House
Um Hazem (Mother of Hazem- is an accepted tradition in the Arab world to respectfully refer to an older woman by calling her the mother of her eldest son, thus showing her respect) from the city of Homs is working in a small team of chefs in one of the capital's restaurants.
"I came here 3 years ago just like the other immigrants to support myself. My husband was killed during a terrorist attack. In this time period I have learned to do almost everything in the kitchen!" Um Hazem said.
In turn, the boss of the chefs, Um Mahmoud, refused to talk about the difficulties of her life, despite the fact that she had lost her husband, and came to work in Damascus.
She rather spoke about her team of chefs with a smile on her face, saying, "Believe me; my women can cook anything you want from the Levant cuisine."
War has Left her Husband Alive but Crippled

Um Mustafa is an elderly woman. The war did not take her husband's life, but left him without legs. He suffered during one of the mortar attacks, which was organized by terrorists in Syria.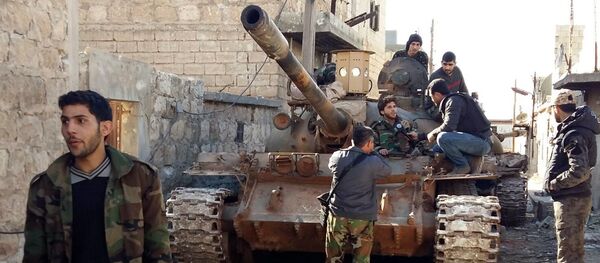 "The compensation that my husband gets is not enough to survive until the end of the month. So I have to work and help him feed our family," Um Mustafa explained.
She sells textile goods in a local bazaar.
I Will Study for my Children
A woman named Umayma is working to take care of her four children. She has a harder time than the others, because she cannot read or write. Due to that she cannot find an acceptable job but she managed to see this as an easily surmountable obstacle for herself.
"I was very young when I got married, so was not able to continue my studies. My husband was killed in the battle for Aleppo. It made me take a firm decision to study. I definitely need to learn how to read and write to most of all help my children with their studies," Umayma said.
Currently she works as a governess and that somehow provides her family with bread.
"Currently my children and I are going through a very difficult period, especially after the death of their father," Umayma noted.