The new weapon, reportedly financed by Saudi Arabia, is designed to compete with Russia's advanced Iskander short-range ballistic missile (SRBM) system. Speaking to Ukrainian media, analysts have boasted that the new system, whose testing could start as soon as next month, will be able to compete with the Russian system, and at a lower cost.
According to Ukrainian online news resource Apostrophe, Grom-2 is so advanced that it will change the balance of power between Ukraine and Russia, and allow the Ukrainian military to crush the fledgling breakaway republics in the war-torn Donbass region. 
Citing local experts, the outlet stressed that the Grom-2's range would allow its missiles to target Moscow, "and consequently, any attempt to launch full-scale aggression against Ukraine will end in us hitting targets on Russian territory."

15 November 2016, 15:03 GMT
Russian commentators have reacted to the latter kinds of statements with a mix of amusement and bewilderment, pointing out, first of all, that Russia is not in a state of war with Ukraine. Secondly, they noted, Kiev is formally committed to observing the Minsk agreements on ensuring peace in eastern Ukraine.
Finally, Kiev is a party to several treaties, including the Intermediate-Range Nuclear Forces Treaty and the Missile Technology Control Regime, which ban the deployment and export of ballistic and cruise missile systems with a range above 500 km. With this in mind, given the fact that Moscow is more than 500 km from most of Ukraine's territory, experts are calling the Ukrainian media's bluff.
Rendering of a component of the Grom SRBM system
Speaking to Sputnik, veteran Russian military analyst Konstantin Sivkov explained that he frankly does not believe that the Ukrainian military industrial complex is in a state to develop such a system. "I do not think that Ukraine is capable of creating any sort of new superweapon, simply for the simple reasons that even the US does not have such a weapon," the analyst noted.
Sivkov stressed that "the creation of a new superweapon is extremely difficult in all respects. At the same time, Ukraine has so far failed to create anything new even in the field of armored vehicles."
The Saudi Trace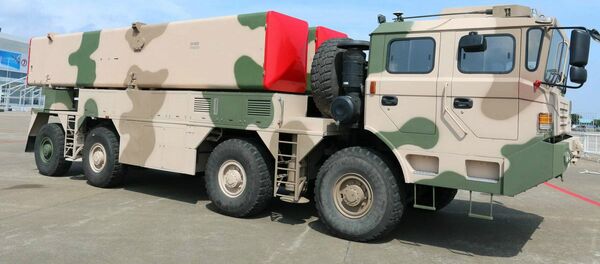 26 October 2016, 16:04 GMT
Saudi Arabia has been reported to have covertly financed R&D work on Grom-2, to the tune of one billion hryvnia (about $40 million dollars). Russian experts have scratched their heads in wonder over why Riyadh would make such an investment, given that they already have direct access to both American and Chinese missile systems, including the
Dongfeng
family of missiles.
Russian observers' bewilderment has been furthered by the fact that the Pavlograd Chemical Plant, one of the two enterprises involved in creating Grom-2, is known in Ukraine only for the production of explosives, solid rocket fuel, and ballast for military applications.
Accordingly, Sivkov suggested that Riyadh's financing of the Grom project is not so much a defense order as a veiled form of military aid, designed to create a Ukrainian analogue of Prompt Global Strike, a Pentagon initiative meant to overcome Russia's strategic deterrent using the massed launch of conventional cruise missiles.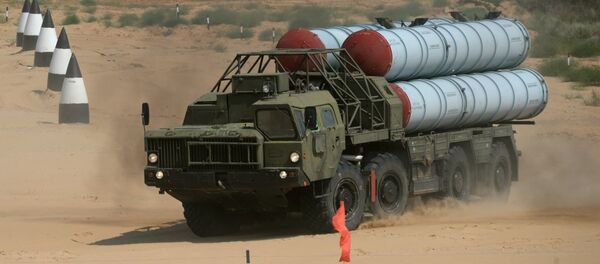 22 October 2016, 18:02 GMT
"The fact is that Russia today has sharply and practically reduced the possibility of Saudi Arabia establishing control over the Middle East," Sivkov stressed. 
"Therefore, it is likely that Riyadh feels a desire to spite Russia," he added. "At the same time, the Saudis never act directly; that is, they are ready to provide support in the form of cash. The Saudis have large financial resources, and seek to invest them somewhere. [Grom-2] is possibly this kind of disguised form of penetration into Ukraine."
© AFP 2023 / ALEXANDER NEMENOV
The Iskander ballistic missile launcher at a parade rehearsal. Grom-2 is ostensibly meant to compete with the Russian SRBM.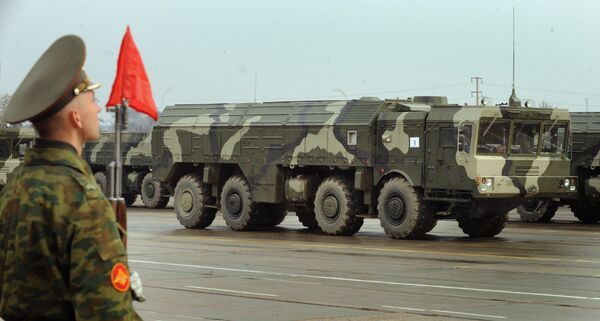 The Iskander ballistic missile launcher at a parade rehearsal. Grom-2 is ostensibly meant to compete with the Russian SRBM.
Ultimately, military analysts say that whatever happens next, the actual production of the Grom-2 SRBM is a long way off; testing will require time and additional financial resources, and actually creating a production line would cost vast sums of money – something Ukraine's cash-strapped budget will have a difficult time paying for. Independent Ukraine has never developed or produced such systems. That's not even mentioning Russia's countermeasures, including its air and missile defense systems. Accordingly, it seems likely that Riyadh's money will simply go down the drain.