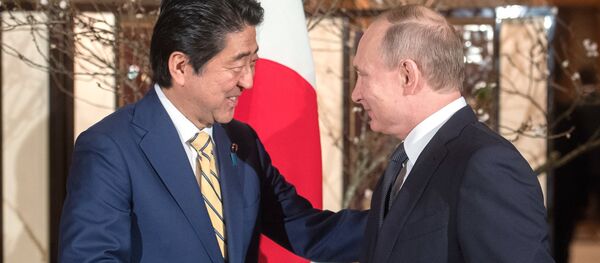 15 December 2016, 16:25 GMT
MOSCOW (Sputnik) — Prime Minister of Japan Shinzo Abe confirmed his intention to participate in the Third Eastern Economic Forum during the talks with Russian President Vladimir Putin, the press service of the Ministry for the Development of the Russian Far East said on Thursday.
"Shinzo Abe confirmed his intention to take part in the Third Eastern Economic Forum, which will take place on September 6-7 in Vladivostok," the press service said.
Putin and Abe reportedly  welcomed the participation of Japanese companies in the development of the international airport in the Russian city of Khabarovsk, as well as the implementation of Japan's Iida Group Holdings company's project in the sphere of wood processing and development of wooden house construction.
The sides supported the idea of further development of joint Russian-Japanese projects on creating JGC Evergreen and Sayuri greenhouses, as well as gas processing plant in the Amur region.
Putin also noted the importance of joint projects development in the field of oil and gas production in Sakhalin, in particular, regarding construction of Sakhalin-Hokkaido gas pipeline.
Putin is currently in Japan with a two-day working visit, which is widely seen as a breakthrough in the Russian-Japanese relations, taking into account that it had been postponed since 2014. Putin is set to discuss with Japan's Prime Minister Shinzo Abe bilateral issues, in particular, signing a peace treaty, as well as acute international problems.