During a Senate hearing on alleged 'Russian hacking' of the recent US election, the Oregon Democrat brought up media reports claiming that the incoming Trump administration has extensive ties with Moscow, and directly addressed the FBI director.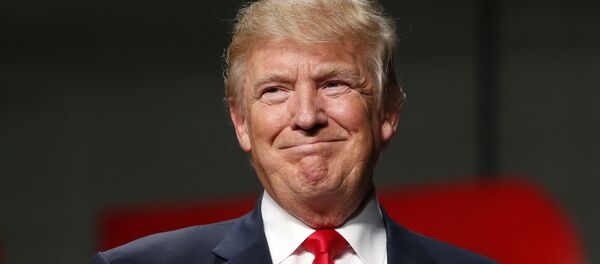 9 January 2017, 00:50 GMT
"My question for you, Mr. Comey, is, has the FBI investigated these reported relationships, and if so, what are the FBI's findings?" Wyden said sternly at the beginning of the exchange.
"I would never comment on investigations, whether we have one or not, in an open forum.  So I can't really answer it one way or another," Comey responded shortly. Wyden seemed unfazed that Comey dodged the question and quickly moved on to the next line of inquiry.
"Will you provide an unclassified response to these questions and release it to the American people prior to January 20?" the senator said.
"I'm sorry, will I?" a shaken Director Comey said, requesting clarification of the question. Upon elaboration of the question, Comey provided no color of the situation. "The answer will be the same as I just gave you, I can't talk about it." With the same persistence and determination displayed during the 2013 hearing, Wyden pressed on. 
"I think the American people have a right to know this," he said at a noticeably elevated volume. "If there is delay in declassifying this information and releasing it to the American people and it doesn't happen by January 20, I'm not sure it's going to happen."
​Comey's refusal to comment on whether the president-elect is under a secret investigation coincided with several media outlets publishing reports, accusing Donald Trump of engaging in "perverted sexual acts which have been arranged/monitored by the FSB." Even the outlets that published the reports underscored that not only they are unsubstantiated, but contain multiple factual errors. Nevertheless, the New York Times, CNN, Buzzfeed and others published a dossier that allegedly has been circulating among lawmakers, journalists and officials in Washington DC for weeks. A summary of these reports was even presented to President Obama and Donald Trump himself. 
The memos were allegedly compiled by an anonymous source, who claims to be a former British intelligence officer. According to him, the Russian government has been nurturing Donald Trump as a potential president for "at least 5 years," offered him lucrative business opportunities, supplied with intelligence and arranged for "perverted sexual acts" to be able to blackmail the president-elect.
© Screenshot
Screenshot of Memo Compiled by Anonymous Source on Donald Trump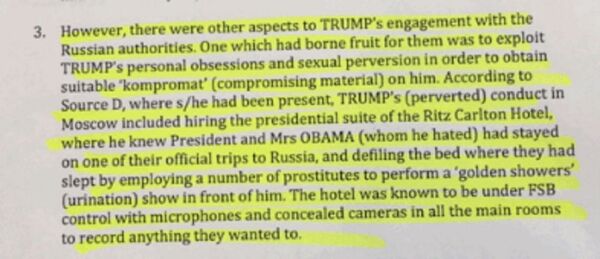 Screenshot of Memo Compiled by Anonymous Source on Donald Trump
Specifically, memos claim that the FSB hired a presidential suit in Moscow's Ritz Carlton Hotel where Barack and Michelle Obama stayed and invited prostitutes to defile their bed by performing "a 'golden shower' (urination) show" in front of Mr. Trump. 
The fact that multiple media outlets practically simultaneously decided to publish these reports despite admitting their erroneous character is telling by itself. However, allegedly the FBI has been in the possession of these memos for some time too. And if Wyden's questioning isn't a crazy coincidence, the president-elect indeed might be under the investigation, making the situation even more troubling. 
Senator Wyden is known as a strong proponent of government transparency and for grilling officials during public hearings, sometimes forcing them to disclose information previously unavailable to general public. Perhaps, the most famous exchange Wyden had until today was with Director of National Intelligence James Clapper. Then the senator asked him whether US intelligence agencies are involved in bulk collection of American citizens' data. At the time Clapper lied, saying "No" but after Snowden revelations had to admit that he gave a "least untruthful answer" possible in order to protect secretive spying programs.