Taiwan sent a fleet of fighter jets and navy ships to "surveil and control" the Liaoning's journey through the strait, according to Taipei defense ministry spokesman Chen Chung-chi. No violence occurred, and the Liaoning and its escort of warships never entered Taiwanese waters, the ministry noted.
On Liaoning's return passage from its South China Sea war games, Taiwan detected People's Liberation Army (PLA) aircraft roaming through Taiwan's southwest "air defense identification zone," according to the department.
Mainland Affairs Council minister Chang Hsiao-yueh sought to "emphasize" that Taiwan has "sufficient capability to protect our national security," the policy maker told reporters. Since the contested South China Sea region sees some $5 trillion worth of goods and services transit its waters each year, it is unlikely that economic powers including Tokyo and Washington will stop monitoring the area.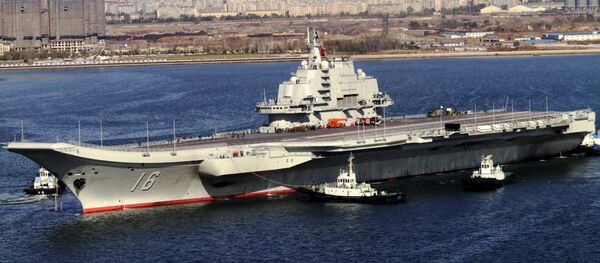 28 December 2016, 21:15 GMT
Between 2008-2011, Taiwan agreed to shell out some $5.5 billion to procure Pentagon-grade military weapons, technology, parts, and more, according to a brief published by the Congressional Research Service. 
China's PLA has kept plenty busy as of late. Last week, a Chinese military expert said that China has a second aircraft carrier under construction. 
In December 2016 at least 10 jets flew through Japan's air defense identification zone before Tokyo scrambled two F-15s to intercept potential threats posed by Beijing's military training exercises. Meanwhile the US kept eyes in the sky at all times as the scenario unfolded, perhaps unknown to the fighter jets below, with an RQ-4 Global Hawk drone accompanied by at least two other reconnaissance aircraft.