Self-described citizen-journalist Jon Ziegler wrote, "Anti-drone missile system confirmed on top of a hill guarding the DAPL drill pad. Many water protectors made it further around the bend to the east closer to the drill site and were met with police and (there are) reports of mace used. We climbed up the hill on the west side right up next to the launcher." 

5 January 2017, 00:41 GMT
The Avenger missile-system launcher tubes are empty, according to William Prokopyk, National Guard spokesman, who told the Daily Beast, "These systems have observation capabilities and are used strictly in the observation role to protect private property and public safety."
Prokopyk claimed that "There's no authority to arm them," adding that there has been no incident since the Avengers appeared in Morton County. The missile launchers are said to be "protecting" a drill pad belonging to Dakota Access, the construction company behind the disputed $3.8 billion pipeline.
The halted pipeline project was designed to carry up to 570,000 barrels of crude oil a day from the Bakken oil field in North Dakota to an Illinois storage facility.
Since the summer, "water protectors," under the leadership of the Standing Rock Sioux tribe, have protested the pipeline's construction, which would extend under the Lake Oahe reservoir, potentially poisoning the water supply and desecrating sacred lands.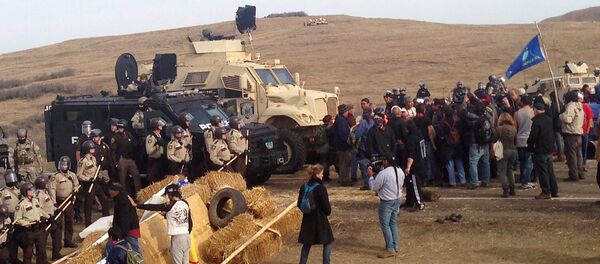 6 December 2016, 03:04 GMT
The movement successfully pushed the US government to deny an easement that would have allowed the construction company to drill beneath the lake. Despite this, Dakota Access stated its intention to complete the 1,200-mile pipeline, using an alternate route.
The company criticized US President Barack Obama's hands-off approach to the pipeline issue, accusing him of running out the clock on his presidency to pass the buck to the next administration. Maligning the integrity of protesters, Dakota Access also referred to the easement denial as a "victory for poseurs, not the environment."
The Morton County Sheriff's Department took to Facebook to justify the use of the Avenger missile installations, refuting claims of protecting the drill pad as "myth," and asserting that, "These systems are used strictly for observation of ungoverned encampments to help protect private property and maintain public safety in southern Morton County, ND. The systems have no munitions; further, there is no authority to arm these vehicles with munitions."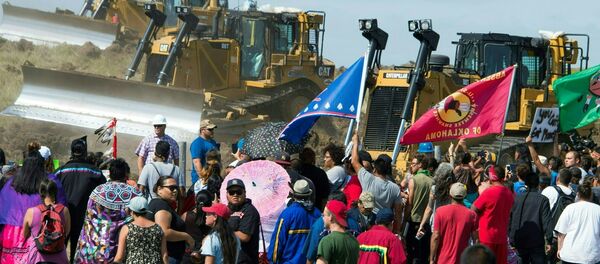 15 December 2016, 01:28 GMT
Tensions remain high between demonstrators and law enforcement at the site, as reports of police attacks continue to surface, including protesters sprayed with tear gas and water in freezing temperatures.
Police defended their actions by claiming that they are trying to squelch an "ongoing riot," in which demonstrators were attempting to "flank and attack the law enforcement line."
With 16 people arrested this Monday and Tuesday, the number of people arrested in connection with the protest site now stands at a little over 600.