Ukrainian President Petro Poroshenko obviously sees which way the wind is blowing, Russian political analyst Yuri Svetov noted in his interview with Radio Sputnik.
In his latest interview with the German newspaper Berliner Morgenpost the Ukrainian president made an astonishing remark: Poroshenko said that he wanted all anti-Russian sanctions to be lifted.
"Do you know who wants [anti-Russian] sanctions lifted more than anyone? President Poroshenko," he said.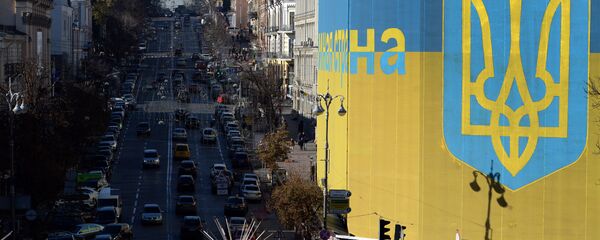 2 February 2017, 07:48 GMT
"But before that, Russia must withdraw its troops from our territory so that Ukraine can restore its territorial integrity and sovereignty. A premature loosening of the sanctions would strengthen the Russian aggression against Ukraine — putting Europe at risk," Poroshenko said repeating his previous claims about alleged presence of Russian military in eastern Ukraine.
However, Poroshenko's recent remarks come into conflict with his earlier statements. Speaking to reporters Monday the Ukrainian president claimed that anti-Russian sanctions should be retained and increased.
"Resolute actions [are needed] in order to motivate the Russian side to sit down at the negotiation table, motivate [it] to implement the Minsk Agreements fully, first and foremost, in the security component… In case they aren't implemented, we support maintaining and, if necessary, increasing the sanctions pressure on Russia," Poroshenko said ahead of his negotiations with German Chancellor Angela Merkel in Berlin, as quoted by Kyiv Post.
For its part, Moscow has repeatedly drawn attention to absurdity of linking anti-Russian sanctions with the Minsk peace process referring to the fact that Russia has never been a party to the ongoing conflict between Kiev and breakaway regions in eastern Ukraine.
The sanctions were imposed on Russian individuals and a number of economic sectors in 2014 over Moscow's alleged involvement in Ukrainian affairs.
© AFP 2023 / Evgeniy Maloletka
Ukrainian servicemen ride atop armored vehicle with a canon in tow and Ukrainian flags, near the village of Fedorivka, eastern Ukraine, Friday, Feb. 27, 2015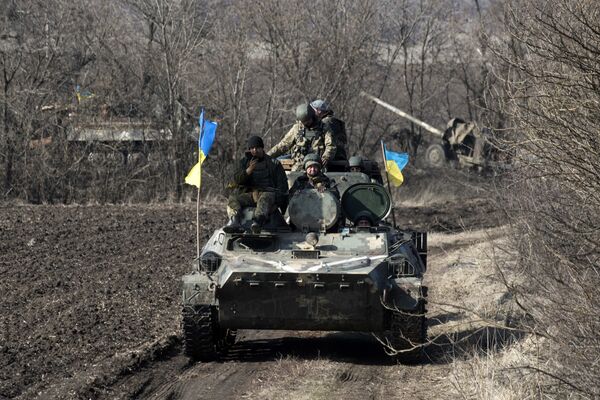 Ukrainian servicemen ride atop armored vehicle with a canon in tow and Ukrainian flags, near the village of Fedorivka, eastern Ukraine, Friday, Feb. 27, 2015
This unexpected shift in Poroshenko's rhetoric could have been caused by Donald Trump's attitude toward the sanctions policy, according to Svetov.
Indeed, in an interview with the Wall Street Journal a week before his inauguration Donald Trump said: "If Russia is really helping us, why would anybody have sanctions if somebody's doing some really great things?"
Moreover, last Friday, counselor to the president Kellyanne Conway signaled that the US' sanctions regime is currently "under consideration."
"All of that is under consideration, and certainly in addition to improving relations with different foreign leaders and their nations around the globe," Conway told Fox News.
While the White House has yet to make the decision on anti-Russian sanctions, Poroshenko has realized that the winds have changed.
"[When President] Trump and his entourage began to discuss lifting of sanctions [on Russia] Poroshenko jumped at the opportunity to join them," Svetov said, adding that Poroshenko's "change of heart" looks unnatural, given his Moday pleas to extend the sanctions regime against Russia.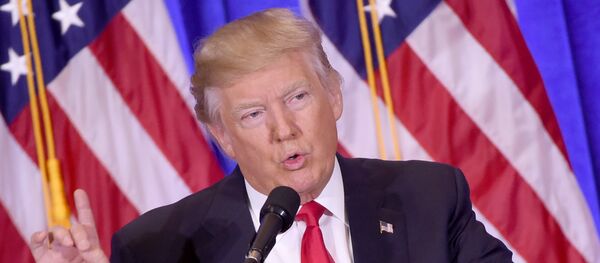 14 January 2017, 04:16 GMT
"On January 30, while being in Germany, he called for increasing [anti-Russian] sanctions, and a day later he claimed that he is a vocal proponent of the abolition [of sanctions]," the Russian political analyst stressed.
For his part, Sergei Sudakov, a professor at the Academy of Military Sciences, noted that the Ukrainian president has found himself between the devil and the deep blue sea following Trump's inauguration.
"Poroshenko has owed his allegiance to the Obama team. He is still tied to the former US administration through agreements. And Trump does not like defectors," Sudakov told Radio Sputnik.
According to the Russian academic, Poroshenko sees that he can no longer rely on Washington.
"We have seen that the US president understands that Ukraine is not a trump card which could be used in his relations with Moscow. This is why he will turn Ukraine into a problem for the European Union, not the US," Sudakov explained.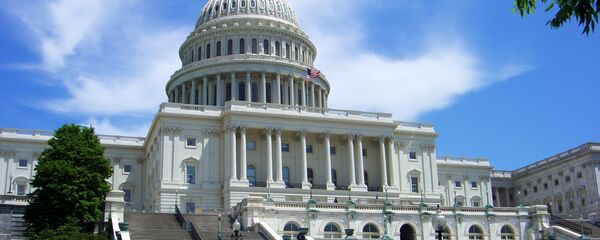 30 January 2017, 22:48 GMT
However, Svetov believes that the European elites are likely to maintain good relations with the Ukrainian leadership this year.
"I believe that during this year Poroshenko will enjoy support [from Europe]. French President Francois Hollande still remains his ally, because [Holland] has nothing to lose — he is not going to be re-elected. I think that German Chancellor Angela Merkel will also support Poroshenko. She is going to take part in elections and she can't admit that her policy toward Ukraine was wrong," Svetov explained.
Still, according to Sudakov, the situation in Ukraine resembles nothing so much as a "theatre of despair."
"Every event taking place in Ukraine is a theater, primarily theater of despair. Petro Poroshenko's strategy and the European approach [to Ukraine] are pieces of a puzzle called 'Lost Ukraine.' Poroshenko does not have much time to cling on to power and resolve the situation after Donald Trump has moved into the White House," Sudakov told Radio Sputnik.