The secretary of state is coming to Russia straight from the G7 summit in Lucca, Italy, where Group of 7 foreign ministers met on Monday. 
Speaking to media from that event, UK Secretary of State for Foreign Affairs Boris Johnson warned that Russia and Syria may face further sanctions over what he called the "appalling behavior of the Assad regime." Specifically, London called on G7 leaders to issue a joint statement calling on Moscow to stop its support for Damascus and withdraw its forces from Syria or face international isolation.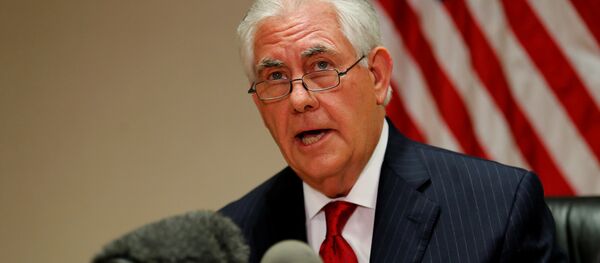 Days earlier, Johnson had cancelled his visit to Russia, which had been scheduled for April 10 and 11. Russian observers took the cancellation to mean that the minister did not want to trip up his American 'Big Brother', adding that Johnson probably expects Tillerson to convey any position agreed by the G7 foreign ministers in Lucca. 
This isn't the first time Johnson has canceled a Russia visit. In March, he postponed a visit after Tillerson adjusted his own timetable on NATO meetings. Now, he's canceled negotiations altogether, again in connection with Tillerson's plans. Johnson's maneuvers gave cause for UK Liberal Democrat leader Tim Farron to blast the foreign secretary as a "poodle of Washington" who has "his diary managed from across the pond."
Analyzing the scheduling shuffle between the two allies, RIA Novosti political observer Vladimir Ardaev suggested that their main purpose was very obviously connected to allowing Western powers to come to Moscow as some kind of consolidated front. "In other words," the journalist noted, the objective is to present "the kind of position that cannot be ignored, circumvented or defeated using the inevitable contradictions that exist between the positions of different Western countries."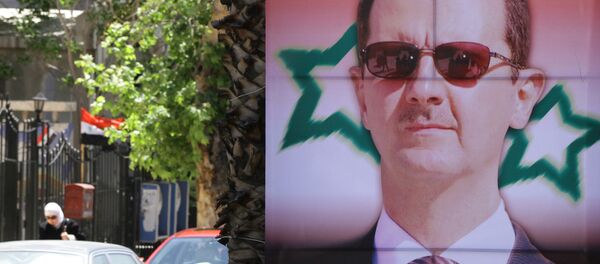 This is important, Ardaev added, since "there's no shortage of such contradictions."
In the early hours of Friday morning, US Navy ships in the Mediterranean fired 59 Tomahawk cruise missiles at the Syrian Air Force Base at Ash Sha'irat. The White House said the attack was a 'proportional response' to the April 4 chemical attack on rebel-held territory in Idlib province. The US and its allies immediately accused the Assad government of having carried out the latter attack, though they provided no evidence to support their claims against Damascus. Since then, two UN Security Council resolutions –one proposed by the West, condemning Damascus, and a Russian alternative, insisting on an urgent investigation, have been bogged down by disagreement.
In any case, Russia saw the strikes as a unilateral US attack against Syria, and condemned them as an act of aggression and a flagrant violation of international law.
At the same time, the same day the strikes took place, a Pentagon official familiar with the matter told Reuters that the attack was a "one-off," with Washington having no further plans for escalation for the moment.
Paying attention to US officials' recent statements on Syria, both pre- and post-strikes, Ardaev suggested that they indicate that President Trump does not see President Bashar Assad's ouster as a priority, "his main goal in Syria remaining the destruction of the Daesh terrorists and other radical groups."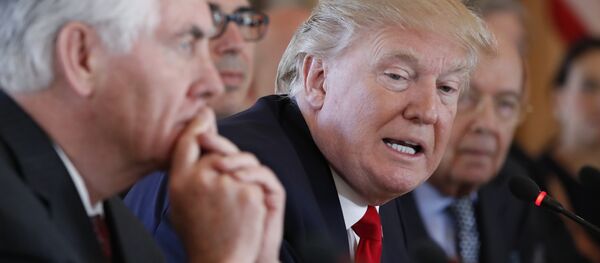 Ardaev recalled that even after the unanimous declarations by Trump, Tillerson, and US Ambassador to the UN Nikki Haley that the US had seriously altered its position toward Assad after the Idlib chemical attack, "the secretary of state again confirmed over the weekend that the priorities remain unchanged."
For instance, speaking to CBS Face the Nation host John Dickerson on Sunday, when asked whether a further escalation against Damascus was pending, Tillerson emphasized that "we believe that the first priority is the defeat of ISIS [Daesh]."
In the same interview, Tillerson indicated that ending the Syrian civil war will require the participation of the Assad government, expressing hopes that "Russia will choose to play a constructive role," both in supporting ceasefires and through the Astana and Geneva talks.
The secretary's words, Ardaev recalled, were a stark contrast to Secretary Johnson's, who said a day after the Ash Sha'irat attack that the US might launch new strikes, having "delivered a clear and united message" to Moscow as well as Damascus. "We need to make clear to Putin that the time to back Assad has gone," Johnson stated.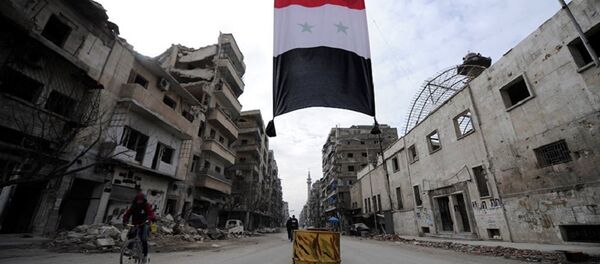 Other officials, including German Defense Minister Ursula von der Leyen,
said
that the Syrian strikes had actually been addressed to another party altogether: In her words, the show of force was directed to Chinese President Xi Jinping, who was dining with Trump during his US visit when the attack took place. The cruise missile attack was a message, von der Leyen noted, that Beijing was the only government that can rein in its 'dangerous' North Korean neighbor by political means.
Ultimately, Ardaev suggested that "with such a polyphony of opinions inside the 'G7', the desire by Rex Tillerson to personally present the Kremlin with a consolidated Western position isn't that surprising."
© REUTERS / Max Rossi
Britain's Foreign Secretary Boris Johnson (C) leaves at the end of a bilateral meeting during a G7 for foreign ministers in Lucca, Italy April 10, 2017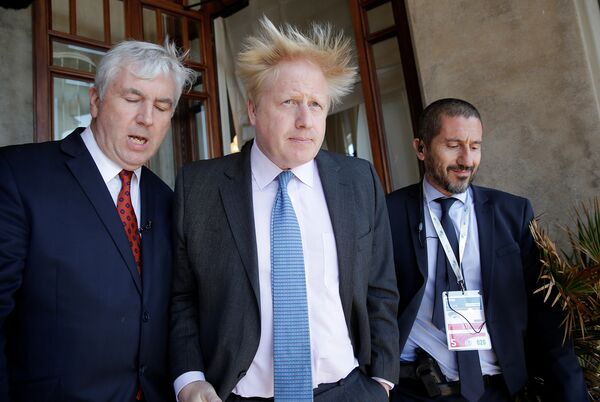 Britain's Foreign Secretary Boris Johnson (C) leaves at the end of a bilateral meeting during a G7 for foreign ministers in Lucca, Italy April 10, 2017
What's obvious, the observer noted, is that the secretary will be sure to raise the need for Moscow to meet its obligations as guarantor to the elimination of Syria's chemical weapons stockpile. He promised as much in an interview for ABC's This Week. At the same time, Tillerson refused to accuse the Russians of complicity in last Tuesday's attack.
What may be harder however is to convince the Russians of Assad's responsibility for the attacks in the first place. Moscow and Damascus have each indicated using data to back up their claims that the chemical weapons may have belonged to the militants themselves, or that the entire operation was a false flag meant to increase Western support for the militants.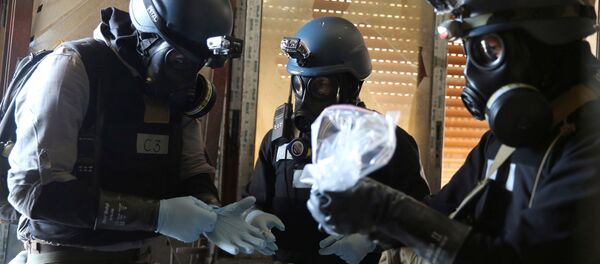 Following a landmark agreement brokered by Russia in 2013, Syria eliminated its chemical weapons, with the Organization for the Prohibition of Chemical Weapons confirming their total destruction in January 2015.
In his ABC interview, Tillerson emphasized that he was "hopeful that we can have constructive talks with the Russian government, with Foreign Minister Lavrov and have Russia be supportive of a process that will lead to a stable Syria."
What that "process" will mean in practice may be the key issue to the talks. If it means a request for Russia to back away from support for its Syrian ally, as Secretary Johnson has implied, Moscow will be unlikely to comply, no matter how much pressure the US and its allies threaten. Backing down on Syria would amount to capitulation to what is effectively an ultimatum, thus severely weakening Russia's status in the Middle East to a degree that no 'reward' could compensate.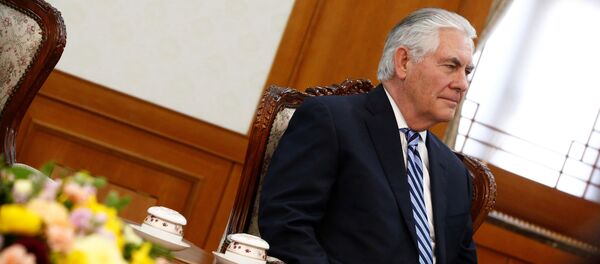 In any case, Ardaev stressed that it was noteworthy that Tillerson's tone ahead of the Moscow talks was markedly different from that of other members of the G7, particularly that of Johnson. 
"Just how much the two days' worth of discussions on 'a wide spectrum of international issues' in Italy will affect Tillerson's position on Russia, and whether it will affect it at all, is something one can only guess. That, incidentally, is exactly what's now being done in the Western media," the observer noted.
The Telegraph, for example, speculates that Tillerson may come to Russia with a 'deal' in the form of an ultimatum, inviting Moscow to return to the G7 group of countries in exchange for an end to support for Assad and withdrawal from Syria. If Russia rejects the proposal, it will mean more sanctions and efforts to further isolate Russia internationally. 
In reality, however, Ardaev suggested, "it's unlikely that Tillerson would succeed in speaking with Russia in the language of ultimatums, as the publication itself makes clear."
Indeed, three years after the introduction of Western sanctions against Russia over Ukraine, including Crimea, Moscow has refused to budge on the issue. In Syria, repeated efforts over the course of nearly six years by Western powers to oust Assad have only led to Russia strengthening its own presence there, in support of the country's legitimate government and its fight against terrorism.