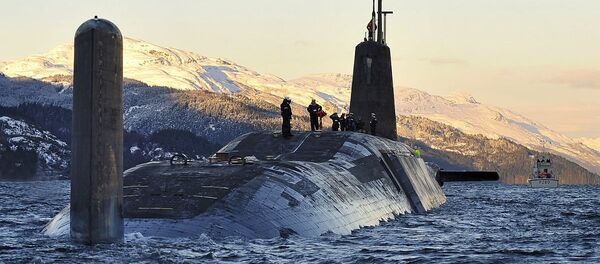 On Monday, British Defense Secretary Michael Fallon confirmed that his Prime Minister Theresa May "is prepared to launch Trident in the most extreme circumstances", as a first strike attack, even if Britain itself was not under nuclear attack.
The British Defense Chief however refused to specify or describe any such circumstances, which prompted many experts to speculate, exactly who the UK is ready to preemptively use nuclear weapons against?
Sputnik international affairs contributor Alexander Khrolenko has also taken a look at the issue.
"At least one of Britain's nuclear submarines is now on permanent combat patrol in the Arctic. I guess it is not the best way to protect the freedom and security of an island nation located 3,000 kilometers off the Barents Sea. However, the British media are full of optimism and leave practically no doubt that the main target of the British submariners is Russia," reads his article for Sputnik.
He further examines the UK's nuclear missile system. Trident, Britain's nuclear weapons deterrent and the most expensive element of the Royal armed forces, consists of four Vanguard-class submarines which can carry up to 16 Trident II D5 ballistic missiles, each armed with up to eight nuclear warheads. Trident's ballistic missiles can hit a target up to 7,500 miles (12,000 km) away and travel at speeds of more than 13,000 miles (20,920 km) an hour.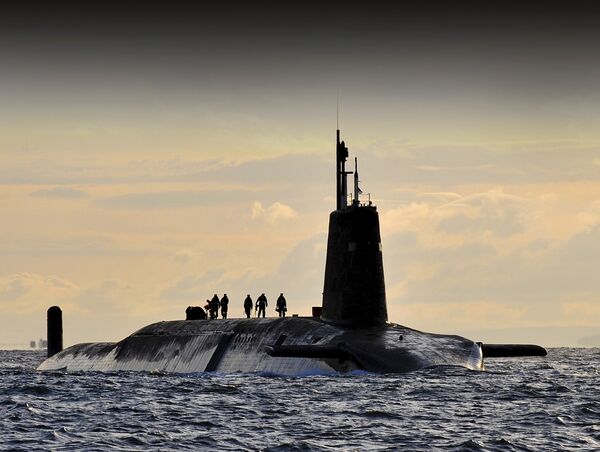 HMS Vanguard arrives back at HM Naval Base Clyde, Faslane, Scotland following a patrol. (File)
The system is based in the Faslane area of Scotland. No one knows exactly, but most nuclear weapons are approximately seven times more powerful than the atomic bomb which was dropped on the Japanese city of Hiroshima in 1945.
The cost of each submarine exceeds a billion British Pounds ($1.28 bln). The cost of the program is set to grow further even though its benefits are far from clear, the analyst says. However in summer 2016 the country's parliament voted in favor of modernizing its "nuclear shield." The House of Commons voted by a large majority to proceed with building a fleet of Dreadnought-class submarines, to be operational by 2028 (with the current fleet completely phased out by 2032) thereby renewing the Trident system and extending its life until the 2060s.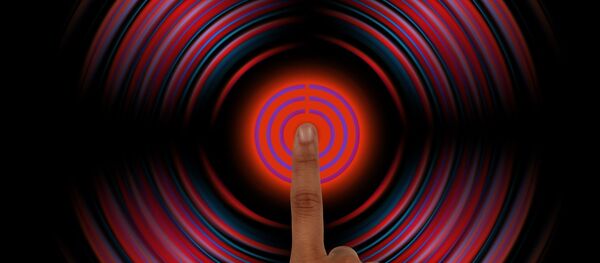 The final cost of replacing the Vanguard submarines will not be known until the project has been completed. In October 2015, Reuters claimed it would cost £167 bln ($214bln) over its 30-year lifespan, or £5.56 bln ($7.13 bln) per year; this figure was disputed by the Secretary of State for Defense, Michael Fallon. The Ministry of Defense puts the cost of building, testing and commissioning the replacement vessels at £31 bln ($39.7 bln) (plus a contingency fund of £10 bln ($12.8 bln) over 35 years, about 0.2 per cent of government spending, or 6 per cent of defense spending, every year. Crispin Blunt, Chair of the Foreign Affairs Select Committee, estimated in July 2016 that the program would cost £179 bln ($229 bln) in total over its lifetime.
Russia's Tough Reaction
The author further refers to the reaction of Russian parliamentarian Frants Klintsevich, first deputy chairman of the defense committee in Russia's upper house of parliament, the Federation Council, who said that Britain's threat "deserves a tough answer."
"At best, Fallon's threat should be viewed as a type of 'psychological warfare,' which in this context is an especially disgusting menace. Otherwise, this looks particularly bad as the question naturally arises: who is it that the UK is ready to preemptively use nuclear weapons against?" Klintsevich's commented on his Facebook page on Monday.
"Russia can't conquer Europe (or the US) through invasion or occupation. It is absolutely evident and thus pointless. However Russia is not the Falkland Islands. If London is making a display of its nuclear abilities, it is high time to remind of the vulnerability of its insular territory, which could be literally 'wiped off the face of the earth' by a responsive strike," Khrolenko writes echoing the similar warning of Frants Klintsevich.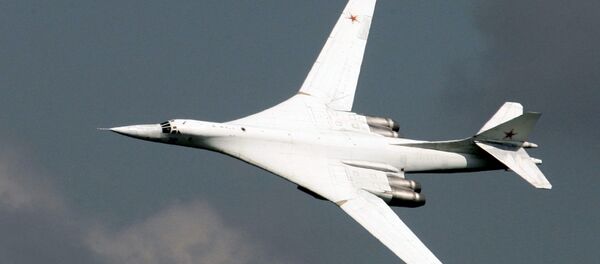 Prevention of a nuclear conflict, he says, is the core principle of Russia's military policies. However the Military Doctrine of the Russian Federation has a separate clause on the use of nuclear weapons in response to the aggression aimed either at Russia or its allies with the use of weapons of mass destruction or with the use of conventional weapons. Do they know about it in London, the author wonders.
Russia is ranked second in the 2017 rating of countries by Military Strength, with only the US ahead, according to the Global Firepower (GFP) index. Nuclear stockpiles were not taken into account. Besides, Khrolenko says, Russia's Naval Doctrine lists the Arctic among its top two priorities.
"It is only too clear that in case of a sudden military escalation in the Barents Sea, British nuclear submarines become the primary targets of Russia's Northern Fleet and of its global three circuit (marine, terrestrial, and space) hydroacoustic system for the protection of its territorial waters," he adds.
Reckless forceful intimidation, he says, does not answer Britain's national interests. London should leave its atavistic imperial habits and behave more rationally and prudently.
'Deterring' Russia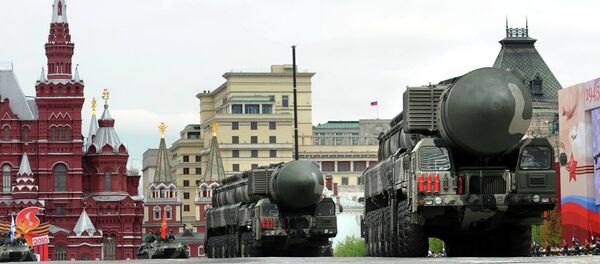 Khrolenko also commented on an article by Alexander Vershbow, former US ambassador to Russia (2001-2005) and Frank Rose, former assistant secretary of state for arms control, verification and compliance (2014-2017)
recently published
by The Hill political outlet. The two politicians yet again blamed Russia for an alleged "violation of the 1987 Treaty on Intermediate-Range Nuclear Forces (INF) by flight-testing a ground-launched cruise missile (GLCM) with a range capability between 500 and 5,500 kilometers."
They urged the European allies, involved in collective nuclear planning through NATO, to respond and "to share the burden in implementing the US response."
"First, the administration should move forward with modernization of US strategic nuclear delivery systems, especially the new air-launched nuclear cruise missile, known as the Long-range Stand-off system (LRSO)," they advised.
Second, the US and its allies, they say, should also improve their air- and sea-launched, conventional strike capabilities. The US should develop a conventional variant of the LRSO, to deliver conventional payloads in heavily-contested air defense environments from stand-off range.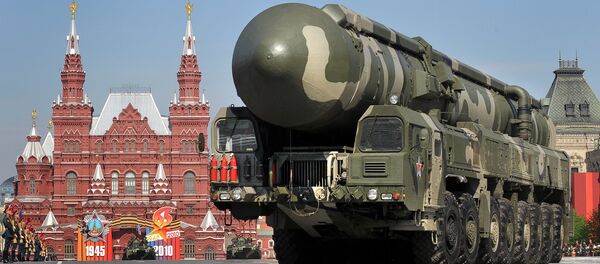 "We should help allies improve their air- and sea-launched conventional strike capabilities by facilitating sales of the extended-range variant of the Joint Air-to-Surface Standoff Missile (JASSM-ER) and sea-based Tomahawk cruise missile," the article says.
"Third, we should remind Russia that NATO remains a nuclear alliance with the capabilities and the political resolve to counter the increased nuclear threat posed by Russia's illegal cruise missile," it adds.
"Fourth, United States and NATO should deploy limited defenses against cruise missiles to protect key alliance assets in the event of conflict with Russia, degrading the effectiveness of Russia's illegal GLCM," it concludes.
"This comes as nothing new, the blah-blah-blah we have got used to. Russia has never threatened anyone with even a limited nuclear option, hence it is even more noticeable how little the American ideologists pushing for increased weapons sales think of the brains and human dignity of their European allies. However the aggressive marketing generates income. And even knowingly unfinished fifth generation F-35 are selling well, and that's the entire point," Khrolenko says.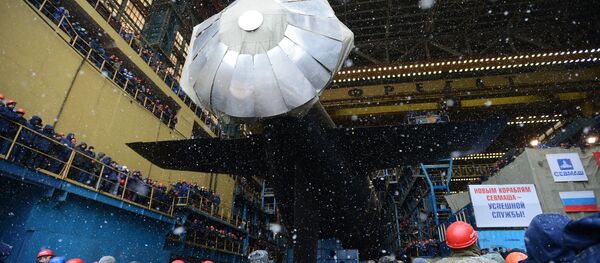 He further notes that we should feel pity for the Brits and the residents of continental Europe as Vershbow and Rose are "hunting them into a costly anxiety" over a non-existent "Russian threat".
"If we leave behind all the illusions, it is only the well-being of British taxpayers which is being endangered by the UK's nuclear warning," he therefore states.