Hardly has a politician in any Western state been so vilified with character assassination, and yet he has proven to be most popular Labour leader in Britain since the Second World War.
After weeks of trailing his Conservative rival Theresa May in the polls, Corbyn's socialist manifesto appealed to a record number of voters – closing the gap between the parties to only two percentage points behind the Tories.
This was in spite of a concerted media campaign to destroy Corbyn in the eyes of the British public as a "terrorist stooge." The irony here is that the Conservative party is forming a governing coalition with a little-known Northern Ireland party whose history is steeped in British state terrorism. (More on that in a moment.)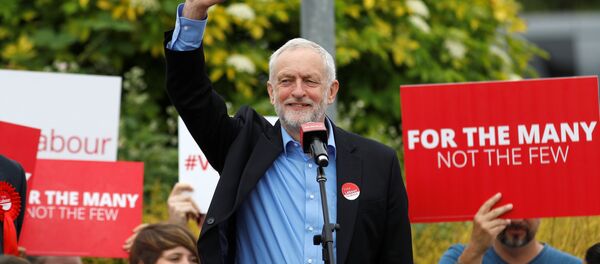 For Corbyn, the
election outcome
was a stunning moral victory. For Prime Minister May it was a humiliating defeat. The Conservatives lost their overall majority in the British parliament and now they have to rely on this reactionary fringe party from Northern Ireland to form a government.
May called the snap election because she thought her party would increase its majority and also because she calculated that Corbyn's socialist direction of Labour would be wiped out. Many Blairite naysayers in his own party thought so too.
The opposite happened. The British public largely rejected May and her neoliberal capitalist, pro-austerity, pro-NATO policies. They instead rallied behind Corbyn. Granted, the Tories still won the election – only narrowly – but the surge in support for Labour under Corbyn means that he has galvanized a party that stands a strong chance of winning if another election is called. And that could be soon, perhaps in the coming months owing May's shaky ad hoc government collapsing.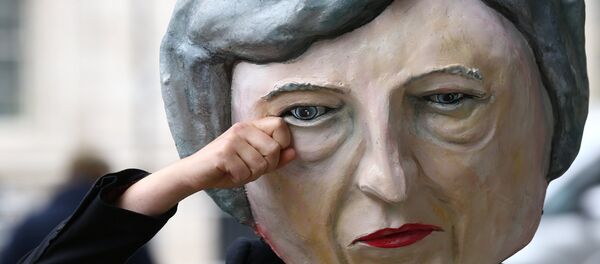 Another riveting factor in all this is that Corbyn's success came amid a torrential Tory and right-wing media campaign to denigrate him as a terrorist sympathizer. The propaganda onslaught was conducted for months since May called the election back in April. And it grew to a frenzy as election day approached last Thursday, especially when the opinion polls showed Labour steadily whittling away the earlier Conservative support.
The day before the public went to the polling booths, the Daily Mail ran the front page headline: "Apologist for terror," with Jeremy Corbyn's photo below. It looked like a "wanted poster" from the Wild West. The only thing missing was the subhead with the words: "Wanted dead or alive."
Regardless of your voting intentions, the Daily Mail and The Sun's attempt to smear Corbyn and politicise terrorism is disgusting/pathetic. pic.twitter.com/QsPaa33lho

— Will Phillips (@Monkiflops) June 7, 2017
The scurrilous allegation pounded over and over by the largely pro-Conservative British media that Corbyn is "soft on terrorism" stems from his otherwise principled history of campaigning on international justice and peace.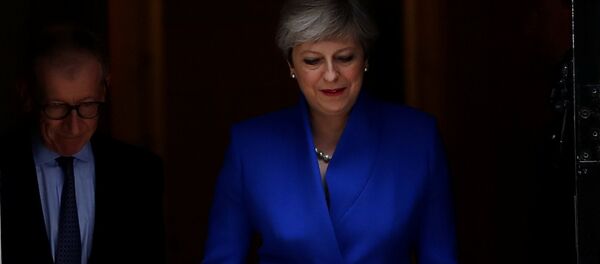 Over his 35 years as an MP, he has voiced consistent support for Palestinian rights under illegal Zionist occupation; he has supported Hezbollah resistance against Israeli and American aggression; and during the conflict in Northern Ireland, Corbyn gave a voice to Irish Republicans who were being assailed by British military violence.
Many other international causes could be mentioned, such as Corbyn opposing British government weapons dealing with the despotic Saudi regime which is propagating terrorism in Syria, Iraq and Yemen.
He has also campaigned to abandon nuclear weapons and is critical of NATO's reckless expansion in Europe, which have earned him the jingoistic pillorying by the British establishment of "being soft on Russia."
Corbyn has never condoned terrorism. Rather he has always sought to properly put it in a wider context of other parties also, unaccountably, using terrorism and thus fueling conflict.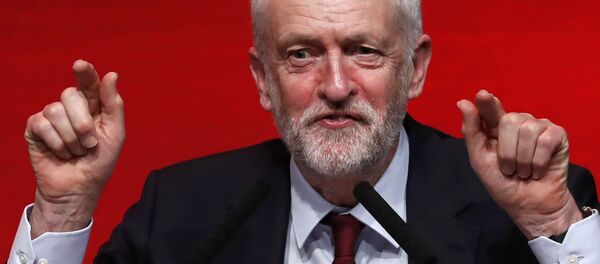 This brings us to so-called Democratic Unionist Party (DUP) from Northern Ireland whose 10 MPs Theresa May's Tories are now relying on to form a government. This party was formed in the early 1970s by the firebrand Protestant preacher Ian Paisley. While Paisley mellowed in later years before his death in 2014, he spent most of his career preaching vile hatred against Catholics and Irish Republicans, whom he saw as a threat to the political union between Northern Ireland and the rest of Britain. In British-run Northern Ireland, it wasn't acceptable to have a democratic aspiration for an independent Ireland. You were either a pro-British unionist or a "threat." So much for British democracy.
Senior members of Paisley's pro-British party played a crucial role in smuggling massive caches of weapons into Northern Ireland during the 1980s to illegally arm unionist paramilitaries. These paramilitaries went on to murder hundreds of innocent people simply because they were Catholics, who tended to be Republican. A favored tactic of these paramilitaries was to storm into pubs and homes and indiscriminately mow people down with assault rifles.
One notorious pro-British killer was Gusty Spence who belonged to the Ulster Volunteer Force paramilitary. He later expressed remorse and deplored Ian Paisley, the DUP founder, as the person who incited him to murder innocent Catholics due to his sectarian hate speech.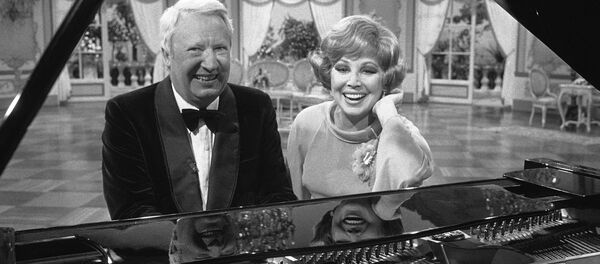 The paramilitary murder gangs were not just supported covertly by members of the DUP. The British government of Margaret Thatcher – Theresa May's predecessor and political heroine – orchestrated these same death squads in a covert policy of "dirty war."
British military intelligence colluded with the pro-unionist militants to assassinate Republican politicians and ordinary Catholics alike in a covert policy of state-sponsored terrorism. The objective was to terrorize people in submitting to British rule over Northern Ireland, rather than allowing the island country to become united and independent.
The British government provided intelligence and cover for the death squads and the unionist politicians had helped supply the AK-47 assault rifles and Browning handguns smuggled from Apartheid South Africa.
This secret dirty war policy of the British government and their unionist proxies in Northern Ireland has been uncovered by investigative journalists such as Paul Larkin (see his groundbreaking book "A Very British Jihad: Collusion, Conspiracy and Cover-up in Northern Ireland"); as well as human rights campaign groups like Belfast-based Relatives for Justice and Pat Finucane Centre.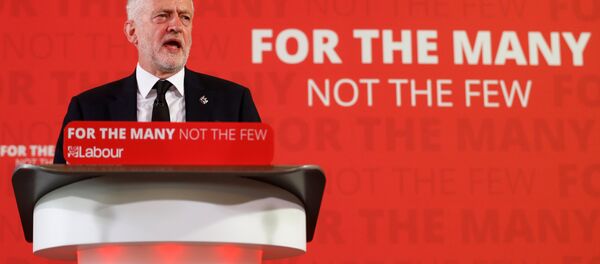 Not even the present government of Theresa May can deny this murderous legacy in Ireland, although there is a determined silence now as she fights for her political survival in the wake of the British election disaster.
It is a proven fact that May's Conservative party and the unionist politicians whom she is now partnering with to govern Britain were complicit in terrorism.
Northern Ireland has since gained a peace settlement in which unionist and republican politicians have been able to work together to form a local governing administration. The Irish peace process was possible partly because of the courageous and principled intervention by British politicians like Jeremy Corbyn.
Corbyn has never apologized for terrorism. He has sought to overcome it by making politics work. The same cannot be said for Theresa May's Conservative party. It was an accomplice and an apologist for a covert policy of state-sponsored terrorism during Northern Ireland's recent 30-year conflict.
The very party whom she is now allied with for governing Britain – the DUP – were also apologists for paramilitaries who routinely smashed their way into family homes and slaughtered victims in cold blood in front of their loved ones.
The ongoing muted policy of May's government and her unionist proxies about their murderous legacy in Ireland is a testimony to who the real apologists for terror are.
The views expressed in this article are solely those of the author and do not necessarily reflect the official position of Sputnik.