Since evidence is apparently optional for arguments published by Newsweek, this time, an author featured in the publication seems to have looked out onto the world, found it bloody and complicated, and decided to pin any old recent disaster on Russia.
The United Kingdom's Brexit vote, the Syrian refugee crisis in Europe and the rise of right-leaning politicians can all be traced back to one single, remarkably effective cause: Moscow. "Russia must accept a share of responsibility" in all of these events, Andrei Kovalev wrote in a September 3 op-ed for Newsweek.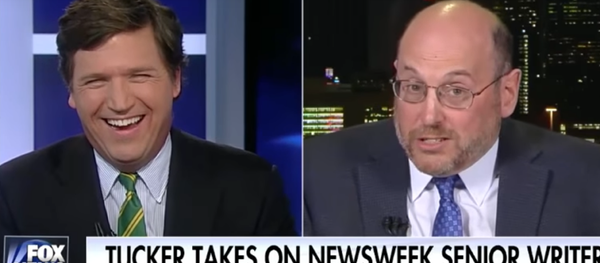 As for the Boston bombing, he asks, "Did the emigrants, the brothers Tsarnaev, of Chechen nationality, responsible for the Boston attack, act on their own initiative? It seems most unlikely."
Kovalev worked as a diplomat in the Soviet Union under Mikhail Gorbachev as well as for Russian presidents Boris Yeltsin and Vladimir Putin. "Sometimes I am reproached for attributing to the Kremlin too much influence in the world," he confessed in the article.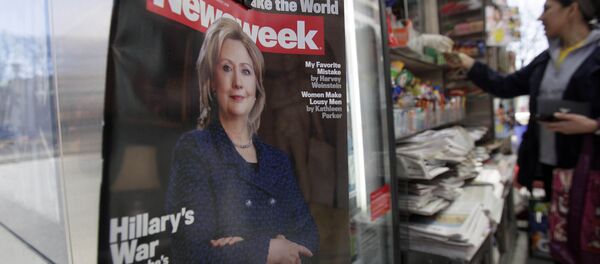 In reality, Russian security services sent warnings to multiple US agencies explaining that Chechen-American Tamerlan Tsarnaev had "changed drastically since 2010" and that he and his mother were adherents to "radical Islam" long before the Boston attack occurred. "The Russians were concerned that mother and son were very religious and strong believers, and they could be militants if they returned to Russia," a US official told the New York Times in 2013.   
"You have Russian intelligence services contacting two agencies without our federal government responsible for our national security, the FBI and CIA … they tell us, 'We believe you have a radical Islamist in your midst,'" South Carolina Senator Lindsey Graham explained at the time. 
Newsweek's readers quickly pointed out that the claim that Russia had orchestrated the Boston Marathon terror attack originated with Louise Mensch, a former UK member of Parliament who shot to fame as a darling of the Russia-bashing wing of the Trump resistance, but, given her penchant for calling literally any critic a Russian spy, has somewhat fallen from favor. Mensch was recently embarrassed by the Guardian for broadcasting information around the internet that was made up by a hoaxer but supported her "Russians are behind it all" agenda. As Radio Sputnik's Fault Lines host Garland Nixon joked, "pretty much everybody that dies, the death was related to Vladimir Putin," in Mensch's world. 
​When faced with accusations of spreading deleterious and false information, Mensch doubled down and said the Guardian was being operated by Russian security agency spies, too. The former MP alleged that one of her collaborators, Claude Taylor, had been duped, but that her reporting remained free of falsehoods.
Mensch has nevertheless been published by the New York Times, the Guardian and the Sun in addition to making TV appearances on MSNBC and Bill Maher's "Real Time" show. A running list of her baseless conspiracies includes Facebook CEO Mark Zuckerberg acting as a mole and Putin ordering the assassination of Breitbart News founder Andrew Breitbart to pave the way for Steve Bannon to take the reins of the organization.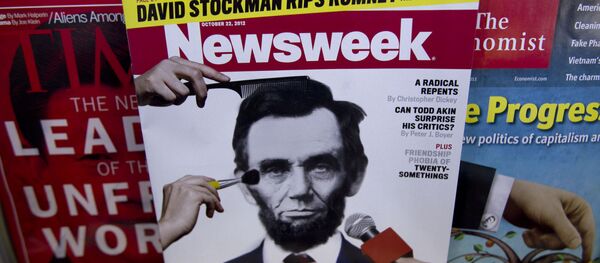 19 October 2016, 19:15 GMT
Newsweek, too, has gotten quite good at getting things wrong. It previously deleted two slanderous articles attacking a former Sputnik News editor following a defamation lawsuit settlement levied by now-attorney and former Sputnik weekend editor William Moran. During the scandal, in which the young lawyer represented himself in legal proceedings alleging slander against himself and Sputnik as a whole, Newsweek Editor-in-Chief Jim Impoco was fired. The February ouster was first reported by Politico.
Newsweek was forced to settle with Moran in July. "I brought this case before I was admitted to the bar and was up against the talented attorneys at mega law firm Pepper Hamilton," Moran said in a statement that month after a settlement was reached between the publication and recent Georgetown Law graduate for an undisclosed sum.
Shortly after, Editor-in-Chief Matt McAllester was forced to take a leave of absence for "personal reasons" in the beginning of August following an age and sex discrimination suit filed against Time Inc. by its former European editor, Catherine Mayer, in which McAllester is featured as the main offender. By August 25, McAllester had been dismissed from his position, the New York Post reported, citing internal company memos.