The team of 23 was led by Zheng Jian, deputy director of National Railway Administration of China, who met with the Nepali Ministry of Physical Infrastructure and Transport on November 10, after completing field trips to Gyirong, Pokhara and Lumbini.
According to the Kathmandu Post, Nepali Department of Railways spokesperson Prakash Bhakta Upadhayaya said that the Chinese team resolved many technical issues, especially geological ones.
"Altitude variation between Syaprubeshi and Gyirong and the gap created between Indian and Tibetan tectonic plates after the 2015 earthquake were major concerns. This Chinese team of experts has cleared out our concerns, paving way for development of railroads in the country," Upadhayaya told the Kathmandu Post.
He said that the Chinese team has assured the technical support required for this project. Nepal and China have also agreed to expedite cooperation in the field of cross-border railway connectivity.
Long in the making
Sun Lizhou, an international relations expert from Tsinghua University, has followed the progress of the project closely. He told the Global Times that time varies from project to project, from the moment an inspection team is sent out until construction begins.
The development of projects between China and Nepal has been affected by geopolitics.
Over the years, China and Nepal have held several rounds of talks, both formal and informal, about possible cross-border railways, especially under the Belt and Road initiative.
In 2006, Qiangba Puncog, the then-chairman of the government of China's Tibet Autonomous Region, told Sharma Oli, who was then deputy prime minister of Nepal, that the Qinghai-Tibet railway would be extended from Lhasa to Xigaze, Tibet Autonomous Region and then to the Sino-Nepalese border.
In March 2016, the Nepali prime minister signed 10 agreements with China during the Boao Forum for Asia, including plans to establish railways between the two countries.
In May 2017, during a bilateral meeting in Beijing, Chinese Vice Premier Wang Yang told Nepal's Deputy Prime Minister and Foreign Minister Krishna Bahadur Mahara that China was willing to push for the steady development of basic infrastructure projects between the two countries, such as road and railway construction.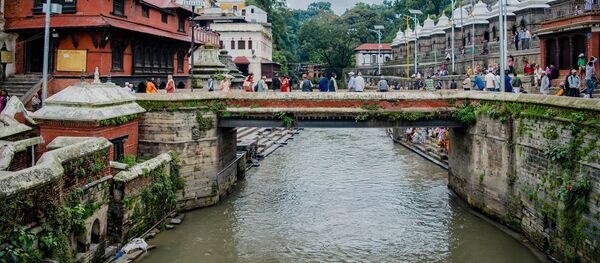 21 September 2017, 22:30 GMT
There were further meetings between China and Nepal in September of this year, when Mahara held a bilateral delegation-level meeting with Chinese Foreign Minister Wang Yi while visiting Beijing.
Soon after this year's 19th National Congress of the Communist Party of China, a high-level Chinese delegation was dispatched to Nepal to carry out an inspection of the technical feasibility of the railway.
China's National Railway Administration said that, in Nepal, China has made developing the cross-border railway "a high priority," according to Xinhua News Agency.
On the Chinese side, the extension of the railway from Xigaze in Tibet to the China-Nepal border port of Gyirong is being carried out and will be completed by 2020.
The railway is part of China's greater plan to connect neighboring countries with roads and railways in every direction.
Foreign media outlets have commented that China is executing "railway diplomacy."
Toward the West, there are three China-Europe cargo train rails, two rails between China and Kazakhstan and discussions of a railway project connecting China, Tajikistan, Kyrgyzstan, Afghanistan and Iran.
To the South, the China-Laos railway is expected to be finished by the end of 2020, and Thailand has recently approved a China-Thailand rail to begin construction this year.
Boost in cross-border trade
For Chinese companies trading with Nepal, the most convenient means of transportation is rail shipping from cities in Tibet to the Nepal's capital, Kathmandu. The railway's extension from Xigaze to Gyirong is highly anticipated.
The Guangdong-Tibet-Central South Asia freight train was launched based on the premise that it would link China and Nepal, an official in Lhasa involved with the project, who preferred not to be named, told the Global Times in a previous report.
"The China-Nepal railway remains a bottleneck for the economic corridor of South Asia, as the most challenging part is still in Nepal," he said.
Many experts also look forward to the railway. Sun told the Global Times that if China and Nepal are connected by rail, trade volume will be increased, with China receiving an all-new market with a 29 million population.
Sun thinks inconvenient transportation is the primary reason why Nepal's economy has fallen behind other Asian nations. Presently, a 1,389-kilometer shared border separates China and Nepal, but there are only two trading posts, both on roads, along the route.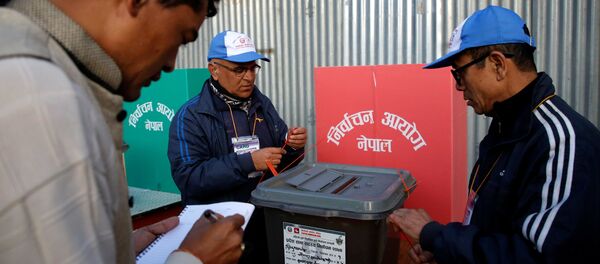 28 November 2017, 16:45 GMT
Furthermore, after the railway is completed, the development of cross-border trade between Bhutan, Bangladesh and China via Nepal will also thrive.
When Sun visited Nepal in 2016, he spoke with more than 200 people from all walks of life, asking for their honest opinions about the China-Nepal railway. Most showed their support.
Sun also believes that the China-Nepal railway will be advantageous to Nepal's national unity, as it could as it could encourage Nepal to maintain national unity and lessen its reliance on India.
"It will provide freedom and make it smoother to select suitable markets for the Nepalese. It will help Nepal to manage the trade deficit. It will play an important role to develop and flourish the trade, economic, social, cultural, religious and practical relations between China and Nepal," said Prem Sagar Poudel, Chairman of the Nepal-China Mutual Cooperation Society.
Pressure from India
When news of a Chinese surveying team arriving in Nepal got out, there was a strong response from the Indian side. There were also reports of Nepal "choosing China" as a new strategic partner so as to lower its dependence on, or "counterbalancing" against, India. Media reported the railway as "a bid to reduce landlocked Nepal's dependence on India for supplies."
Thinktank researchers in India also expressed concern that China's Qinghai-Tibet railway could impact India's national security by having the ability to send troops and war-time supplies directly to border regions.
Tsinghua's international relations expert, Sun, told the Global Times that India has been concerned about the construction of the China-Nepal railway.
"For years, India fully penetrated Nepal's government, army and main political parties, preventing Nepal from getting closer to China," he said.
Poudel told the Global Times that India doesn't want Nepal to fall out of its control.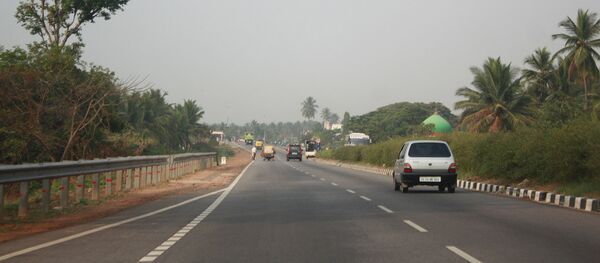 19 September 2017, 16:03 GMT
"India clearly knows that if Nepal and China's relationship becomes strong, then India can't use Nepal's natural resources like now. They will lose the monopoly over water resources, herbs, mines etc.," he said.
Sun thinks China should push forward for the development of the project even if it makes India "a little uncomfortable."
But the continuation of the railway on Nepal's side will be affected largely by the upcoming results of Nepal's national election, he added.
"Foreign pressure and interruptions can delay the Chinese railway line project, but no one can stop this project. Its process is moving ahead in a slow motion, but it is moving continuously nonetheless," Poudel said.
This article, written by Zhang Yiqian, was originally published in the Global Times.