The Syrian government says it has achieved "significant" progress in its ongoing military operation in Eastern Ghouta, a vast suburban area around the capital, Damascus.  The authorities reported having seized about one third of the total area held by different armed militant groups scattered all around Ghouta.
READ MORE: 'Strategic Security': Why Iraq Needs Russia's S-400 Missile Systems
Syria's Central Military Media says troops are continuing to advance from the east and are only within 3 kilometers, or 1.8 miles, from the military regiments moving in their direction from the west, which means Eastern Ghouta has been in essence divided into two parts.  Syria's SANA news agency reported that the success of the Syrian army has sent terrorists into a state of disarray and collapse.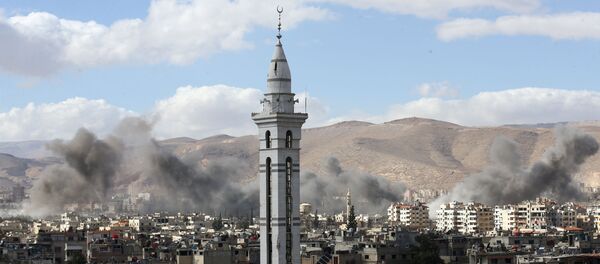 Monday's announcement comes a day after the troops regained control over the town of Nashabiyah and a number of villages and farms in Eastern Ghouta – Otaya, Hosh al-Salihiye, Hosh Kharabo, Haarma, Beit Nayem and others. The move is considered to be the biggest advance of the army since the government launched the large-scale operation codenamed Damascus Steel in mid-February to liberate the area from terrorists formerly known as the al-Nusra Front movement.
Last week, the United Nations Security Council unanimously approved a resolution stipulating a 30-day ceasefire in Syria to form a "humanitarian corridor" and thus ease aid access to civilians. Yet, the UN resolution excluded Daesh, Al-Nusra and other Al-Qaeda groups from the ceasefire, thus putting Eastern Ghouta under even worse shelling.
READ MORE: UK, US De Facto Confirmed Support of Syria Terrorists — Russian Diplomat
The Damascus suburbs have been bombarded day in and day out for months, with over 600 civilians having been killed in the last two weeks alone. Roughly 2,000 people have sustained injuries, Panos Moumtzis, Regional Humanitarian Coordinator for the Syria Crisis, said in a statement Sunday.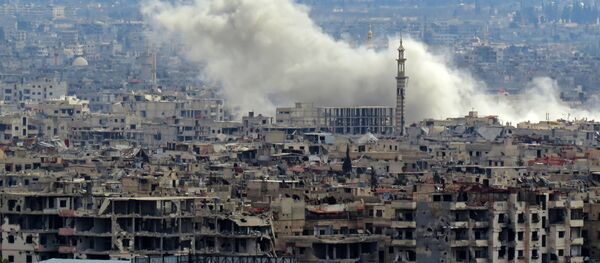 According to the UN, a whopping 385,000 people have been displaced since December. Russian Defense Minister Sergei Shoigu earlier noted that a daily curfew had been introduced in Eastern Ghouta, between 9 a.m. and 2 p.m. local time (7:00 to 12:00 GMT) to make it possible for civilians to safely escape the war-torn zone.
The Russian military has stressed that the militants in the region were purposefully striving to escalate the standoff in Eastern Ghouta and staging a spate of provocations against the Syrian authorities to block civilians from leaving the area.