"Our view of the nuclear deal is that it's a flawed agreement," Saudi Foreign Minister Adel al-Jubeir told journalists in Washington.
In the interview with CBS, Prince Mohammad bin Salman elaborated on the Iranian issue, labelling the Islamic country's role in the region as "harmful." Though acknowledging that Iran could by no means rival the kingdom in terms of military and economy, he mentioned that should it seriously embark on a nuclear program, the Saudis would promptly follow suit. In addition, he drew parallels between Iran's Ayatollah Ali Khamenei and Hitler, adding he is "the new" Hitler in the Middle East, similarly interested in expansion.
READ MORE: Saudi Crown Prince: If Iran Develops Nuclear Bomb, 'We Will Follow Suit ASAP'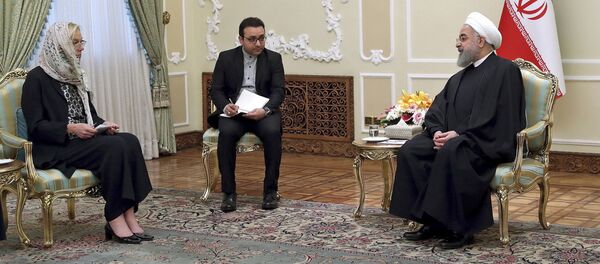 21 February 2018, 18:11 GMT
In response, Iranian Foreign Ministry spokesman Bahram Qassemi
called the Crown Prince a "delusional, naïve person."
The two major powers in the Middle East, Saudi Arabia and Iran, have been longtime rivals for dominance in the region and have supported opposite sides in the conflicts in Syria and Yemen. Relations between the two countries have further deteriorated in the wake of the Yemeni Houthi rebels' missile launch targeting Riyadh, with the latter accusing Tehran of providing the rebels with weapons; the Islamic Republic's authorities have vehemently denied the allegations.
READ MORE: Saudi Crown Prince Slams Iranian Supreme Leader as 'New Hitler of Middle East'
In January 2016, Saudi Arabia cut ties with Iran following protests in front of its embassy in Tehran after the execution of a Saudi cleric. In December 2017, Iranian President Hassan Rouhani named two conditions to restore "good relations" between the two countries, saying that Riyadh should "stop the misguided friendship with Israel and the inhumane bombardment of Yemen."