It appears that a joint April 14 missile strike on Syria has not eliminated contradictions between the US and its European allies.
On April 16, French President Emmanuel Macron announced that he convinced US President Donald Trump to stay in Syria: "Ten days ago, President Trump said the US' will is to disengage from Syria. We convinced him that it was necessary to stay," Macron told French media reporters.
However, in response, the White House issued a statement saying that "the US mission has not changed — the President has been clear that he wants US forces to come home as quickly as possible."
Why American Allies Want US to Stay in Syria
"France and Britain cannot replace Americans in the Middle East," Alexei Makarkin, an analyst and deputy director at the Center for Political Technologies in Moscow, told Sputnik. "After World War I, Syria was Paris' mandated territory. Arab society would have been outraged by the return of French troops. Immediately, talk about a new phase of colonialism would have emerged."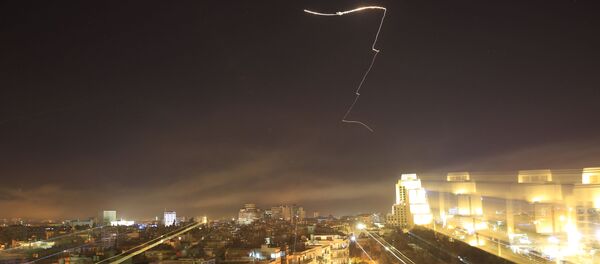 On March 29, Trump announced: "We're knocking the hell out of ISIS [Daesh]*. We'll be coming out of Syria, like, very soon. Let the other people take care of it now. Very soon… we're going to be coming out of there very soon."
The US president's vow immediately prompted serious concerns among American allies and regional players. In a March 30 interview with Time magazine, Saudi Crown Prince Mohammad bin Salman highlighted the necessity of the American military presence in Syria.
Meanwhile, on March 29, Macron promised to deploy French troops to help the Kurdish-dominated Syrian Democratic Forces (SDF) to resist the potential Turkish advance in Manbij, northern Syria.
The vow triggered a storm of criticism from Ankara, which regards the People's Protection Units (YPG), the backbone of the SDF, as an affiliate of the Kurdistan Workers' Party (PKK), outlawed in Turkey.
Furthermore, on March 31, Turkey's Anadolu Agency exposed the location of French Special Forces positions in northern Syria, accusing Paris of collaborating with "terrorists." Paris has so far not confirmed whether Macron had delivered on his promise and beefed up France's military presence in the region.
© AP Photo / Hussein Malla
A Syrian shepherd herds his flock, as he passes in front of a newly installed U.S. position near the tense front line between the U.S-backed Syrian Manbij Military Council and the Turkish-backed fighters, in Manbij, north Syria, Wednesday, April 4, 2018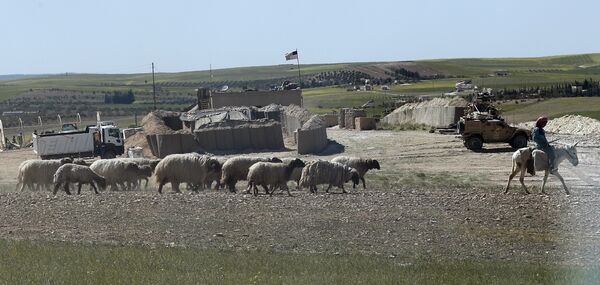 A Syrian shepherd herds his flock, as he passes in front of a newly installed U.S. position near the tense front line between the U.S-backed Syrian Manbij Military Council and the Turkish-backed fighters, in Manbij, north Syria, Wednesday, April 4, 2018
© AP Photo / Hussein Malla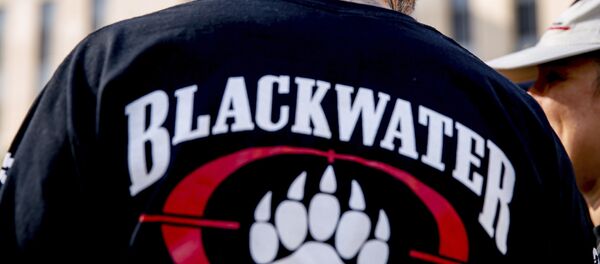 According to Makarkin, the UK is also hesitant about restoring order in the Middle East.
"It was not a coincidence that [UK Prime Minister] Theresa May refused to discuss the issue of striking Syria in the parliament: It was clear that a lot of lawmakers would oppose it," he suggested. "The parliament did not support the planned attack on Syria in 2013. The United Kingdom has not yet forgotten the Iraq campaign of 2003, which was recognized as unsuccessful."
Under these circumstances it is clear that Paris and London want the US to stay in the region, especially given the fact that their Gulf allies are also insisting on that.
Trump's Vow to Pull Out Raises Questions
However, both Makarkin and Director of the Center for Middle Eastern and Central Asian Studies Semyon Bagdasarov cast doubt on Trump's decision to pull out of Syria.
According to Bagdasarov, the US president's vow is mere rhetoric aimed at blackmailing his Gulf allies: "He wants the Gulf States to pay him for [the US] military presence. [Trump] threatens: 'In case you do not provide funding, I'll leave' — and is waiting for the reaction of the oil states," the Russian scholar suggested.
Meanwhile, reports about new US bases in Syria continue to emerge. On April 3, Anadolu Agency reported about two new US bases in the Manbij region, Aleppo Governorate, citing "trustworthy" local sources. On April 16, Fars news agency wrote that the US had set up a military facility in the al-Tanak oilfield in the Deir ez-Zor region.
US Withdrawal From Syria to Facilitate Peaceful Resolution
According to Sputnik contributor Igor Gashkov, if Trump withdraws US military servicemen from Syria it would definitely contribute to peace and stability in the region.
First, it would reduce the threat of direct confrontation between Russia and the US, the two nuclear powers, in the region. Second, it would solve the problem of the US illegitimate presence in Syria, which is authorized neither by Damascus nor by the UN. Third, it would help Damascus to reach compromise with the Syrian Kurds, the journalist pointed out, stressing that Washington's military actions in the region, most notably Raqqa, have led to growing antipathy between Arabs and Syrian Kurds in the country.
On April 14, the US, France and the UK launched a massive strike on Syria, firing over 100 missiles — 71 of which were intercepted by Syrian air defense systems. The attack was conducted as "retaliation" for the alleged use of chemical weapons in Douma, Eastern Ghouta, and preceded an international investigation into the case.
*Daesh (IS/ISIS/ISIL) is a terrorist group banned in Russia and many other countries.
The views and opinions expressed by the contributors do not necessarily reflect those of Sputnik.