The Trump administration is seeking to drag the Islamic Republic of Iran back "into the Dark Ages," Phil Butler, geopolitical analyst and author, told Sputnik, adding that anti-EU tariffs are just a tool to drive a wedge between Europe and Tehran.
"[Trump] is using tariffs as a bargaining chip," the geopolitical analyst suggested. "Washington is betting for Israel, and Israel wants Iran back in the Dark Ages. Look for interesting wheeling and dealing in the next days."
Brussels is seemingly trying to save the Joint Comprehensive Plan of Action (JCPOA) commonly known as the Iran nuclear deal after Washington unilaterally abandoned the accords.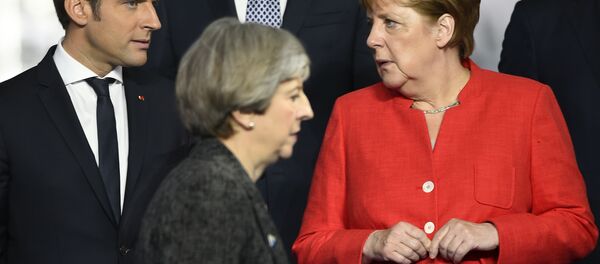 The European Commission announced on May 18 that it had "launched the formal process to activate the Blocking Statute by updating the list of US sanctions on Iran falling within its scope." When activated, the measure will forbid EU companies and individuals from complying with "US extraterritorial sanctions" and shield European businesses involved in trade with Iran.
The European signatories to the JCPOA — France, Germany and the UK — have repeatedly pledged their commitment to the nuclear accords, striving to reach a compromise with Trump on the deal.
Nevertheless, a number of European firms have announced that they are going to wind down their activities in the Islamic Republic before Washington's sanction will come into force in August.
According to Butler, it is unlikely that Trump and the EU will find a middle ground on the deal: The US president may adopt a stick-and-carrot approach to his European allies to force them out of the Islamic Republic's market. It appears that Washington has leverage to manipulate its European partners.
Besides steel and aluminum tariffs which came into effect in late May, Trump is planning to impose up to 25 percent tariffs on auto imports which would hit both European and Asian carmakers.
However, international observers regard the latest measure as a direct "strike" on Germany: "US President Donald Trump's threat to levy tariffs on imported vehicles aims at the heart of Germany's export-led economy," writes Bloomberg adding that shares of Volkswagen AG, BMW AG and Mercedes-Benz parent Daimler AG had already dropped.
New Offensive on Iran is a Result of US' Failed Syrian Gambit
According to Butler, the timing of the US crackdown against Iran is noteworthy.
"The new 'offensive' against Iran is a result of the failed Syria gambit by the US aligned states," he said. "Israel and the Saudis lost a big one against [Bashar al] Assad and Russia, and the next fallback position," he presumed.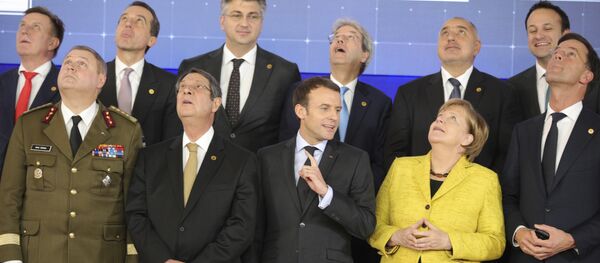 Israeli Prime Minister Benjamin Netanyahu meanwhile has embarked on a diplomatic mission, striving to persuade European leaders to abandon the JCPOA.
Speaking to Netanyahu, German Chancellor Angela Merkel noted that she shares Tel Aviv's concerns but will support the much-discussed nuclear agreement. Having visited Berlin, the Israeli prime minister went to Paris on June 5 to meet with French President Emmanuel Macron, before going to London on June 6.
Netanyahu was dubbed by Haaretz as "Trump's lobbyist-in-chief" due to his effort to convince EU member-states to adopt tough measures against Iran.
While Trump is increasing pressure on his European allies on the one hand, Tehran is raising the stakes on the other.
On June 4, Iranian Supreme Leader Ayatollah Ali Khamenei announced that he had ordered preparations to increase uranium enrichment capacity in case the JCPOA falls apart at the seams. Earlier Khamenei gave the EU nothing short of an ultimatum demanding that it defend the nuclear agreement and compensate some of Iran's losses.
© Sputnik / Sergey Guneev
 / Go to the mediabank
The ETERNO shop of the Chelyabinsk Pipe-Rolling Plant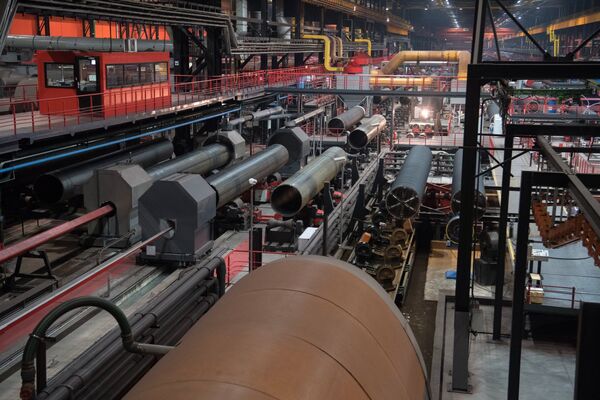 The ETERNO shop of the Chelyabinsk Pipe-Rolling Plant
© Sputnik / Sergey Guneev
/
EU Mulling Over Which Battles to Pick
The Iran deal is not the only fight major EU member-states are facing. Recently, Foreign Policy magazine dropped a hint that European energy giants may soon fall under US sanctions because of the Russian-led Nord Stream 2 project.
The endeavor is aimed at delivering 55 billion cubic meters of natural gas from Russia to Germany in order to meet Europe's growing demand for hydrocarbons.
Although some observers assume that the US is seeking to replace Russian pipeline gas with the American liquefied natural gas (LNG), energy experts say that right now it is technically impossible for Washington to fill this gap.
The question then arises as to what is behind Washington's efforts to expel Russia's Gazprom from the EU energy market.
"There is no way to fuel Europe via fracked LNG from North America," Butler said. "The move against the Russia pipeline is an obvious one. Washington needs to keep monetary pressure on Vladimir Putin, and the only way to do this is low energy prices and limiting Russia's sales."
While Washington and Brussels are expressing concerns about the future of the Ukrainian gas transit, which could be brought to a halt once Nord Stream 2 becomes operational, the geopolitical analyst presumes that this is not actually the point.
Although Russian President Vladimir Putin has signaled that Moscow could maintain the route through Ukraine in the future, Butler suggested that in this case "Washington will simply find another way to make the trans-Ukraine route too costly or impossible" in an attempt to put Russia between a rock and a hard place.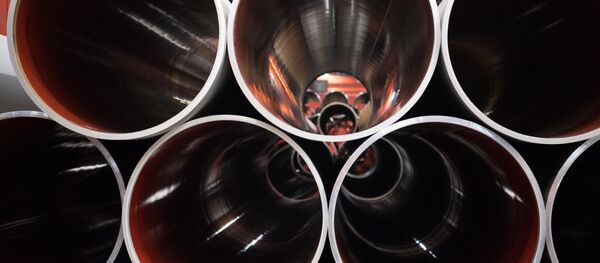 Earlier, US Ambassador for EU Adam Shub announced that Washington "categorically rejects any notion that
Nord Stream 2 would be acceptable
were Russia to 'guarantee' a minimal volume of gas transit via Ukraine."
"You have to see these moves for what they are — a new kind of economic war to keep Russia out of her rightful position. This has always been the game," Butler said.
Speaking to Sputnik, Butler expressed skepticism regarding the EU's willingness to fight for Iran and Russia's Nord Stream 2 regardless of the fact that the US extraterritorial sanctions directly hit Europe's business interests.
Independent political risk analyst Eric Kraus shares a similar stance. Speaking to Sputnik on May 30 he noted that "it is hard to imagine Europe developing sufficient backbone to stand up to Washington, defending its own economic interest." It appears that only Eurosceptic powers and parties could somehow change the disturbing trend, he added.
The views and opinions expressed by Phil Butler and Ekaterina Blinova are those of the contributors and do not necessarily reflect those of Sputnik.