Sputnik: What is your thought on what exactly happened [in the Il-20 incident]?
Bhadrakumar Melkulangara: I certainly watched more than once the briefing given by the Russian general presenting the report of the investigation into what happened on September 17.  I think very little is left to the imagination. It's factual, very precise, very logical and difficult to contradict. Maybe unpleasant to certain people, certain quarters, Israel and the US in particular. But it cannot be contradicted, because facts have been presented; there is very little interpretation there. [It is] not at all acrimonious. It is a very balanced presentation [….]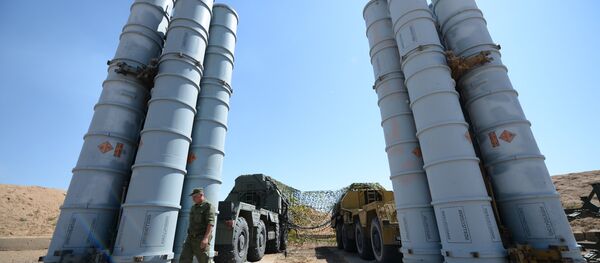 25 September 2018, 08:09 GMT
Sputnik: Is the introduction of Russian S-300 air defense systems going to play a major role? I understand there are already similar systems in place in Syria already. The Russian plane was in fact downed by an S-200 system. There are systems as updated as the S-400, according to some reports. Is this really that big of a deal, this response that Russia has announced?
Bhadrakumar Melkulangara: I'm not a military man. You know that I was a career diplomat, that's my profession. But I've read up, particularly after this became a topic a few months ago for the first time.
When this took place on September 17, curiously, in my first writing on the subject, I speculated that Russia's reaction is likely to be along these lines; I mentioned the S-300. Therefore, I can put it like this: as far as I can see, it was an expected move. It was, in my opinion, a very appropriate move, because it is a great tragedy that 15 persons have been killed, have lost their lives when serving their country.

25 September 2018, 16:20 GMT
Under the circumstances, it is a measured step. Was it appropriate? It was appropriate in my opinion, because the point is: which country on Earth would not take defensive measures? […] I saw reports on the conversation between President Vladimir Putin and [Israeli Prime Minister] Benjamin Netanyahu. The president said that the consideration is about the safety and security of the Russian servicemen deployed in Syria.
This is very easy to understand and this is a very rational move. […] If you recollect, there was something of a flashpoint at that time in Syria. The Israelis had bragged that they wouldn't even allow the S-300 to be deployed. They said they wouldn't allow even the deployment, physically. […] From what I see, this is a game changer, if we put it like this. Very succinctly, it is a game changer, because this makes it necessary for the Israelis to think many times over before they get into any adventurous expeditions in Syrian air space.
The views and opinions expressed in the article are those of the speaker and do not necessarily reflect Sputnik's position.