In Barcelona, where the mass actions brought together 180,000 people, following the end of the rally's formal part, protesters threw bottles, cans and eggs at policemen.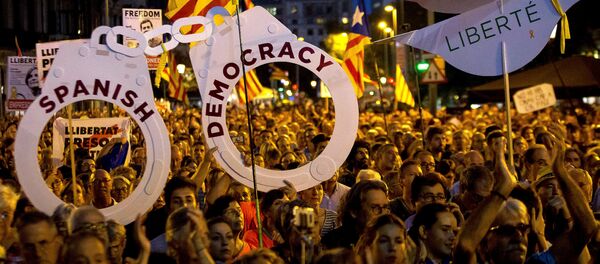 29 September 2018, 19:29 GMT
The rioters then reached the parliament building and made the police officers retreat into it. At about 10:00 p.m. local time (20:00 GMT) law enforcement officers began clearing the square in front of the parliament building.
The rally in Girona has not been without tensions either, with participants attempting to pull down a fence surrounding the building of the Catalan government's representation in the city and break through the police cordon. According to local media, about 3,000 people participated in the rally in Girona.
Besides, clashes among demonstrations' participants have also been registered.
READ MORE: Situation in Catalonia on Independence Referendum Anniversary
On October 1, 2017, the northeastern Spanish region held an independence referendum, which resulted in 90 percent of voters supporting Catalonia's secession from Spain. On October 27, 2017, the Catalan government proclaimed the region's independence, but the central Spanish government responded by imposing direct governance over Catalonia just one day later, refusing to accept the vote.