"All what we want right now is to bury him in Al-Baqi [cemetery] in Medina [city in western Saudi Arabia] with the rest of his family," Salah said in the interview, released on Monday.
He specified that he had already discussed it with the Saudi authorities, and that he hoped that he would soon be able to bury his father.
The brothers said that Khashoggi used to be "courageous," "generous" and "very brave."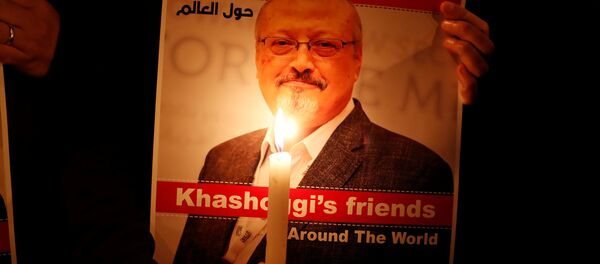 4 November 2018, 13:05 GMT
READ MORE: 'Khashoggi Factor': Wall Street Still in Love With Riyadh After Grisly Murder
Khashoggi, a Washington Post columnist known for his criticism of Saudi policies, was last seen entering the Saudi consulate in Istanbul on October 2. On October 19, after more than two weeks of denials, Saudi Arabia admitted the journalist had been killed in a brawl inside the consulate. According to Riyadh, 18 people have been arrested over their suspected involvement in the incident.
On October 26, the Saudi prosecutor general acknowledged that the journalist's murder had been premeditated. However, Riyadh maintains that the murder had nothing to do with the Saudi Royal family, describing it as a rogue operation.
On November 2, Khashoggi's fiancé Hatice Cengiz called on US President Donald Trump to help recover Khashoggi's body for a proper burial ceremony.