The Tokyo Electric Power Company (TEPCO), the operator of the damaged Fukushima Daiichi Nuclear Power Station (Fukushima-1), has detected tritium (T, or 3H - a radioactive substance) in the seawater on the northeastern shoreline of the port in proximity to the facility. This signals the initial detection of tritium since the release of treated, low-grade radioactive water commenced.
According to TEPCO, the seawater around the plant has tritium levels below 10 becquerels per liter, well below the company's 700 becquerel set limit and the World Health Organization's (WHO) recommended safe drinking water threshold of 10,000 becquerels.
Previously, the water's primary function was to cool down damaged reactors. Subsequently, it underwent treatment in the Advanced Liquid Processing System (ALPS), jointly developed by EnergySolutions and Toshiba.
© Photo : IAEA
ALPS-Treated Water Discharge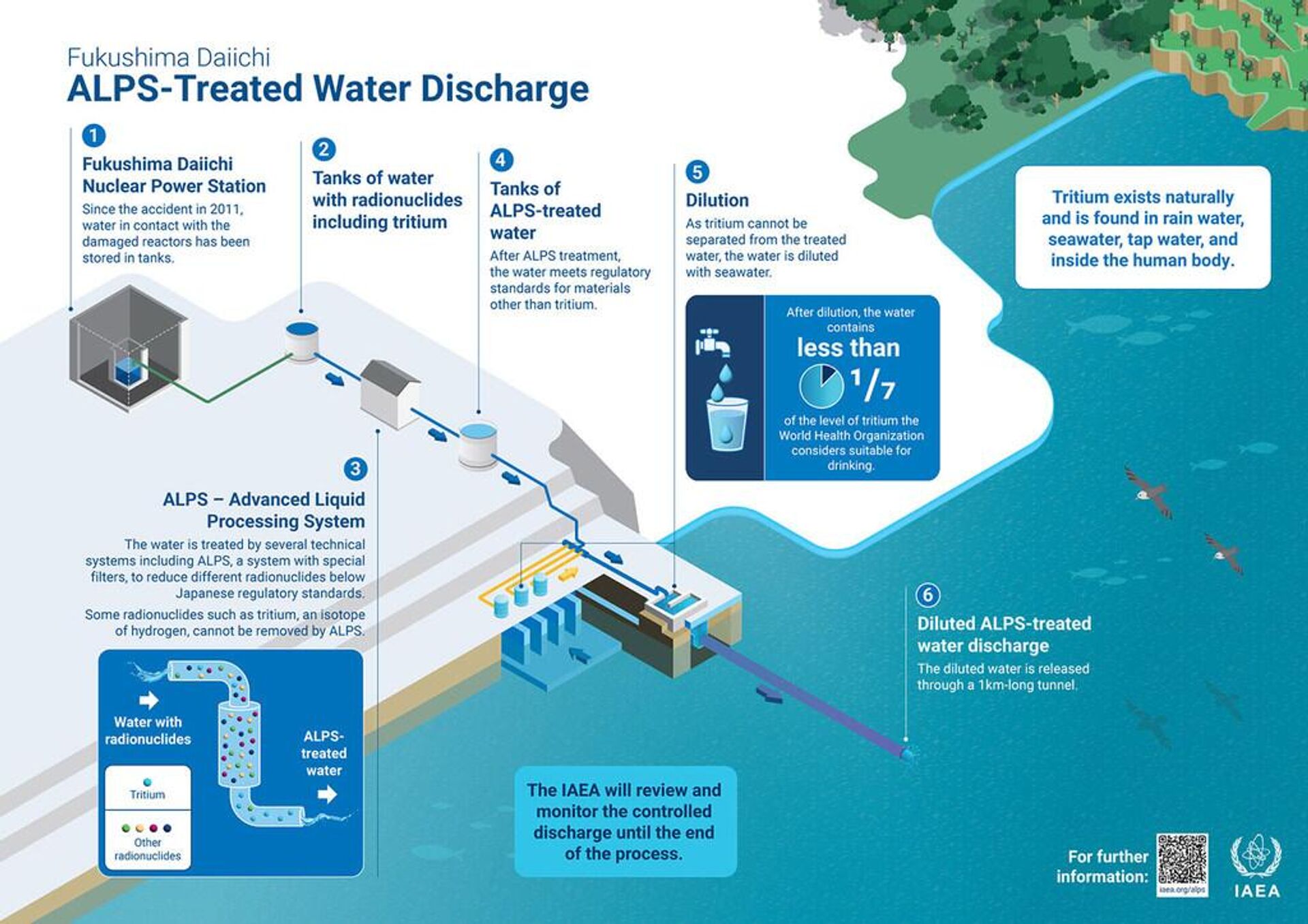 ALPS-Treated Water Discharge
ALPS is a chemical process designed to decontaminate radioactive wastewater, specifically reducing radioactive substances to levels allowed for safe disposal. However, it can't get rid of tritium since it's naturally bound to water molecules, leading to concerns regarding the release of treated water into the ocean.
In June, about 1,000 storage tanks at the Fukishima-1 site contained water treated by ALPS process, amounting to over a million cubic meters. These tanks are projected to reach maximum capacity by late 2023 or early 2024.
Nonetheless, the first phase of the treated wastewater discharge is set to span 17 days, and during this time, around 7,800 cubic meters of water will become ocean-bound.
By the close of the fiscal year on March 31, 2024, the Fukushima-1 nuclear power station in Japan will have released a substantial volume of 31.2 metric tons of water. This water will carry a radioactive tritium concentration of 5 trillion becquerels.
It should be recalled that on March 11, 2011, at 2:46 PM in Japan,
a massive 9.0 magnitude earthquake struck
. This earthquake triggered a 15-meter tsunami, which disabled the power and cooling systems of three Fukushima Daiichi reactors, leading to a nuclear disaster. Within just three days, all three reactor cores experienced significant melting.
In its pursuit of safer plant decommissioning, Japan aims to secure the land currently occupied by tanks, with concerns looming over potential tank collapses during
natural disasters
.
On August 27, 2023, Japan's Environment Ministry reported tests conducted on seawater within the Fukushima-1 station found no traces of radioactivity. This announcement comes shortly after authorities began dislodging ALPS-treated wastewater into the ocean.
A number of countries, including China, have voiced strong criticism of these measures. China, for instance, has taken the step of
blocking all imports of Japanese marine products
and intensifying its inspection of other Japanese goods at customs. The Chinese Ministry of Commerce's spokesperson, Shu Jueting, addressed the discharge as
"extremely selfish and irresponsible"
and added that it will
"cause damage and harm to the global marine environment that cannot be predicted."

Furthermore, Hong Kong and Macau has followed suit by prohibiting the import of marine products originating from Tokyo, Fukushima, and eight additional prefectures.
South Koreans have criticized
the President Yoon Suk Yeol led government for endorsing the Japanese treated wastewater dump.
"The Yoon Suk Yeol government and the ruling People Power Party are accomplices in the dumping of the wastewater,"
stated Kwon Chil-seung, a the opposition Democratic Party's spokesperson.
North Korea's Foreign Ministry also voiced concerns regarding the wastewater dump, saying it is a "crime against humanity" and expressed that the Japanese authorities should be held culpable of any "catastrophic consequences" that would arise.
In an effort to ease safety considerations concerning fish from Fukushima after the release of treated radioactive water from the Fukushima nuclear power station, Prime Minister Fumio Kishida and three other top Japanese government ministers ate Fukushima flounder sashimi slices and other marine products on August 30, 2023, in the full glare of the public.
"Publicly consuming food to prove its safety is a piece of political theater with a long history," noted Makoto Takahashi, an assistant professor at Vrije Universiteit Amsterdam, who has delved deep into the enduring impact of the Fukushima disaster.