The United States and Vietnam are gearing up to sign a "comprehensive strategic partnership" pact during President Biden's state visit to the Southeast Asian nation next week, according to a US media report citing a senior Biden administration official and two Vietnamese sources familiar with the matter.
The agreement was proposed by Washington earlier this year, and is likely aimed at strengthening US efforts to "contain" China in Asia by creating or shoring up a network of alliances surrounding the country. The agreement is also expected to ramp up economic and trade cooperation, including technology.
© Sputnik
US bases near China along the so-called First and Second Island Chains.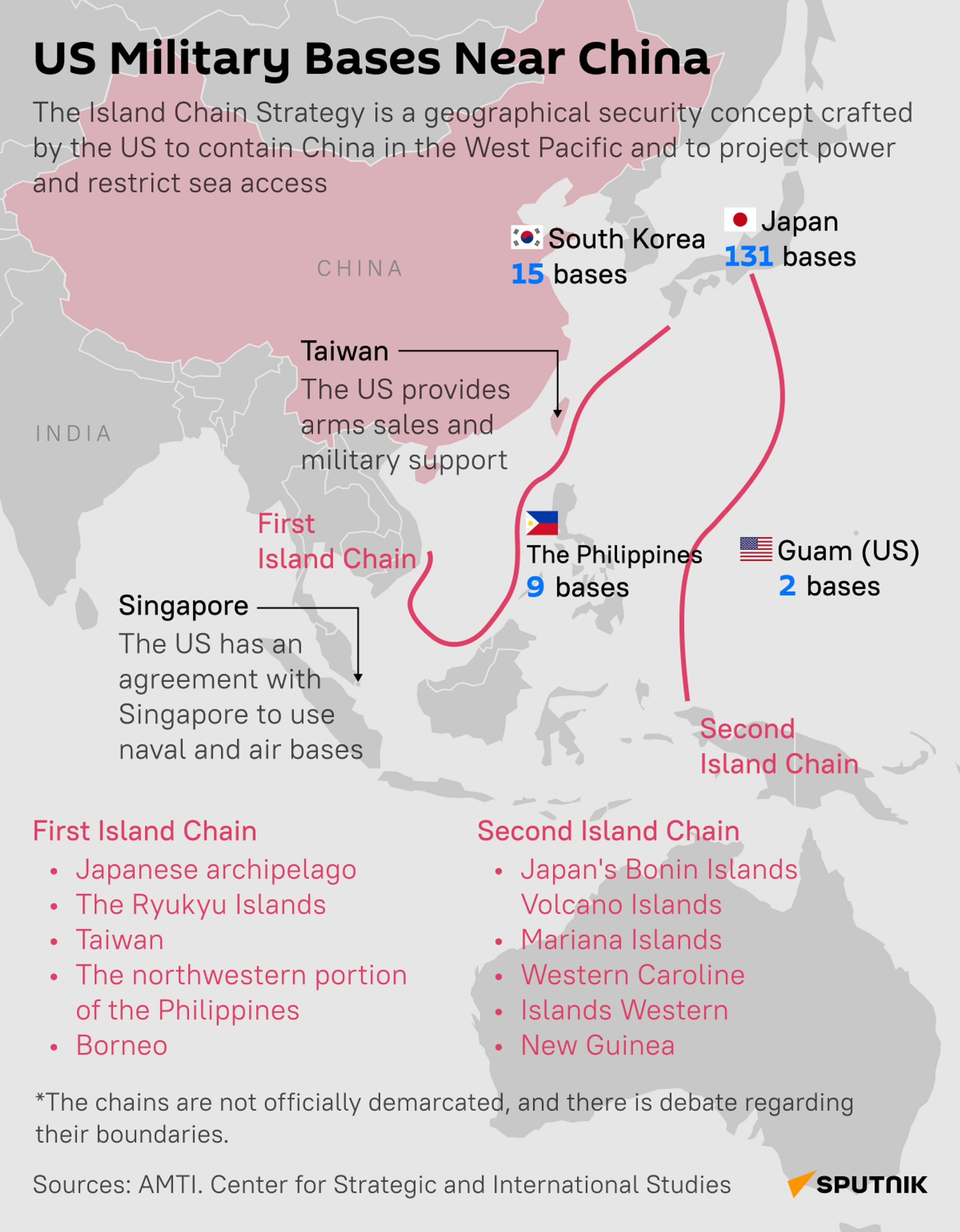 US bases near China along the so-called First and Second Island Chains.
An administration official said US-headquartered semiconductor makers have expressed "willingness to support" Vietnam and its efforts to develop advanced technology, with US companies already supplying giants like Apple and Google with components made in Vietnam, and Boeing expected to set up production in the Southeast Asian nation.
The treaty is also expected to ramp up defense and security ties, with the US Navy expected to increase the frequency of port visits by its naval strike groups, and the two countries expected to ramp up joint military drills. US arms sales are also said to be on the table.
Vietnam already has "comprehensive strategic partnership" pacts with Russia, China, South Korea and India, with relations with the US carrying "comprehensive partnership" status up to now.
An anonymous US official said the bump in relations is expected after Washington made a "credible case" for stepping up cooperation. Officials emphasized however that "comprehensive strategic partnership" status is not a path to a formal military alliance, with Vietnam maintaining a policy of strict neutrality since the breakdown of the Soviet Bloc in the early 1990s.
On Hanoi's end, the shoring up of ties with Washington may be an attempt to balance relations with its powerful Chinese neighbor. Vietnam and China signed their own comprehensive strategic partnership agreement
in 2013
and expanded cooperation in a number of areas,
but tensions persist between amid conflicting claims to waters and island chains in the South China Sea – a situation the US has eagerly sought to exploit in the case of other China-adjacent countries in the region.
Biden is expected to visit with Vietnamese leader Nguyen Phu Trong and other officials in Hanoi on September 10.
"The leaders will explore opportunities to promote the growth of a technology-focused and innovation-driven Vietnamese economy, expand our people-to-people ties through education exchanges and workforce development programs, combat climate change,
and increase peace, prosperity, and stability in the region
," White House press secretary Karine Jean-Pierre
said
in a prepared statement last week.
The last time Washington moved to "increase peace, prosperity, and stability" in Southeast Asia in the mid-1960s, it resulted in a brutal, decade-long war which killed up to 3.8 million Vietnamese – 2 million of them civilians, plus over 58,000 US servicemen. America's strategy, based at the time on the so-called 'Domino Theory' aimed at containing Soviet and Chinese influence, resulted in millions of tons of ordnance being dropped on North and South Vietnam, as well as Laos and Cambodia. Over 77 million liters of defoliants were sprayed over the country – 44 million of them containing the highly toxic chemical dioxin. Up to 14 percent of the territory of South Vietnam was exposed to dioxin, poisoning thousands of square kilometers of forest and jungle, killing 18 species of birds, affecting amphibian and fish wildlife, and wiping out flora and fauna across
about six percent
of Vietnam's total land area.

10 August 2022, 07:01 GMT
The impact of the war continues to haunt Vietnam today, not only of the hundreds of thousands of war veterans and millions of civilians who lived through the conflict, but the estimated 400,000 people who died from cancers and other dioxin-related ailments, and at least
150,000 children
born after the war suffering from horrific birth defects.
US Vietnam War veterans exposed to Agent Orange have since received
financial compensation
for medical issues related to their exposure. But Washington has
refused
to take responsibility for or compensate the Vietnamese for engaging in this form of chemical warfare. Several hundred million dollars have been allocated for dioxin remediation and health and disabilities in the 2000s and 2010s, but the funds are
just a drop in the bucket
compared to Vietnam's needs.
Not First US Attempt to Shore Up Ties With Former Foe
The Biden administration's effort to strengthen relations with Vietnam isn't the first time that US foreign policy makers have turned to cooperating with a traditional communist foe in the interests of Washington's geopolitical ambitions. In the 1970s, the US
supported
a communist Somali government during a brutal proxy war against Soviet-backed Ethiopia known as the Ogaden War, with that conflict ultimately culminating in Somalia's collapse into a failed state in the 1990s. In the late 1970s and through the 1980s, the US
backed
the brutal Pol Pot regime's seat at the United Nations long after it collapsed following Vietnam's intervention in Cambodia in 1978.
Vietnam Marks Independence
Vietnam marked the 78th anniversary of its declaration of independence on Saturday. Proclaiming independence on September 2, 1945 after the successful August Revolution, Vietnam was thrust into a bloody, three decade-long series of conflicts against French colonialists, the US military, and China. Vietnam is one of only a handful of nations never to have lost a war in its modern history.
Russian President Vladimir Putin congratulated Vietnam on the independence anniversary, saying that relations between Moscow and Hanoi are "developing dynamically in the spirit of comprehensive strategic partnership," and expressing confidence that "the further strengthening of the multifaceted Russian-Vietnamese ties is in the fundamental interests of our friendly nations."