Russian tank-making giant Uralvagonzavod is mulling restarting the production of the T-80, the legendary, turbine engine-equipped main battle tank (MBT) which singlehandedly gave birth to the third generation of tank construction.
"Such a task has been set, at least the military has set it for us. We are now actively collaborating, working, and exploring these questions with the Ministry of Industry and Trade as well, because this will require new production capabilities," Uralvagonzavod general director Alexander Potapov
told
Russian media over the weekend.
Tankers fighting in the Russia-NATO proxy conflict in Ukraine have sung praises to the T-80, with the tank crew of the upgraded T-80BVM 'Alyosha'
garnering
national and international media attention last month after singlehandedly destroying two Ukrainian T-72Bs, an M113 armored personnel carrier and five MaxxPro armored fighting vehicles and then towing their comrades' damaged tank to safety.
First introduced into service with the Soviet Army in 1976, the T-80 was the first third-generation MBT in the world, and the first tank model using a powerful multi-fuel
gas turbine engine
as its main source of propulsion, providing the 42.5-46 ton machine with pep which can prove critical in tank-on-tank encounters.
The tank has a three-person crew, and was designed to serve in elite Soviet Guards formations stationed in Eastern Europe during the Cold War.
The T-80 has been nicknamed the 'flying tank' or 'jet tank' by military observers and servicemen due to its high speed performance characteristics and maneuverability, and ability to make impressive jumps. At lower speeds, the tank can operate at very low noise levels, allowing it to approach to within 100-200 meters of the enemy before being noticed. The tank's turbine engine also allows it to operate comfortably at temperatures as low as - 40 degrees Celsius, far too cold for most diesel-powered MBTs.
The modernized T-80BVM, built by Omsktransmash in Siberia, is a deep modernization of the T-80BV, which began production in 1985. The modernized tank features a 1,250 horsepower GTD-1250 engine, a 500 km range on a single tank of fuel on the highway, and a top speed of up to 80 km per hour. Defenses include Kontakt-5 explosive reactive armor dynamic protection and lattice anti-ordnance screens.
The T-80's main armament is a 2A46 125 mm smoothbore cannon, which can fire both regular ordnance and guided anti-tank projectiles. Secondary weaponry includes 12.7 mm and 7.62 mm machine guns. The tanks come with a Sosna-U thermal and laser range-finder gunner's sight, and the Korzina series automatic loader, which can hold standard shells, HEAT or HE-FRAG munitions.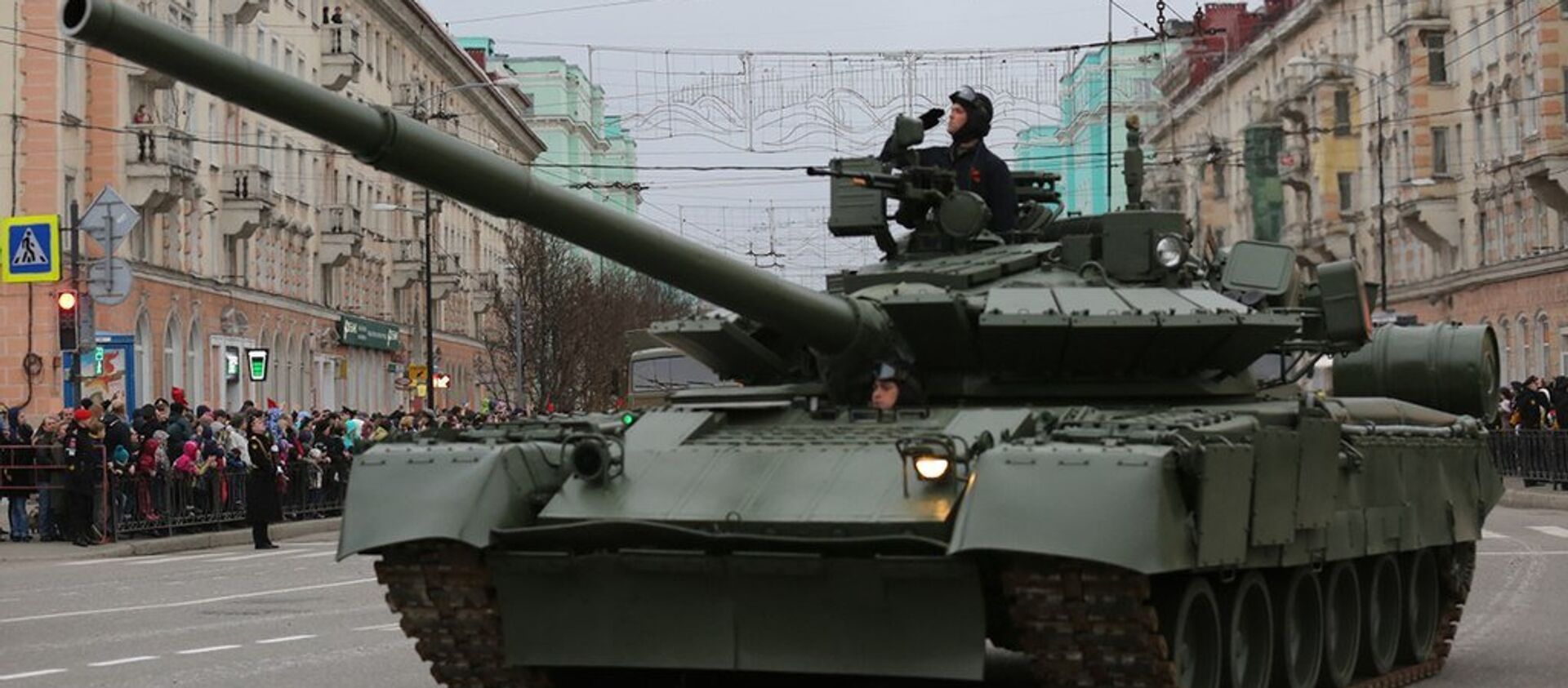 24 November 2019, 13:05 GMT
Over 5,500 T-80s of various modifications were produced at defense factories across the USSR (and to a lesser extent in the post-Soviet space after 1991), the latter including a modified T-80UD with a diesel engine produced by the Malyshev Locomotive Factory in Kharkov. The last Russian-made T-80 model was produced by Omsktransmash in 2001.
T-80 variants are operated by about half-a-dozen countries around the world, including Russia, Ukraine, Uzbekistan, Pakistan, Cyprus, Yemen and South Korea (which purchased them in the 1990s). The UK and the US also bought several T-80Us shortly after the collapse of the Soviet Union in a bid to learn the tank's secrets. Former operators include Angola, Egypt, Azerbaijan and Belarus.