President Andres Manuel Lopez Obrador underscored that his country boasts relations "with all countries" after a Russian military unit's presence at the weekend parade marking Mexico's Independence Day drew ire from Ukraine's officials.
"We have relations with all the countries in the world and everyone is invited... It's always been done," Lopez Obrador said at a news conference on Monday.
Oksana Dramaretska, Ukraine's ambassador to Mexico, had left a dramatic post on X (formerly Twitter), claiming that the parade had been
"sullied"
by the Russian participation, as she slammed the decision made by
Mexico's President
, also known by his initials, AMLO.
Russia and the international community United.

"Military personnel from the Preobrazhensky Regiment of the Russian Army took part in the military parade on the occasion of Mexico's Independence Day." pic.twitter.com/nJZjl3TCAy

— Afshin Rattansi (@afshinrattansi) September 18, 2023
"All the countries that Mexico has diplomatic relations with were invited," AMLO stressed, pointing out that a Russian contingent had participated in past parades as well.
Representatives from 19 countries took part in the military parade in the capital's Zocalo Square on September 16 to mark Mexico's Independence Day, including China, Nepal, South Korea, Brazil, Colombia, Venezuela and Cuba. The Russian Federation was represented by soldiers of the 154th Preobrazhensky Regiment.
The Mexican Secretariat of National Defense said that the inclusion of military contingents from many countries in the parade is "a demonstration of the brotherhood that unites Mexico with the countries of America, Europe and Asia."
© AFP 2023 / CLAUDIO CRUZ
People attend "The Shout" (El Grito) ceremony marking the start of Independence Day celebrations at Zocalo square in Mexico City on September 15, 2023.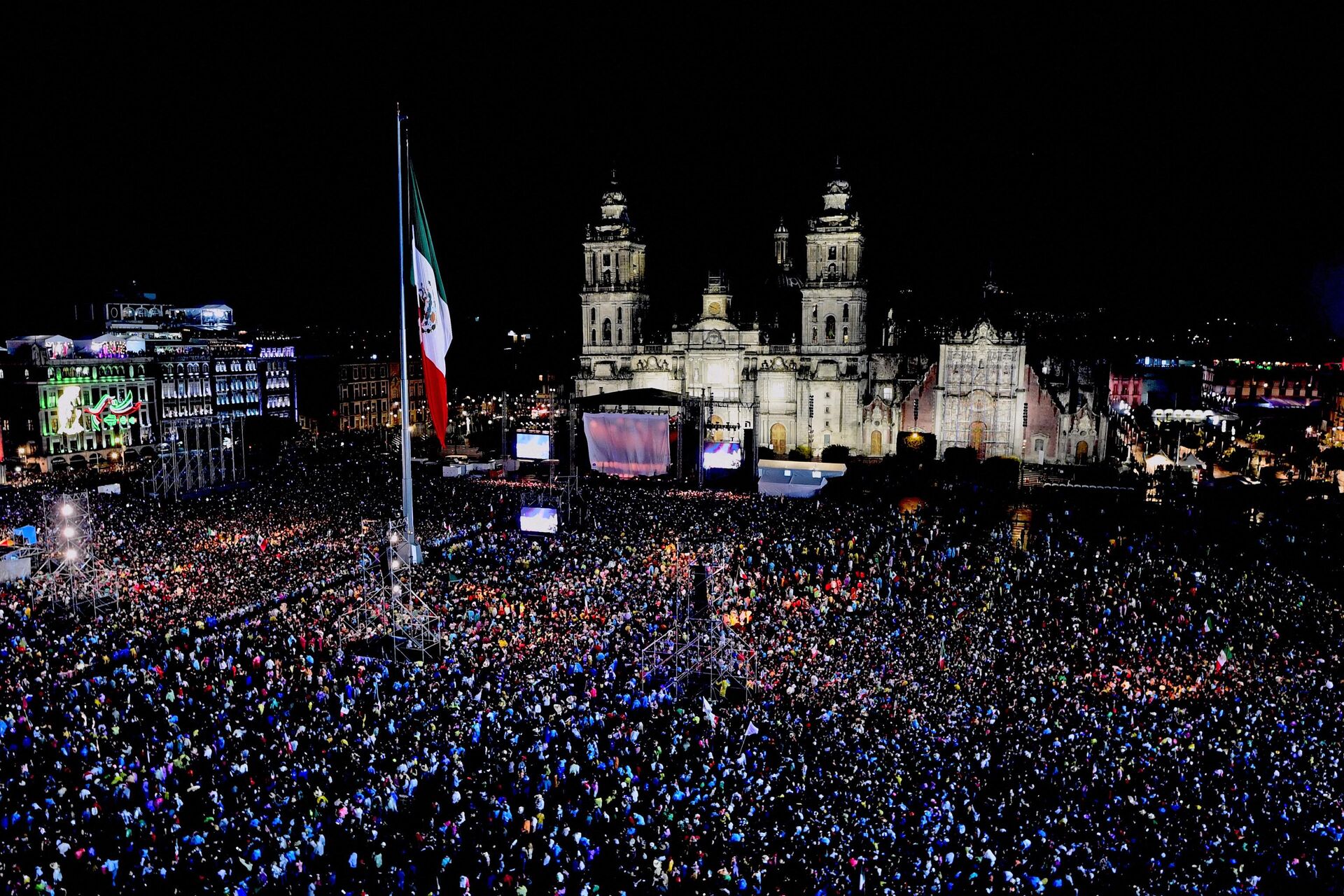 People attend "The Shout" (El Grito) ceremony marking the start of Independence Day celebrations at Zocalo square in Mexico City on September 15, 2023.
Mexico has joined the majority of countries in the developing world in maintaining neutrality in the
Ukrainian crisis
, whipping up irritation in the United States and among Washington's allies.
"We do not allow them to tell us who we should have relations with and who not," AMLO said in late 2022.
The Mexican president has also been a major proponent of peace talks, since Obrador said at an August presser, that Mexico does not want to see the conflict "become commonplace."
"If both Ukraine and Russia agree to seek a solution to achieve peace, we will take part – if the parties to the conflict agree and convene (other countries) for this purpose. We are for peace…If the two countries are represented, then yes."
Amid
Western sanctions
targeting Russia over Ukraine, Moscow has stepped up trade ties and market share with non-Western countries to unprecedented new highs. Mexico is one such example. Trade turnover between both countries jumped 17 percent year-on-year in June, by $324 million in total, the highest level ever recorded, according to a report by Russian media citing figures from Mexico's official statistical service, the National Institute of Statistics and Geography (INEGI).