David Cameron is still unfit to hold office seven years after he resigned as British prime minister, says a political pundit.
Current PM Rishi Sunak surprised the nation when he resurrected Cameron's failed career as part of his cabinet reshuffle on Monday, which began with the sacking of outspoken home secretary Suella Braverman. Cameron was made Foreign Secretary as James Cleverly moved to the Home Office.
Cameron must now be granted a peerage in the House of Lords by King Charles III so he can qualify to serve as a minister. That prompted a protest from House of Commons speaker Sir Lindsay Hoyle that Cameron would not be answerable to fellow MPs in the elected lower house of Parliament.
Geopolitical analyst
Ian Shilling
told
Sputnik
that Cameron was "a disgusting, totally corrupt traitor, mass murdering, psychopath and war criminal."
"He helped Obama and Hillary Clinton and Joe Biden, all of them Al Qaida supporting terrorists in Libya to overthrow Gadhafi and also help them to try and overthrow Assad in Syria, use the same Al Qaida type terrorists," Shilling charged. "And then they created ISIS* in about 2013 to change the regime in Iraq."
"This is the root cause of all these illegal immigrants crossing the channel into the UK and millions of people crossing into Italy from Libya and into France," he continued.
The commentator said that, outside of the European Union, British foreign policy was a "laughing stock" — as was the US under President Joe Biden.
"What they're doing is completely contrary to national interest because they turn away third world countries, neutral countries in Africa and Asia, South America they turn them away from the West and then turn them towards China," Shilling said. "the billions in the rest of the world know what a farce it is, and certainly all the Arabs in the Middle East know that the UK and the US support terrorists."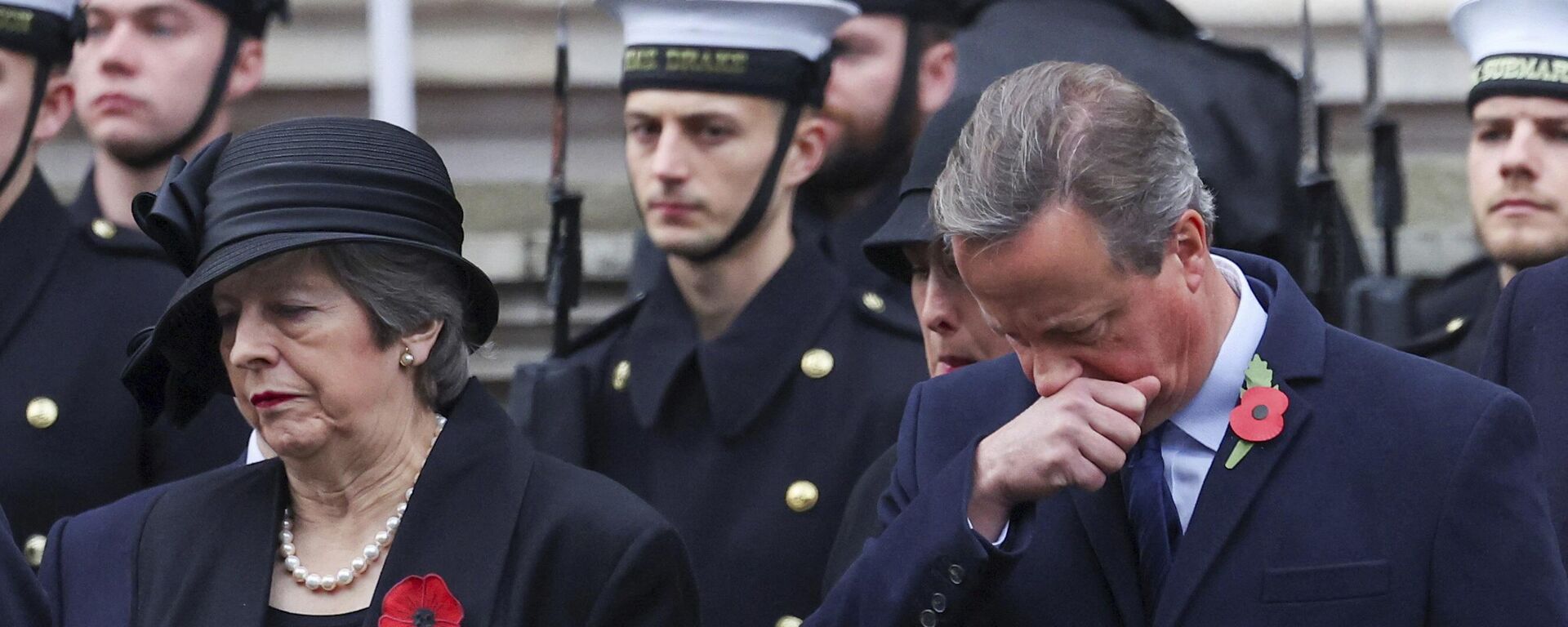 In another blast from the British political past, Israeli Prime Minister Benjamin Netanyahu is reportedly considering his former British counterpart Tony Blair as his "humanitarian coordinator" for the besieged Palestinian enclave of the Gaza Strip — once the Israeli Defense Forces (IDF) have finished demolishing it in their latest attempt to destroy the Hamas movement.
Blair embroiled the UK in former US president George W Bush's invasions and occupations of Afghanistan and Iraq.
"He's even more corrupt and more of a psychopath than Cameron," Shilling stressed. "He's absolutely terrible. Should've been locked up years ago."
* ISIS (Islamic State) or Daesh is an international terrorist organisation banned in Russia and by United Nations Security Council resolutions.
For more incisive analysis of the top news stories, tune in to our Sputnik Radio show The Backstory.