Last Thursday, Stratfor, a for-profit intelligence company, published satellite photos showing "signs of a growing Russian military presence" in Syria. But is Stratfor a reliable source? According to Brian Becker, national coordinator for the ANSWER coalition, the answer is no.
"[Stratfor's] business model is designed to hype trending news stories and offer what purports to be an 'insider' view of geo-strategic developments," Becker tells Sputnik. "By focusing on trending news in the mainstream media, Stratfor seeks to be mentioned as a source by the same media in follow up stories, thus generating new publicity and business for its publications."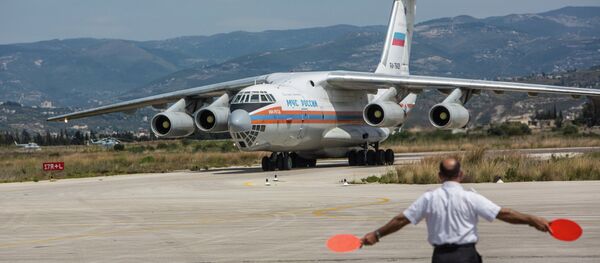 14 September 2015, 19:29 GMT
Becker also details how, exactly, the intelligence company carefully crafts its message to sound more legitimate than it really is.
"Typically, Stratfor's categorical conclusions are based on carefully parsed language that upon careful reading reveals not hard evidence but conjecture, the use of unnamed sources, and linguistic trickery," he says.
Cumulatively, these rhetorical strategies make "the reader believe the conclusion drawn by Stratfor is fully proved when it is not."
Take the first paragraph of the company's latest report, for instance, which confirms "Russia's Expanded Presence in Syria." The following excerpt has been italicized by Sputnik for emphasis.
© Airbus/Stratfor (Screenshot)
Stratfor's satellite images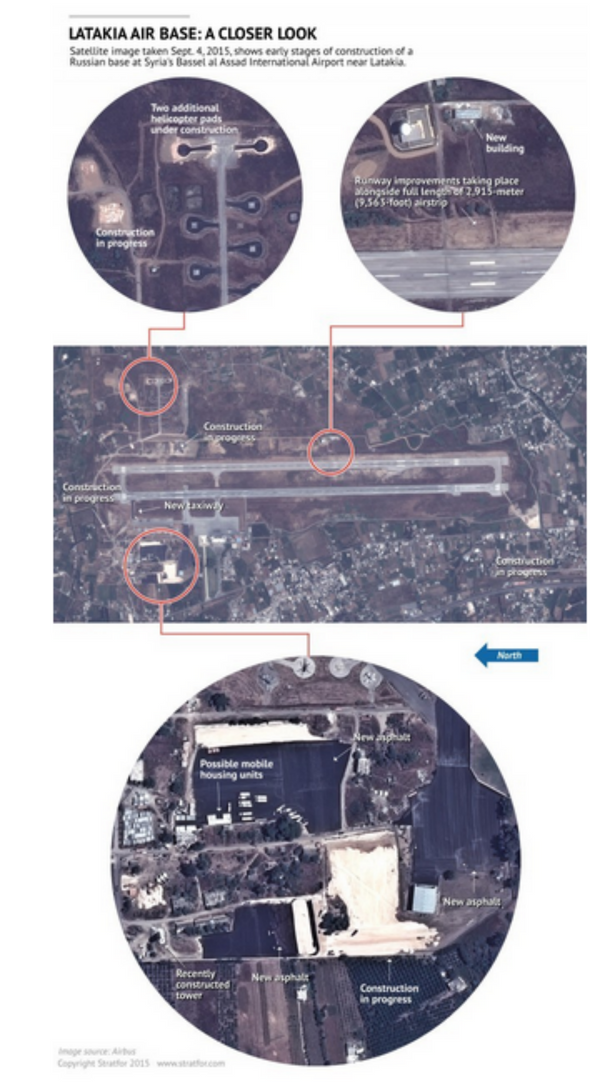 Stratfor's satellite images
© Airbus/Stratfor (Screenshot)
"Satellite imagery of the Bassel al Assad International Airport in Latakia, Syria, confirms reports of sustained Russian military transport flights to the Syrian airfield, where the Russians appear to be establishing a base of operations," the report reads.
As Becker points out, this sentence proves very little, but uses clever word choice to convince readers of "truths" that Russia has never even denied.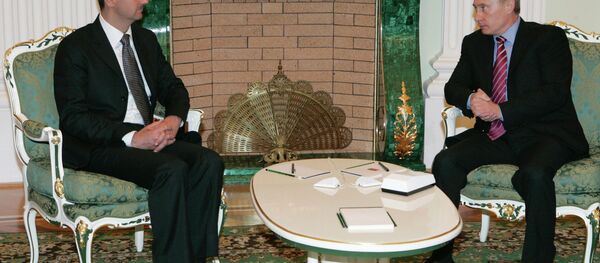 14 September 2015, 23:26 GMT
"[It] is disingenuous since Russia officially confirms that it is transporting military supplies to Syria," Becker points out. "That is not a new fact. It is not a damning revelation as suggested to the reader and does not require dramatic satellite images."
"Russia has been openly providing military aid and trade with Syria for decades," he adds.
Stratfor also utilizes strategically placed qualifiers to make assertions seem like facts. Words like "likely" and "appears" allow the company to make claims without providing real evidence.
"Earthworks are visible along the entire length of the easternmost runway, likely part of improvements to the airfield to allow the ingress of heavier transport aircraft," the next sentence of the report reads.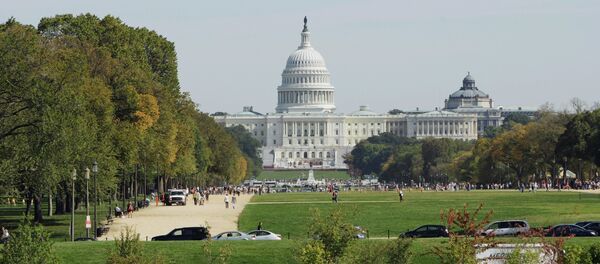 26 February 2015, 15:21 GMT
The following sentence, also italicized by Sputnik for emphasis, similarly demonstrates the organization's use of linguistic gymnastics.
"The reinforcement of the airport shows that Moscow is preparing to deploy aerial assets to Syria, if it has not already done so."
Again, no proof is provided, but the final part of the sentence allows Stratfor to reassert its baseless claim with a baseless prediction.
Similar strategies are employed throughout the report. And while its techniques may be dishonest, they should not be surprising. The company has a history of making sensationalist claims, including a recently release "forecast" that predicts the collapse of Russia, China, and the EU before 2025. Its founder, George Friedman, also predicted a major war between the United States and Japan at the end of the Cold War, a claim which could not have been more wrong.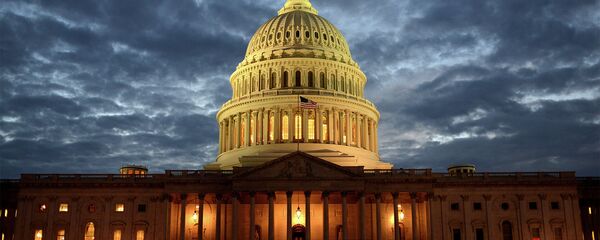 25 February 2015, 19:31 GMT
The intelligence firm also has strong ties with the CIA. Vladimir Kozin, head of the Advisory Group to the Director of the Russian Institute for Strategic Studies, told Sputnik that Stratfor "works closely with the CIA, which has always led a campaign against Russia."
"Stratfor's sensationalized analysis, with the enhancement of satellite images and mini-descriptions of what they supposedly show, should be understood for what it actually is: A piece of theatre," Becker says.
"It is a script. It is propaganda masked as journalism promoted by a group of academics and retired Pentagon and intelligence officials who seek to make additional profits for their company by providing an 'insider scoop' on trending news."