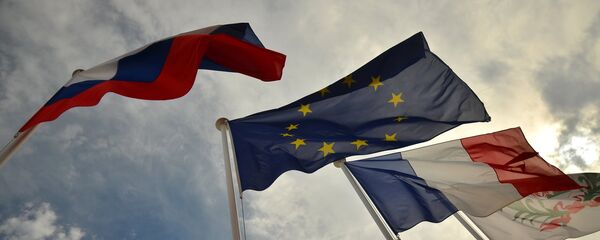 27 January 2016, 14:32 GMT
The strained ties between
Russia and Turkey
have prompted Bulgaria to capitalize on the chill by notably starting to bolster relations with Moscow, media reports said.
Last week, Sofia hosted a meeting of the Bulgarian-Russian economic cooperation committee, the first such gathering that has taken since the 2014 collapse of the South Stream gas pipeline project, which aimed to deliver Russian gas to Europe via the Black Sea and the Balkans, bypassing Ukraine.
The project was finally suspended when Bulgaria, a member of both the EU and NATO, yielded to persistent pressure from Brussels and Washington.However, Bulgaria is currently seeking to court Russia in the wake of the row that has erupted between Moscow and Ankara over the downing of a Russian warplane by a Turkish fighter jet on the Syrian border in November 2015.
Specifically, Sofia has proposed building a depot that could transport Russia's gas to Europe via Bulgaria.
"We presented Moscow our project for building a new gas distribution center that we are also coordinating with the European Commission," Bulgarian Energy Minister Temenuzhka Petkova said.
Russian First Deputy Justice Minister Sergey Gerasimov, for his part, remained cautiously optimistic about the proposal, saying that Moscow is "still awaiting the sorting-out of a series of technical questions with the European Commission."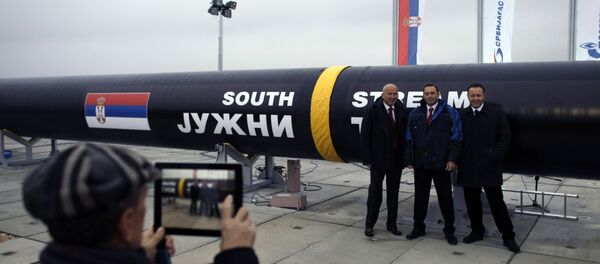 12 January 2016, 09:18 GMT
It seems that Sofia knows perfectly well that its possible rapprochement with Moscow could also mean revitalizing Bulgaria's tourism industry, given that last summer saw a plummeting number of Russian visitors at the country's Black Sea resorts.  In this vein, Gerasimov hinted at the possibility of "diverting Russian tourists from Turkey" to Bulgaria, while Sofia pledged to ease its visa requirements for Russians.
Opinion polls indicate that ordinary Bulgarians continue to see Russia as their country's staunchest ally, something that was specifically reflected in a survey last year which showed that 61 percent of participants maintained a positive attitude towards Russia. Another study, conducted by Pew Research in Spring, 2015, found that only 15 percent of Turks have a favorable view of Russia.
Bulgarian Prime Minister Boyko Borisov has, meanwhile, admitted that Sofia was asked to take a side amid the ongoing deterioration of ties between Russia and Turkey over the downing of a Russian warplane.
"Now that the two titans have clashed, they want us to say whether we are pro-Russian or pro-Turkish. We are neither pro-Russian nor pro-Turkish. We want to be loyal neighbors," he said.
Relations between Russia and the EU states, including Bulgaria, went downhill in 2014, when they joined Washington in accusing Moscow of fueling the Ukrainian crisis, imposing economic sanctions as a punitive measure. The Russian authorities have refuted the allegations, warning that the Western sanctions are counterproductive.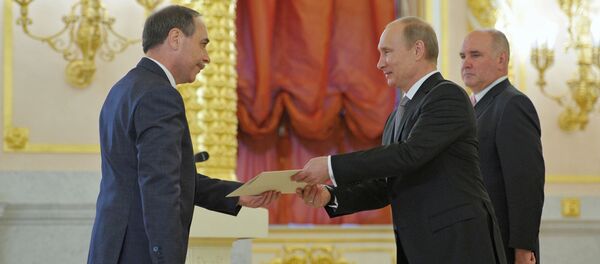 10 December 2015, 15:52 GMT
In response to the Western restrictive measures, in August 2014 Russia announced a one-year food embargo on products originating in states that imposed sanctions. The ban has since been extended for another year.
Bulgaria has a long history of cooperation with Russia; the principal religious faith in both countries is Eastern Orthodoxy and they remain among a handful of states to use a Cyrillic alphabet. Bulgaria was re-established as an independent state in 1878 after centuries of Ottoman suzerainty due to Russia's victory against the Ottoman Empire, and a monument to Russian Emperor Alexander II, Bulgaria's 'Tsar Liberator', stands in the center of Bulgaria's capital city, Sofia.