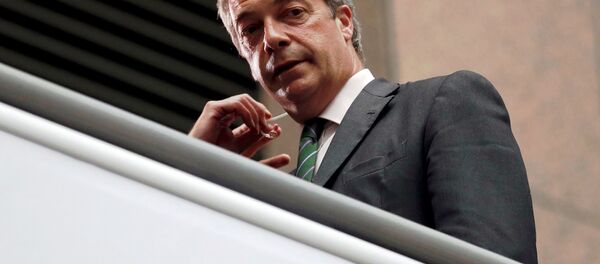 23 November 2016, 13:10 GMT
The initial message that Nigel Farage was considering moving to the US was published by
The Times
. The British newspaper said that, according to Farage's friends, the interim UK Independence Party leader is considering a move to US along with his wife, Kirsten. According to the report, Farage considered relocation because he wanted to be "freer" from the public eye.
However, another article, by The Independent, reported later this day that Farage dismissed the allegations as "utter nonsense."
The whole situation comes in the wake of Farage's visit to New York. The former UKIP leader was the first British politician that the US President-elect Donald Trump decided to meet with. Farage campaigned in favor of Donald Trump during the US presidential campaign, and has had a connection with Trump for "several months," according to The Times.
After their meeting in New York Trump Tower, the US president-elect suggested Farage should become the UK ambassador to the US, a proposition that has been fiercely rejected by the British Prime Minister's Office.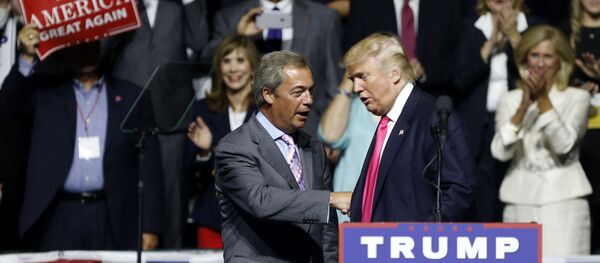 22 November 2016, 15:28 GMT
Farage responded to the Prime Minister's Office snub by throwing a party at London's Ritz hotel, during which he mocked the long-running 'ambassador's reception' Ferrero TV advert, complete with a pyramid of sweets in golden wrapping.
"I am not sure what is going to happen over the course of the next couple of years but I suspect there's another big seismic shock in British politics perhaps going to come at the next election," he said during his speech at the party.
Despite the news that Farage's relocation turns out to have been greatly exaggerated, the politician is actually considering a second visit to the US and a second meeting with Trump in December, according to The Independent.
Farage resigned as the leader of the UKIP party after the people of the UK voted in favor of the "leave" campaign during the Brexit referendum, as the success of the Brexit vote has raised concerns whether UKIP still has a reason for existence. However, his successor, Diane James, remained in office for only 18 days; after her resignation, Farage was appointed again as the party's interim leader.