It was the first time the 52-year-old Chinese artist spent the Chinese New Year, also known as the Chun Jie (the Spring Festival), outside of China, away from his family and friends.
"This is the first time I spend the Chun Jie overseas. I contacted my family in China as soon as I woke up this morning. I sent them congratulations messages through WeChat [a Chinese instant messaging service]," Tian told Sputnik.
Tian's stall of traditional Chinese calligraphy and painting was part of the GUM department store's Chinese New Year's celebrations program, a first among major department stores in Russia. Visitors from both Russia and China were able to enjoy a large variety of activities related to Chinese culture, including a silk painting exhibition called "Great Silk Road," free screening of Chinese movies and traditional Chinese dance performances. Chinese handicrafts and delicacies were also available at different stalls.
Boosts Cultural Understanding
As bilateral relations between Russia and China continued to improve in recent years, thanks to Russian President Vladimir Putin's close personal relationship with Chinese President Xi Jinping, the cultural exchange between the two nations began to boom. Despite historical connections between the two countries during the Soviet-era laying down a solid foundation, mutual understanding of modern cultures between Russia and China continues to face a lot of challenges.
The GUM department store, as a commercial and cultural icon, seeks to bridge the gap in cultural understanding between the two nations through events such as the Chinese New Year's program from Feb 8-28, Nino Gaiashvili, project manager of "China Friendly" program at GUM, told Sputnik.
"There's quite a bit of cultural misunderstanding between the two nations. Our goals are not only presenting something special for the Chinese tourists, but also raising awareness of Chinese culture among locals in Russia. Many of us [Russians] don't have the privilege to go to China and see how the country really looks like or how Chinese people are living. Why not bring the Chinese talent and bring the new China to Moscow? We can show people that China is not the same as what we used to be associated with before," Gaiashvili said.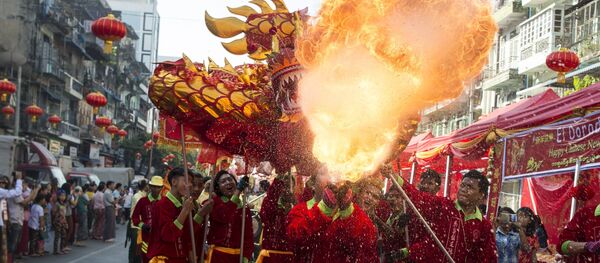 29 January 2017, 14:27 GMT
Mikhail Osiko, a 42-year-old musician who lives in Moscow, and his girlfriend Maria Mayakova were attracted by the pictures on display outside GUM and decided to check out the Chinese New Year's program.
"I'm impressed by how hard-working the Chinese people are. There's so much attention to details," Osiko told Sputnik, referring to the silk painting exhibition at the department store.
Before visiting the special program at GUM, Osiko never heard much about Chinese New Year.
"Does the Chinese New Year fall on the same day every year? Which year is it according to the Chinese calendar? What's the number of the year?" Osiko asked. After learning that Chinese New Year falls on a different day each year and the Chinese calendar does not have a specific number for the year, the musician shook his head in disbelief.
"Many Russians don't know a lot about Chinese culture. This would be a great opportunity for them to learn more. Many Russian visitors had questions about our event and the exact date of Chinese New Year. I think this is great," Maria Konstantinova, who works as a Chinese translator at GUM, told Sputnik.
New Experience
Traditionally, Chinese New Year is a holiday when families reunite after a busy year and celebrate by gathering together for a big dinner on New Year's Eve, while lighting firecrackers to scare away the monster called Nian (the same character for the word "year" in Chinese) to bring good luck and fortune for the family.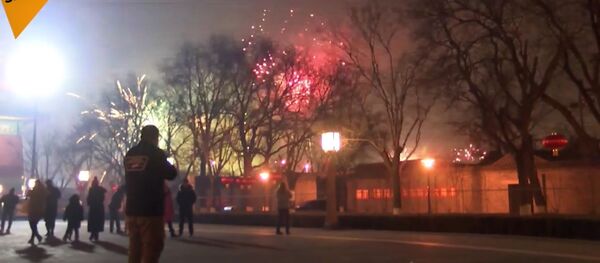 28 January 2017, 15:30 GMT
Nowadays, family reunions continue to create massive travel havoc in China during the New Year holidays each year, as millions of Chinese migrants living in big cities return to their hometowns to reunite with their families. However, as living standards continue to improve in China amid rapid economic growth, a growing number of families, especially in well-off big cities, decide to celebrate the holiday by traveling overseas.
Xu Bin, who works for a state-owned company in Shanghai, took his family of five, including his wife, son and parents, to Russia for a trip to see the Northern Lights during the holidays this year.
"As China continues to get stronger, when we travel overseas, we start to see more Chinese signs and hear more people speaking Chinese language. Even at the GUM department store in Russia, we can hear Chinese music with Chinese language signs all around us. It feels great to celebrate Chinese New Year in an environment like this," Xu told Sputnik when visiting GUM with his family Thursday.
Shen Zhongnan, an automobile consultant from Nanjing, Jiangsu province, could not stop taking pictures of Chinese language signs about Chinese New Year on display in GUM.
"There're many Chinese elements here, such as Alipay [a Chinese mobile payment service] and signs of Happy New Year in Chinese. I took many pictures on my smartphone," Shen told Sputnik.
Changing Perceptions
Rachel Shen, the daughter of the automobile consultant, was more skeptical of the intentions of businesses offering Chinese language services.
"I have visited Japan, Vietnam and Cambodia. Those places also have a lot of Chinese elements as tourism is a major part of the local economy. I think this is because they expect Chinese to come and spend a lot of money here," she said.

27 January 2017, 00:39 GMT
China's rapid economic growth has turned Chinese visitors into top spenders at global touristic destinations. Businesses have started to come up with different ideas to cater to Chinese tourists and encourage them to spend more.
However, Gaiashvili, the project manager at GUM, believes that offering affordable services to a wider range of customers works better than simply trying to force Chinese consumers to buy expensive luxury products.
"All over the world, they [businesses] try to push Chinese tourists to spend money, which is totally not our aim. It's not what GUM stands for. Like our CEO said, the philosophy of our company is that GUM should be available for anyone. At our department store, you can buy an ice-cream for only 50 rubles [$0.88] or buy a book for 200 rubles [$3.50]. You can also buy a dress for 200,000 rubles [$3500]. You can see that we're available to anyone," she said.
Gaiashvili added that GUM does not try to boost sales to Chinese tourists by offering commissions to Chinese tour operators in Russia.
"Maybe that's why the Chinese tour operators tell their group that the GUM is too expensive or they only allow Chinese visitors to spend 15 minutes here. This is really a pity, because we're more than a department store in Russia. We're also a historic site in the country," she said.
Expanding Cultural Insights
Thanks to China's booming economic power, interests in Chinese culture started to improve globally in recent years. However, as a nation with over 5,000 years of history, China's traditional culture continues to take the spotlight among foreigners, including Russians, who are interested in it.
"It's true that when Russians talk about Chinese culture, they would always think about traditional cultural elements such as martial arts, paper-cutting art or the board game Go. We have classes for them at our center. Modern Chinese culture does not come very often, which is why it's might be difficult attract more attention from young people in Russia," Li Yan from the Chinese Culture Center in Moscow, who helped coordinate with GUM on the Chinese New Year program, told Sputnik.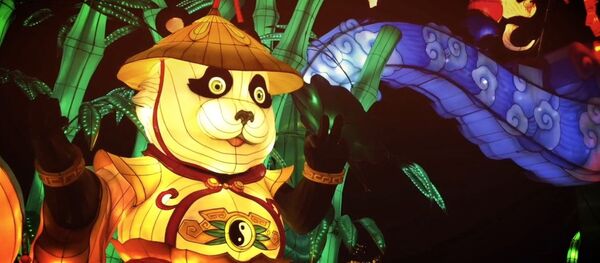 19 January 2017, 12:27 GMT
However, a growing number of foreign companies, such as GUM, have started to understand how important it is to promote modern Chinese culture in an effort to attract more attention from the younger generation.
Gaiashvili explained that they tried to introduce more modern and up-to-date elements of Chinese culture by choosing contemporary Chinese artist Jacky Tsai to help design the decorations for the Chinese New Year's celebrations program.
"It's important to take away this cliché about Chinese people. That's why we chose Jacky Tsai, because he's young and quite daring. If you look at Chinese art, there're not many artists who do pop-art. He's one of the few Chinese artists who do such art. We want something joyful and happy," Gaiashvili said
As an example, she pointed to the photo exhibition of about 100 new Chinese touristic destinations that aims to introduce alternative sites to Russians who are interested in visiting China.