The US Congress is breaking laws it made itself by voting to arm the neo-Nazi regime in Kiev, a political correspondent has said.
Last weekend saw a few dozen members of the Blood Tribe neo-Nazi group, led by former US Marine Christopher 'The Hammer' Pohlhaus, march on the Disney World theme park in Florida.
Polhaus surprised reporters by endorsing sitting President Joe Biden over his likely rival Donald Trump in the 2024 elections — saying "Biden is better than Trump because he sends rockets to Ukraine" to
arm fellow Nazis
there.
Independent journalist
Rachel Blevins
told
Sputnik
that the US Congress had flouted its own legislation by approving funds to arm Ukraine since the start of Russia's military de-Nazification operation in February 2022.
"The United States got involved in basically creating the conflict in Ukraine back in 2014. It supported this coup," Blevins explained. "And one of the ways that it was able to carry that out was by working with these violent extremist, far-right neo-Nazi groups."
"A couple of years passed and at least a few people in the US were looking around and going, 'wait a second, are we funding neo-Nazis in Ukraine?'," she continued. "And so in 2018, Congress issued their own ban on it, which is kind of insane when you think about it, that Congress has to come along and tell themselves to stop funding neo-Nazis in Ukraine."
The correspondent noted that despite the Biden administration's stated intention to crack down on domestic extremists, Saturday's Blood Tribe rally went ahead without any response from local or federal law enforcement.
"To have these neo-Nazis with swastika flags and they're doing their Heil Hitler salutes just in America in 2023 is insane," Blevins stressed. "These demonstrations were publicized online for weeks and people on the ground were saying that there was no police presence there. So they weren't concerned about all of these people that have hateful rhetoric towards various different members of the population getting together."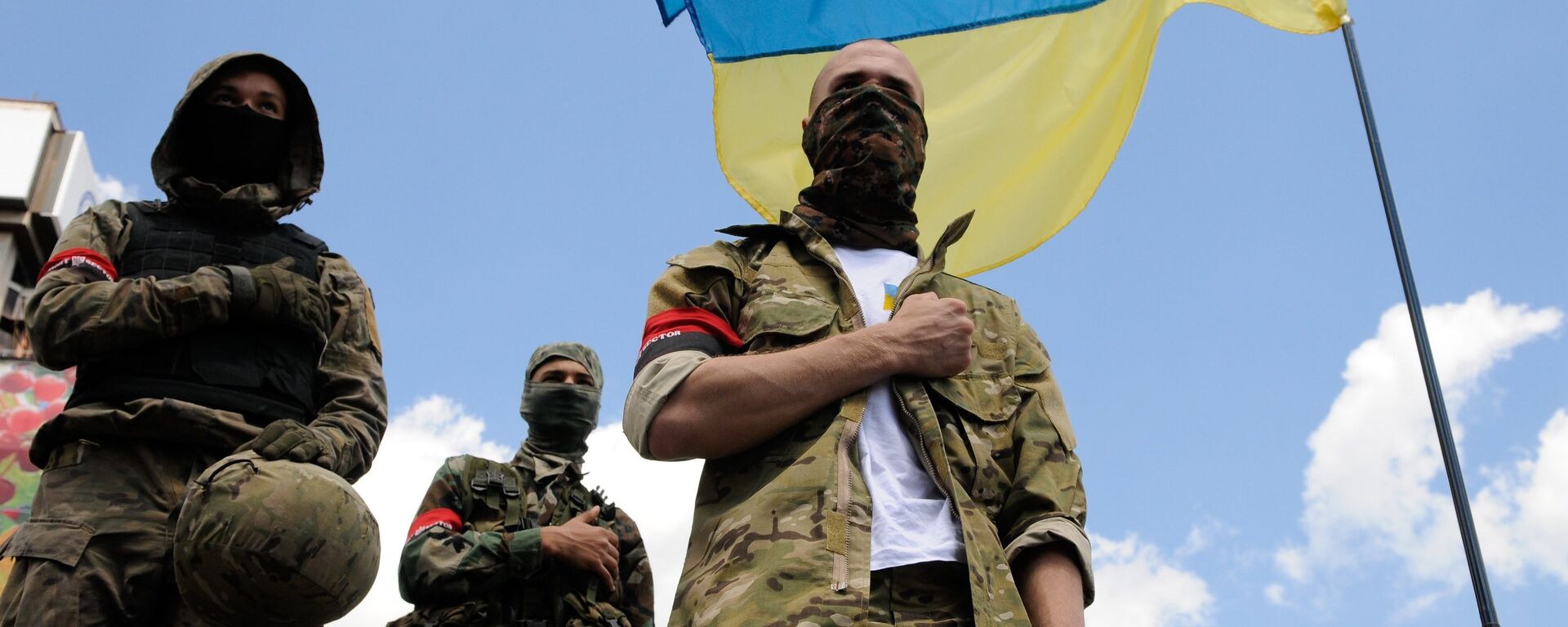 Polhaus' support for Biden over his Ukraine policy was "just an insane sentiment when you think about it," she added. "This guy is wearing a swastika necklace and then right behind him, also doing Heil Hitler salutes, is this other guy named who goes by the name Boneface. His face is covered in tattoos."
"Boneface," whose real name is Kent McLellan, was recently exposed by conservative independent journalist
Laura Loomer
as an asset of the Central Intelligence Agency after she unearthed a video interview with him in Ukrainian.
"He's had several run-ins with the law, including an arrest for domestic terrorism, except instead of in cases like we see right now, where the US government wants to use domestic terrorism to go after protesters, in his case, they put him on probation for four years," Blevins pointed out. "And during that four-year period he goes over to Ukraine to work with the far-right group, the Right Sector*, and then he comes back to the US. These are people who are well-versed, and have even said themselves that they have ties to the FBI and the CIA and that they have done work for them."
* Right Sector is an extremist group banned in Russia.
For more incisive commentary on the news stories the mainstream media cover-up, tune in to our Sputnik News show The Critical Hour.