On September 12, Russian President Vladimir Putin addressed the plenary session of the 8th Eastern Economic Forum (EEF) that has been taking place on September 10-13 in Vladivostok on the Far Eastern Federal University (FEFU) campus.
What is the Eastern Economic Forum?
The Eastern Economic Forum (EEF) was established in 2015 to support the economic development of Russia's Far East and to expand Russian cooperation with the countries of the Asia-Pacific region.
Over the past eight years, the forum has become a key international platform that facilitated ties between Russian and foreign investors and helped explore new business opportunities in the Far East region.
"Our country must be self-sufficient, including in the field of security and defense. But this does not mean isolation of the country," President Putin said at the EEF plenary session on Tuesday. "This means that we, in cooperation with our partners and friends, in integration with the vast majority of countries that represent the majority of the country's population, will develop our own country and make it even stronger."
"I'm terribly impressed by a very simple message he is delivering," Joe Siracusa, professor, political scientist and dean of Global Futures at Curtin University (Australia), told Sputnik. "And that is despite his trouble with Washington and the West. It's business as usual. I mean, this forum was only created in 2015 to whip up interest in the Far East in business investment, education, cities and the like. And I'm just amazed at how normally things are going on in that part of the world. And how President Putin is planning for developments in that part of the world."
Indeed, the forum has brought together around 7,000 people from more than 50 countries, with the largest delegations coming from China, Myanmar, India, Mongolia and Laos.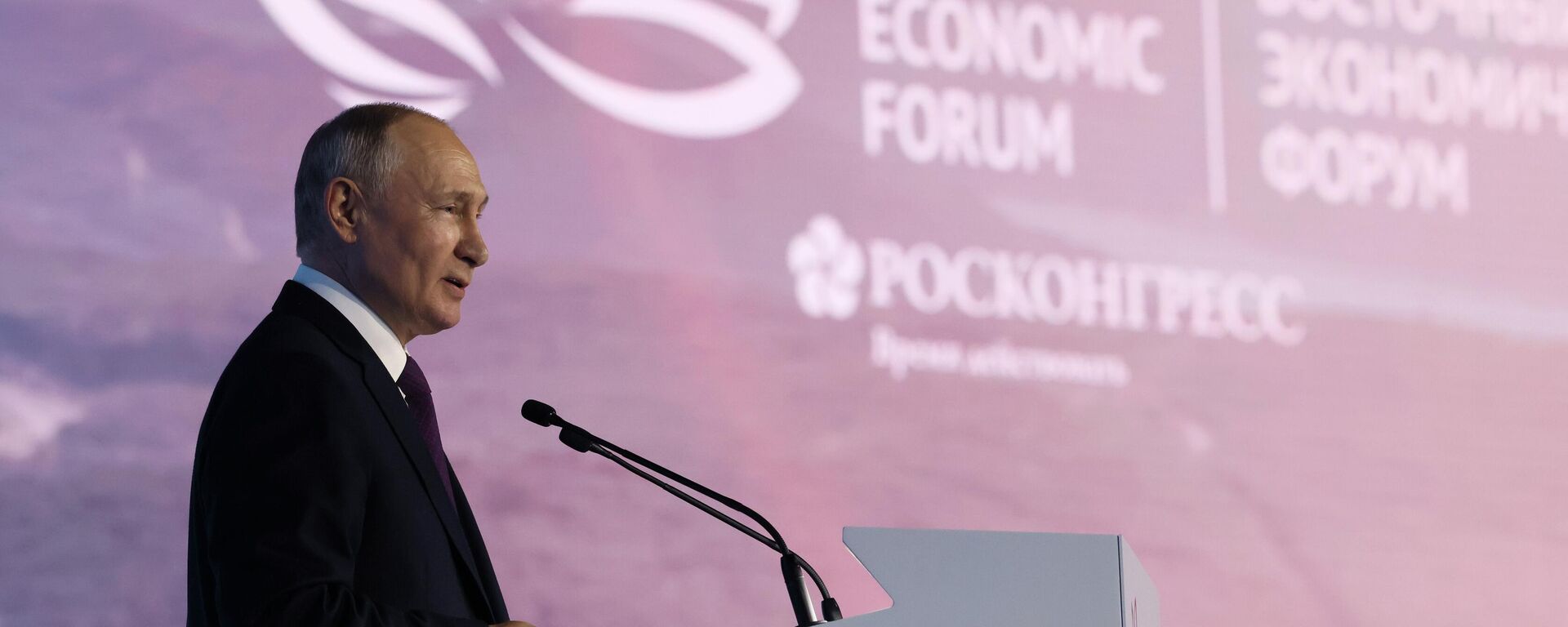 How Eastern Economic Forum Proves US Sanctions Failed
Russia's trade with countries of the Asia-Pacific region increased by 13.7% in 2022 and grew by another 18.3% over the first half of 2023, despite the West's sanctions pressure, Putin noted.
Following the beginning of Russia's special military operation to demilitarize and de-Nazify Ukraine, the US and its allies imposed restrictions on almost all sectors of Russia's economy in a bid to strangulate it. What's more, Western states severed Russia from the SWIFT transactions mechanism and froze assets of the nation's Central Bank.
However, the restriction of payments in dollars has driven many countries to shift to payments in national currencies and keep savings outside the United States, as trust in the West is being undermined, as Putin noted at the forum. Commenting on the freezing of Russia's $300 billion gold reserves the Russian president remarked: "We earned twice as much".
"Economic war against Russia failed, it is absolutely clear," Dmitry Suslov, deputy director of the Center for European and International Studies at Russia's Higher School of Economics (HSE), told Sputnik. "Mobilization of the world and creation of a global anti-Russian coalition failed. The world majority refused to join the West against Russia. (…) American society is increasingly tired and resentful towards the new forever war, towards the continuation of the Ukraine conflict without any victory for the United States and Kiev in sight. And the only alternative in this situation for the West are: recognition of their failure, which would be disastrous for them politically or an escalation."
Having failed to make Russia's economy scream, the US cannot come up with any further measures to reach its goals as it has already exhausted all its options, according to Siracusa.
"The United States has threatened third countries for dealing with Russia," the Australian professor said. "Nothing's going to come of that. The United States, for example, has severe sanctions, not only on Russia, on North Korea, and, of course, Chairman Kim is a visitor to Russia right now. What more can the United States' sanctions regime do than it's already doing? They're just wearing out. The United States has reached the point now where a lot of these sanctions are hurting American investors and the American people and America's friends and allies around the world in terms of inability to get food and other things. I think these numbers suggest that different things are happening in your neck of the woods and these are very positive things indeed."
Per Siracusa, "what Putin is showing is that Russia can conduct business no matter how many sanctions Washington lays on them" and the EEF offers yet another proof for that phenomenon.

What's Behind Russia's Successful Asia Cooperation?
Russia's success in maintaining and expanding cooperation with the countries of Asia Pacific could be explained by Moscow's well-balanced and non-politicized approach, according to Sputnik's interlocutor. Russia's Asia strategy differs tremendously from the US administration's "Pivot to Asia," which envisages exclusion and containment of some countries, pitting regional allies against each other, and pressing Asia Pacific nations into taking sides.
"I think Putin made it very clear today that you can deal with Russia without becoming a pawn in a larger game of power politics," said Siracusa. "During the Cold War era, everybody had to pick a side. Of course, the Indians were very famous for not picking a side. They still don't pick a side. And so, I think if you can do business without dragging people into your geopolitical affairs, it is very, very important."
At the same time, the Australian professor has drawn attention to the fact that Russia's Far East region offers many good investment opportunities.
"There's a lot of minerals in the ground, a lot of opportunities above ground, great chances for education and the like," Siracusa said. "And so, you know, it's a place where things will be booming, of course, as the world becomes more critical for minerals and maybe even fossil fuel. I mean, that part of the world has got all kinds of things in the ground that can be very useful. I think if I were still working for a large brokerage firm, I would give Russia, the Far East and the people I saw in the room today, I'd give them the positive tick."
The Far East for Russia is a strategic priority for the entire 21st century, as per Vladimir Putin. The Russian president pointed out that figures reflecting the investment dynamics in the Far East are currently three times larger than those for Russia in general.
According to the Russian president,
high-speed highways
will go through Siberia, the Far East - to the Pacific Ocean improving the region's connectivity. Meanwhile, merging the "Power of Siberia" and "Sakhalin-Khabarovsk-Vladivostok" gas pipelines into a unified system will transform the Far Eastern energy landscape giving a boost to its further industrial development.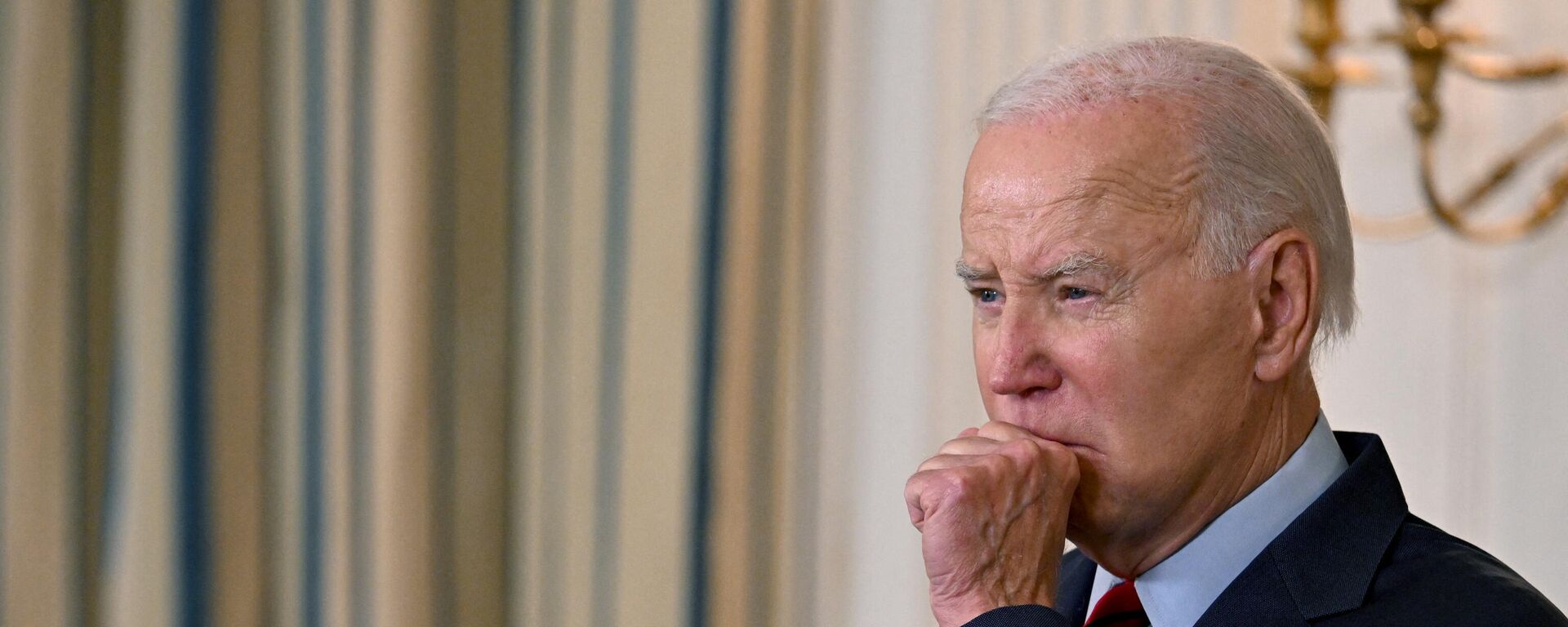 How Russia's Asia Policy Differs From US 'Pivot to Asia'
Moscow is expanding its ties and influence in the East at a time when the US is beefing up its military presence in the Asia-Indo Pacific region, triggering concerns about
a possible new nuclear race
among member-states of the Association of Southeast Asian Nations (ASEAN) and openly challenging China, Russia and North Korea.
Simultaneously, in an apparent bid to reassure its regional partners, Washington claims it does not seek to contain China and offers new logistic and infrastructure initiatives. Still, the Biden administration's latest
India – Middle East – Europe Economic Corridor (IMEC)
endeavor - announced at the G20 meeting, has already raised many questions among international experts. Per officials, there is a probability the infrastructure project will never fly – just like other G7's bold initiatives which have remained all words and no action.
"This idea that the United States is trying to shore up, deepen relations with India, it has almost no political impact or military impact," Siracusa said. "You know, it's America trying to develop an interest in India that the Indians don't have in the United States. The Indians like to maybe riff off of the reputation of being invited to the White House and the rest of it. But if the United States thinks they're going to get any blood or treasure out of India, at the end of the day, by developing their domestic products, their domestic issues, I think that's not going to work."
"And what it says to me is that
the Americans don't understand Australia
. They don't understand what AUKUS is. They don't understand what India is. The Quad means nothing. The AUKUS arrangement right now is next to nothing. It's zero. And America's deep relationships in the Far East are with South Korea and Japan would predate the present crises and things like that. They've been sort of stuck with each other since the early Cold War days," the Australian professor continued.
How US Policy Became Hostage of Deep State
The US is losing grip in the Asia Pacific, while their Ukrainian proxies have bogged down amid the three-month-long failed counteroffensive.
According to Suslov, the increasing number of American people – especially the Republican base – considers the US' Ukraine policy and Russia strategy to be profoundly wrong. They claim it's a waste of money and that it prevents Washington from solidifying its presence in the Asia-Indo-Pacific. "They are not a majority of the US society so far, but they are a significant proportion, and this significant proportion is growing," the Russian professor remarked.
Being stretched between Eastern Europe and Asia, Team Biden risks losing the 2024 presidential elections. To complicate matters further, the present US administration appears to be unable to change its track, according to Suslov.
"No president of the United States alone could change this stance on US-Russian relations, and the experience of [former US President] Donald Trump proved it," Suslov said. "Trump wanted US-Russian relations to become better, but instead the US-Russian confrontation aggravated during his presidency, and the United States really intensified its sanctions policy and overall containment policy vis-a-vis Russia instead. Why? Because for a change to happen, this change must be supported by American elites and the deep state."
"Elites and the deep state are the real drivers of US foreign policy. Unless there is a change within them, no fundamental shift of the US foreign policy vis-a-vis Russia will take place. And the crucial question is if such a fundamental change and rotation of American elites and deep state is possible as a result of the general discontent with the current state of affairs, which is expressed by American society - both from the right and from the left. And as of today, it is simply impossible to answer this question. So far, the American deep state remains kind of intact from public demands and the public discontent of American people," Suslov concluded.