The looming threat of a US
government shutdown
has become a deja vu phenomenon, with lawmakers time and again clashing over spending as they pursue their parties agendas. On this occasion, the funding deadline expires on November 17, and to avert a federal shutdown a stopgap measure was passed in the House on Tuesday. Next, it needs to pass the Senate and be signed into law by President Joe Biden.
A government shutdown "is going to be averted," Dr. Robert Hockett told Sputnik.
"And I also think that [Speaker Mike] Johnson might very well avoid being ousted by the Republicans," the professor of law and public policy said, adding:
"Just enough of these Republicans are sort of realizing that they are kind of their own worst enemies when they keep sort of booting their own leaders for having the temerity to try to compromise in some way to keep the government functioning."
It's worth recalling that the former House speaker, Kevin McCarthy,
was ousted
after he presented his version of a stopgap bill on the House floor in late September. At the time some Republicans accused him of working with the Democrats on the bill, and a conservative revolt led to his removal.
Robert Hockett also pointed out that the new House speaker,
Mike Johnson
, appeared to display "
savvy
" throughout his recent moves to try to avert a shutdown.
Lawmakers in the US House of Representatives cleared a stopgap measure on November 14 to avert a partial government shutdown. The bill does not include US President Joe Biden's funding requests for Ukraine and Israel. The measure cleared the lower congressional chamber with a 336-95 vote, and will now head to the US Senate. Biden would need to sign the measure by Friday night in order to avert the looming shutdown.
The bill passed on Tuesday does not include US President Joe Biden's
requests for Ukraine and Israel
, or the border with Mexico, and lacks spending cuts. Furthermore, the continuing resolution (CR) differed from previous stopgap bills in that it features a two-tiered scheme. In line with this, it funds certain programs until January 19, while the Pentagon and other national security programs are funded until February 2. House Speaker Mike Johnson (R-LA) describes it as a "
laddered CR
" and argues it will "
stop the absurd holiday-season omnibus tradition of massive, loaded up spending bills introduced right before the Christmas recess
."
While Democrats in the two chambers have reportedly commended Johnson's bill as one avoiding the spending cuts the GOP had argued for, Republicans of the House Freedom Caucus have railed against it specifically for this reason.
Amid reports that the Democrats and Republicans in the Senate are in agreement to support the bifurcated CR, Robert Hockett voiced the opinion that the "dominant take away at the moment" is that the lawmakers "have learned a lesson… from the chaos earlier in the autumn."
"And they're just thinking, this isn't really doing us any good. If we don't want to go back to the Stone Age, we better find a better way to do it," he said.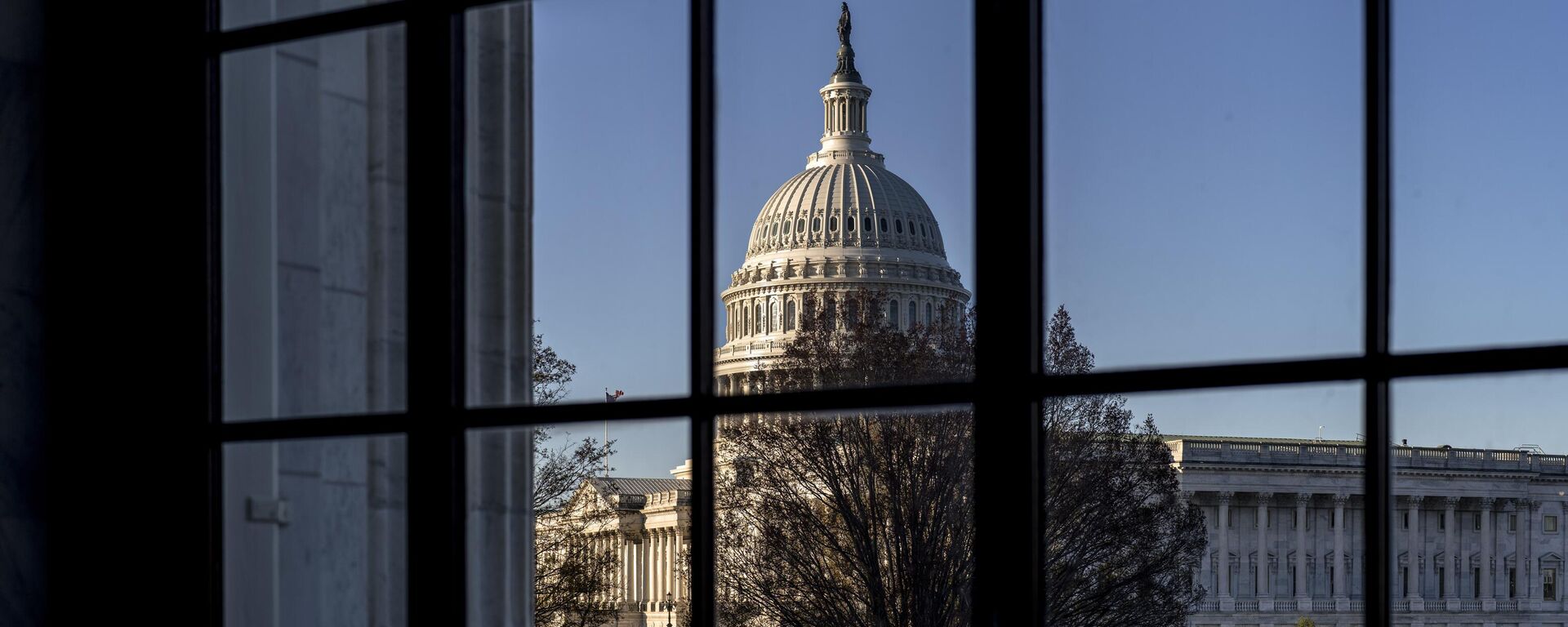 When it comes to the current stopgap funding measure, "There's no doubt that the Senate will not pass this as is. If it gets passed, they're going to do it in their own way and they're going to put their own spin on it," said economist Mark Frost.
At the same time he suggested that the entire row over the looming government shutdown was basically "brinksmanship" and "saber rattling."
"The thinking here is that you can have your cake and eat it, too. The thinking is that, from a political perspective, they can rattle sabers, and threaten a shutdown and yet not have any teeth in their threats," Frost said.
Looking ahead to when the stopgap bill will have expired, and bearing in mind the current discontent of the Freedom Caucus, the pundit nevertheless felt that Johnson's continued ability to serve as speaker would not be impaired.
In
Dr. Robert Hockett's
opinion, even the
Republicans
unhappy with the current bill "
probably kind of figured out now that they're going to lose that majority in the midterms next November if present trends continue
." That is to say, they were likely becoming aware that "
constantly tanking the government
" was not going to pay off "
in political terms
," especially when getting close to an election.
Regarding the fact that the stopgap bill omits Joe Biden's
$106 billion
overall supplemental funding request for Israel, Ukraine, and even the border issue, Mark Frost stressed that the US has "
already spent way too much money
." Regarding aid to
Ukraine
and Israel, he underscored that he was "
troubled
" by Washington's "
involvement in both
" conflicts.
"We're adding fuel to the fire, and in both cases we are diminishing the probability that the negotiated solution will be peaceful or will be less violent. We are promoting choices by which war will be seen as viable, productive and needs to be continued," Frost emphasized.