Members of the House of Representatives convened in the nation's capital Thursday for day one of impeachment hearings against US President Joe Biden.
House Speaker Kevin McCarthy initiated the inquiry last week after a monthslong campaign from conservative Republicans, but Democrats have dismissed the hearings as a political stunt. Sputnik has summarized and contextualized some of the key claims from today's proceedings to help separate fact from fiction and innuendo from actuality.
Outbursts, Interruptions & High Tensions
A combative atmosphere prevailed throughout the proceedings, with Democrats questioning the very basis for the inquiry. Early on in the day, Democratic representatives held up large placards featuring quotes from various Republicans casting an unflattering light on Speaker McCarthy's management of the chamber's Republican majority.
"These folks don't have a plan," read one sign quoting Rep. Mike Lawler (R-NY) blasting Republican Freedom Caucus members who insisted on the hearing. "This is a whole new concept of individuals that just want to burn the whole place down," read another quoting McCarthy.
© AP Photo / Jacquelyn Martin
Ranking Member Rep. Jamie Raskin, D-Md., second right top, speaks on the Democratic side of the aisle, as the House Oversight Committee begins an impeachment inquiry into President Joe Biden, Thursday, Sept. 28, 2023, on Capitol Hill in Washington. Oversight Committee Chair James Comer, R-Ky., is seated top right.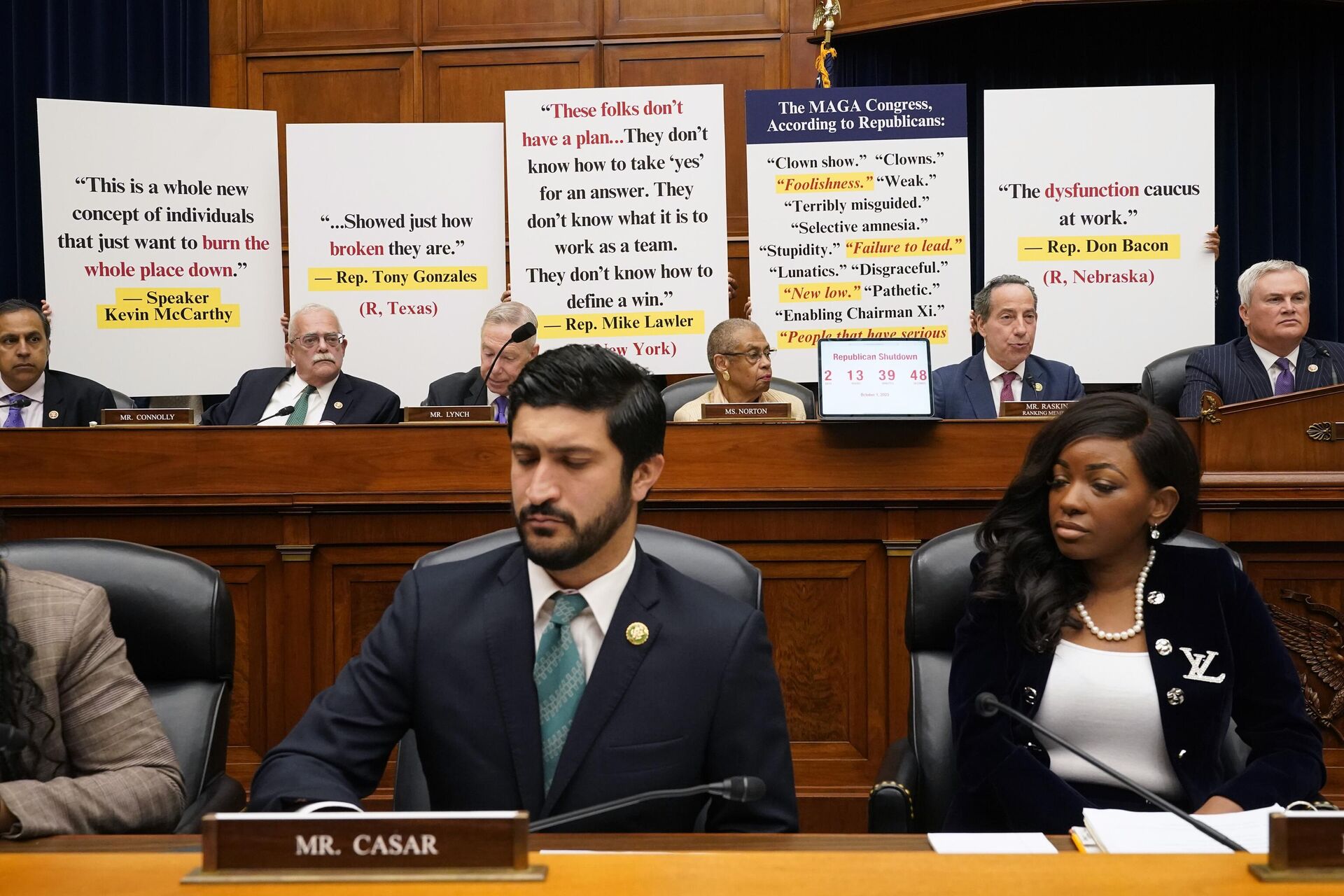 Ranking Member Rep. Jamie Raskin, D-Md., second right top, speaks on the Democratic side of the aisle, as the House Oversight Committee begins an impeachment inquiry into President Joe Biden, Thursday, Sept. 28, 2023, on Capitol Hill in Washington. Oversight Committee Chair James Comer, R-Ky., is seated top right.
© AP Photo / Jacquelyn Martin
"It's hard to grasp the complete derangement of this moment," proclaimed Rep. Jamie Raskin (D-MD), the highest-ranking Democrat on the House's oversight committee, calling the inquiry a "baseless impeachment drive against President Biden."
Republicans were equally feisty, if not more so. Rep. Nancy Mace (R-SC)
adopted Trumpian language
when she proclaimed Democratic attempts to exonerate President Biden were "complete and total bullshit."
"Hunter Biden referred to access to his father as the keys to his 'family's only asset,'" said Mace. "Those words are going to come back and haunt Hunter Biden and his family forever."
Republicans have pointed to
exotic financial arrangements
on the part of the Biden family, including the establishment of over 20 shell companies to manage income.
Still No Proof of Wrongdoing by Biden
Although his family's accounting maneuvers may seem alien to most Americans of average means, observers point out the GOP has not yet uncovered smoking gun evidence of any crime by Biden.
Republicans' own witnesses admitted as much.
"I am not here today to even suggest that there was corruption, fraud or wrongdoing," said Bruce Dubinsky, a forensic accountant and founder of Dubinsky Consulting. "More information needs to be gathered before I can make such an assessment."
"I do not believe that the current evidence would support articles of impeachment," said Jonathan Turley, a noted legal analyst and professor at George Washington University Law School. "That is something that an inquiry has to establish."
The US Constitution provides for the impeachment of a president for "Treason, Bribery, or other high Crimes and Misdemeanors."
Although concrete evidence of alleged crimes committed by President Biden may (or may not) be yet to emerge, Republicans have succeeded recently in uncovering some unflattering details. Biden previously claimed to have no knowledge of or involvement with his son's business dealings. Republicans say testimony suggesting the US president attended dinners and listened in on foreign business calls demonstrates otherwise.
Biden's
use of aliases
in email correspondence during his time as vice president has also been characterized by conservative critics as suspicious. Meanwhile,
emails showing
that Delaware Assistant US Attorney Lesley Wolf blocked a probe of Biden as part of a FARA (Foreign Agents Registration Act) investigation have been interpreted by Republicans as suggesting the current president received favorable treatment or protection from scrutiny.
All Eyes on Hunter
President Biden's son Hunter Biden is set to face a federal court
next week
on gun charges in what is the first-ever prosecution of the child of a sitting US president. The younger Biden's lifestyle, including dalliances with prostitutes and addiction to crack cocaine, has generated significant headlines and saw Republicans frequently invoke him throughout the course of the day.
Republicans' framework for their probe, released the night before, outlined a series of questions to be investigated, with the fourth one reading:
"Did Joe Biden abuse his power as President to impede, obstruct, or otherwise hinder investigations (including Congressional investigations) or the prosecution of Hunter Biden?"
Although conceding they weren't inherent proof of "illicit" gains, Dubinsky claimed the Biden family's complex financial arrangements raised questions of fraud and created a "smokescreen" around Hunter Biden.
Meanwhile, Democrats characterized the focus on the younger Biden as a major weakness of Republicans' efforts. Rep. Shontel Brown (D-OH) inquired about the "primary flaw" of GOP claims. Democratic witness Michael Gerhardt, a professor of law from the University of North Carolina, claimed a lack of clear connection between Hunter Biden's business dealings and his father.
"The problem is the dots are not connected," said Gerhardt. "The name repeated most often is Hunter Biden, not President Biden. And the point of an impeachment inquiry is not about a president's son, it has to be about the president himself and I don't think those dots connected. Lots of assumptions and accusations, not evidence."
Trump Looms Large
Democrats cast Thursday's hearing as an effort pursued entirely at the behest of former President Donald Trump. Democrats previously impeached the former commander-in-chief on charges of improperly urging the Ukrainian government to investigate Biden on some of the claims still being made in today's hearings. The former president, Democrats claim, is out for revenge.
Rep. Mike Garcia (D-CA) claimed alleged impropriety committed by Trump's son-in-law Jared Kushner is worse because Kushner was employed by the Trump administration.
"Just months after Jared left the White House, the Saudi royal family gave him $2 billion — with a B — into the Kushner hedge fund," said Garcia. "This is a man who was put at the head of Middle East policy in the White House."
Democrats repeatedly attempted to hold a vote on subpoenaing Rudy Giuliani, the former mayor of New York and lawyer who's helped lead Trump through a chaotic series of legal challenges, but Republicans blocked the efforts.
Raskin alleged Republicans were taking orders from the former president via social media posts, claiming the GOP-led House moved "from a Trump-ordered government shutdown to a Trump-ordered impeachment process."
"Let's get it straight; we're 62 hours away from shutting down the government of the United States of America and Republicans are launching an impeachment drive, based on a long debunked and discredited lie," said Raskin.
Larger Significance Still Yet to Be Determined
American voters will have to decide if they agree with Raskin's characterization of Thursday's proceedings or if they see them as a stunt and a distraction.
According to
a recent poll
, 44% of Americans said the House should begin the impeachment proceedings that could lead to Biden's removal from office, while 47% of Americans said that, based on what they currently know, they should not. The breakdown among political independents was even closer, with 46% supporting the hearings and 45% not supporting them.
Still, Republicans' pursuit of the inquiry doesn't appear to be souring the majority of Americans. Some 58% of respondents said the hearings suggest Biden is being held legally accountable like any president should be, while only 32% said they represent an unfair political persecution.
Polling shows
the majority of Americans feel Biden's family is "corrupt," but that may not prove to be a deciding issue given many feel the same about Trump. The former president was most recently seen on Wednesday speaking outside Detroit, Michigan, amidst a strike by the United Auto Workers union; Biden visited a strike picket line in the state the day before.
Conservative media outlets are currently highlighting surging immigration as a major political issue, while many political progressives are still concerned about abortion rights in the wake of last year's
overturning of Roe v. Wade
. Today's impeachment hearing may prove to be a distant memory by the time voters go to the polls more than a year from today.